Conan and Terry Crews Learn that War is Hell Playing Battlefield 1 in Latest Clueless Gamer
Image via TBS/YouTube
Games
Video
Conan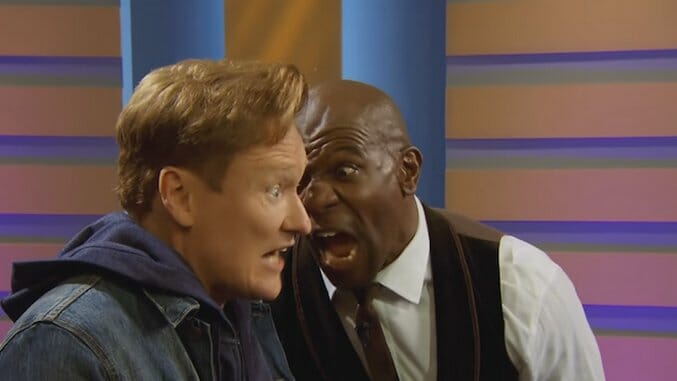 Amazingly, Final Fantasy XV didn't put Conan O'Brien off videogames forever, so he's back with another episode of Clueless Gamer. This time he's playing Battlefield 1 and he's got the always-funny Terry Crews to help him out.
Unfortunately for them, Battlefield 1 isn't just interested in simple first-person shooter fun. After seeing a couple of their young soldiers die and stay dead, the two very quickly take the game's "war is hell" message to heart.
As Conan puts it, "This is like a Pac-Man where after you eat the dot, they tell you when the dot was born. They show you a picture of the dot's mother and then they tell you the dot had a little child dot that it'll never see again."
But Conan and Terry really do enjoy their time with the game. Conan says at the end that "Battlefield 1 will make you want to urinate, it's so good." Put that quote on the box. Watch the segment above.