Chasm Is Finally Coming to PS4 and PS Vita This Summer
Images via Bit Kid/PlayStation
Games
News
Chasm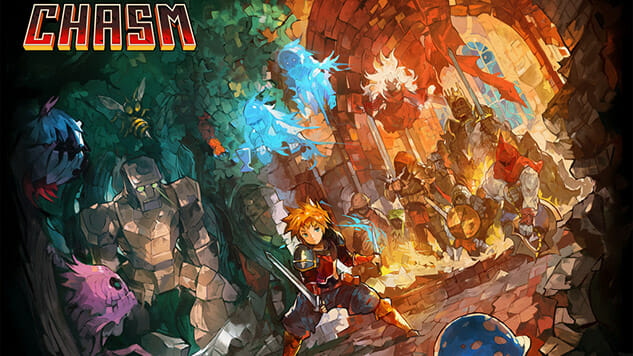 After a 2014 sneak peek of the game and five long years of development, the side-scrolling adventure game Chasm is finally coming to PlayStation 4 with an impending launch of summer 2018.
Chasm is "an action adventure game in which you play a new recruit undertaking your first mission for the Guildean Kingdom," as stated on the PlayStation blog. In the game, players must uncover the mysterious happenings of a mining town vital to a continuous war. Players will have to defend themselves from a myriad of monsters while exploring ancient catacombs and castles, and finding new hidden weapons.
The Kickstarter-funded game has been anticipated for years since the Best Buy and Target demos were unleashed four years ago. Bit Kid founder James Petruzzi explained the delay, saying, "We certainly fell prey to Hofstadter's Law, which states that things always take longer than you expect, even when you take into account Hofstadter's Law." He added, "One of the most difficult things to get right was the underlying code base. When we made that early demo, it was stitched together with bubblegum and duct tape." The code came from the company wanting "everyone playing Chasm would have their own world map that was unique to them." In addition to the messy code base, Petruzzi mentioned the amount of content increased from "a few enemies and room types in the first area of the game" to "six fully realized areas, with tons of enemies, bosses, puzzles, and platforming challenges."
After explaining the delay, he showed gratitude to the fans by stating, "The game exists thanks to the financial and emotional support of those early fans, and we are eternally grateful." In the meantime, Chasm's release depended on the success of Axiom Verge on PS Vita (which it was). The coder behind Axiom Verge helped to get Chasm's codebase up and running, allowing for cross-buy, which allows players to receive the game digitally on both Vita and PS4.
Fans of the early Chasm demos will get everything they want and more when the game launches this summer. Check out the Chasm trailer below, along with a sneak peek of the world map.