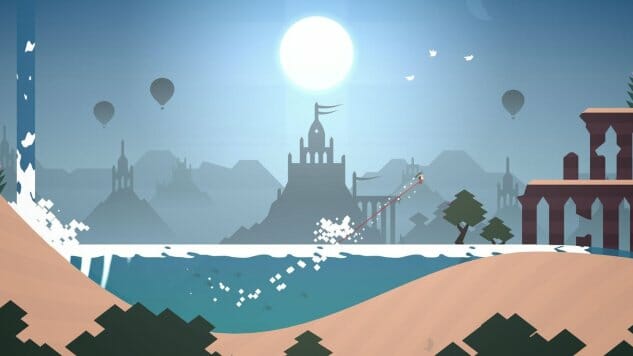 When you think of mobile games, you probably think of microtransactions. You probably think of free-to-play games, where you can get a small taste for no money down, but then have to regularly pump your credit card into your phone in order to overcome an intentionally broken in-game economy. You probably think of witless ripoffs and knockoffs of older hits, or even those weird preemptive would-be mockbusters that beat a genuinely innovative game to market and then somehow steal all of its thunder. (See what happened to Ben Esposito's mobile version of Donut County this year.)
It's easy to think the worst of mobile gaming because, well, all of these things happen. Despite all the promise and potential that made mobile games such a fascinating new avenue just barely ten years ago, most of the biggest hits and most prominent games in this space are shamelessly focused on squeezing as much money out of its players as possible. It's enough to make anybody who cares about artistry and quality game design to give up mobile gaming altogether.
That'd be a shame, though, because there's still a steady current of legitimately great games coming out for iOS and Android devices every year. Smaller studios and individual designers are still coming up with beautiful ways to explore the videogame possibilities of touchscreens. Hopefully the players who'd be receptive to that work still keep tabs on mobile games, and haven't been turned away for good by the seedier side of this business.
Most of the games that made our list this year prove that creativity is still alive in mobile gaming. From the gorgeous art of ELOH and Alto's Odyssey, to the smartly written stories of Florence and Donut County, mobile gaming has a lot more to offer than just money-grubbing puzzle games. And hey, even that side of the mobile game world can turn out a worthwhile release every now and again, as the first game on our list proves. Let's run down the top ten mobile games of 2018, starting with an unexpectedly good game from King.
10. Legend of Solgard
Platforms: iOS, Android
King's Norse-themed strategy game didn't have the smoothest launch, and its stingy economy reflects some of the worst pay-to-play trends of mobile gaming. Still, this match three tactics game has a novel gameplay concept that acts as a strong hook, and is so stuffed full of content than you can easily get an hour of satisfying action out of it every day without having to spend real money. With dozens of characters that have to be upgraded and over a half dozen basic modes to play, it'll keep you tapping and sliding even when its flaws are a little too visible.
---
9. Miracle Merchant
Platforms: iOS, Android
It's with a little hesitation that I recommend Tiny Touchtales' simple, addictive card game, Miracle Merchant, but that's for completely selfish reasons. It's the only game where I've topped the daily leader board (twice!), and I'm afraid you, dear reader, will just make it that much harder for me to pull off a third. But it's my duty to tell you about Thomas Wellmann's eye-popping illustrations and the dopamine rush when your cards line up to create the perfect potion. The premise is straightforward: combine four cards from four different colored piles to create potions for your customers. Each customer will request a necessary ingredient (color), and another that he or she really likes, which will give you double the points. Each pile also has three black cards, which will give you negative points. The cards interact with each other in a variety of ways, which also affect the point totals. Your job is to combine cards in the best order to maximize values. It's a good mix of strategy and luck, and once each day, you can compete against all other players using the same deck. The customers are gorgeously drawn with their names and backstories left to your imagination, but you'll have to plan carefully not to kill them with the wrong potion when you run out of ingredients towards the end. Download it on your on the iPhone or Android device, and bring on the competition. —Josh Jackson
---
8. OVIVO
Platforms: iOS, Android
The best mobile games start with a simple premise built around the unique strengths and limitations of a phone, and then gradually become more complicated without sacrificing their vision or elegance. OVIVO understands this. This puzzler's physics are built around gravity and a monochrome color scheme, with the player tilting the phone and touching the screen to make a small orb roll and arc across the play field. Tastefully designed, and precise and arty without being either stuffy or fussy, OVIVO is the kind of mobile game that critics would've embraced warmly in the early days of the App Store.
---
7. Alto's Odyssey
Platforms: iOS, Android
Team Alto's series of mobile games somehow turns downhill skiing into adventures through some of the most beautiful environments seen on a phone. It takes one of the hoariest mobile genres—the endless runner—and reinvigorates it not with gimmicks or microtransaction-heavy progression, but through sheer artistry. With a rich color palette, detailed backgrounds and superlative sound design, Alto's Odyssey reawakens the possibilities that made mobile games so exciting a decade ago.
---
6. Cinco Paus
Platforms: iOS
Technically this came out in 2017, but it was Christmas day, so a little too late to make it on last year's lists. And heck, even if it was released earlier in 2017, it's so good that it should probably make lists like this every year. Michael Brough's latest game is once again built around chance and skill, with ever-changing levels and tools preventing you from relying on memorization and familiarity. If you're familiar with Brough's previous games 868-HACK and Imbroglio, you already sort of know what to expect. Brough's been one of the most talented and consistent mobile game designers for years, and he continues his streak with Cinco Paus.
---
5. Dandara
Platforms: iOS, Android
Long Hat House's first game might play fast and loose with history—its hero, Dandara, is a real-life figure from Brazilian history—but its Metroid-style design and unique approach to motion make it compulsively playable. It's part myth, part dream, all wrapped up in an occasionally psychedelic sci-fi action game heavily indebted to the aesthetics of the '80s and early '90s, and one of the best new games of the year.
---
4. Donut County
Platforms: iOS
Donut County is entirely about holes and the destruction they can wreak upon a southwestern community when deployed with malice by a clan of scheming raccoons. If you've ever wanted to swallow up a pastel desert town full of blocky, adorable animals with sass and quirks aplenty, Donut County is the game for you. Other than the art style and character designs, the best thing about Donut County is the writing. It's snappy and succinct, quickly establishing the unique personalities of a dozen or so characters, and legitimately funny without trying too hard or being obviously impressed by itself. As cute and surprising as the levels are, I found myself sometimes rushing through them in order to get back underground for the next bit of dialogue and the next character introduction. Like donuts themselves, Donut County will give you a quick, buzzy high, and taste great as you're chewing on it, but isn't all that filling.
---
3. ELOH
Platforms: iOS, Android
ELOH's another gorgeous puzzle game perfectly calibrated for touchscreens. The goal is to shift blocks into the right position to bounce balls towards the target. Each ball makes a sound when it hits a block, creating a steady rhythm once everything's in the right place. It has everything I'm looking for in a mobile game: a simple concept that makes smart use of the touchscreen, action that grows increasingly more complicated, and charming art and music. And on that last point, ELOH's painted artwork makes it one of the most beautiful games I've seen this year.
---
2. Holedown
Platforms: iOS, Android
Holedown came out this year but felt instantly timeless, like a forgotten early arcade hit dragged onto 21st century smartphones. It takes a simple idea—you shoot out balls to break blocks before they reach the top of the screen, caroming the balls around the screen like it's a pool table—and maximizes it for the mobile platform, with easy drag-and-go controls and a ruleset that makes it much more complicated than just busting some bricks. Somehow Holedown makes one of the oldest ideas in videogames—bouncing balls off of blocks—feel fresh and original.
---
1. Florence
Platforms: iOS, Android
Florence knows what it means to be human. We love, we lose, we learn, and move on. This story follows a relationship from its first flickering to its final ember, and although that's as sad as it sounds the misery isn't the point. The message is that this is normal—this is life. Most relationships won't last, and what's important is what we learn during them and how that impacts the people that we'll be if—or when—they do end. Florence captures this entire journey in elegant fashion, using the touchscreen to turn us into active participants in Florence's life. It's a modest game that's made a deep impression, and proof that videogames don't have to serve as a power fantasy or wish fulfillment to resonate with an audience.
---
Garrett Martin edits Paste's games and comedy sections. He's on Twitter at @grmartin.