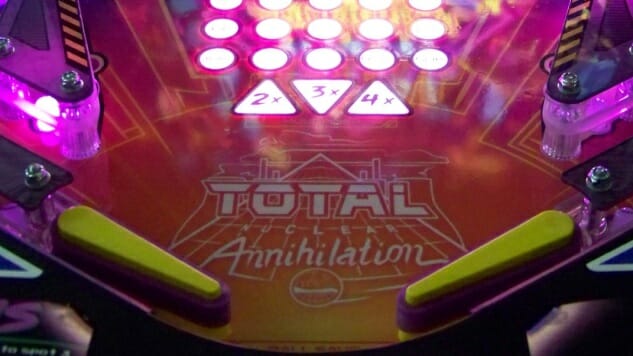 2017 is probably the first year since the late '90s where we could actually justify a list of the best new pinball machines of the year. Since Stern became the last player in the game in 2000, there have usually only been three or four new pinball machines a year. A few new manufacturers have sprouted up over the last few years, and now what seemed like a dying art form just a few years ago is more fruitful than it's been in almost two decades. There were at least seven new pins out in 2017, with three from Stern, one from Jersey Jack, one from the UK company Heighway Pinball, and two that are manufactured by Spooky Pinball. Only five made our list (sorry, The Jetsons, and sorry that we haven't been able to play you yet, Alien), but please, do us a huge favor: don't think a machine is bad because it's only in fifth or fourth place. If you need some hot pin action, all of these machines are pretty much great. It's just that some work better than others, both as games and as pieces of interactive art.
Before we dive into the list, let's set the terms. The Stern machines regularly come in two different models, Pro and Premium / Limited Edition. The Premium versions often have extra toys, additional ramps, and other playfield changes that can noticeably alter the feel of the game. For this list, I'm only considering Stern's Pro versions, both because they're the ones you're most likely to find on location, and also because I haven't played the Premium versions of two of their 2017 machines. So keep that in mind when you're reading this thing.
Also, American Pinball was planning a 2017 release for Houdini: Master of Mystery, which is designed by Joe Balcer and John Popadiuk. I got a few plays on a prototype at the Southern-Fried Gameroom Expo in Atlanta this past summer, and it's such a change of pace from what we usually see in the pin world these days that it would definitely have gotten a slot on this list if it was out and I had a chance to play a final version. Keep an eye out for this one, once it's available.
Okay, let's jump on in. Here are the best new pinball machines of 2017.
5. Aerosmith
It's hard to "objectively" analyze a pinball machine while discounting its theme. Case in point: Aerosmith. It's a good machine, but I just can't get too into this band. Thankfully the nine-song playlist pulls mostly from the band's best era, the '70s, entirely ignoring their obnoxious pop phase in the '90s. Still, you have to really love a band to fully embrace a pinball machine entirely devoted to them. And although the Big Daddy Roth-influenced artwork of "Dirty" Donny Gillies is normally a good fit for both rock'n'roll and pinball, the animations in this game aren't especially compelling. His art doesn't scream Aerosmith in the way it does Metallica. The actual game is about as fine as any recent Stern—it actually plays very similarly to the recent KISS machine. It's challenging and fun but not particularly inspired. Kind of like Aerosmith itself, actually.
---
4. Guardians of the Galaxy
Stern's brand new machine tries to capture the anarchic spirit of Marvel's films by using several movie clips and at least two songs from the soundtracks. ("Hooked on a Feeling" and "Cherry Bomb," if you were wondering.) This one could easily move up or down the list the more I play it. The playfield feels a lot like Stern's Metallica machine, which makes this one feel less new than it should, considering it is still just now rolling out to the public. Like Stern's new Star Wars pin, you'll start your game selecting one of many characters from the Guardians movies, but unlike Star Wars it's not clear what those choices trigger. It doesn't do as good of a job of making its objectives understandable as some of Stern's better recent machines, like Star Wars, Batman '66, Ghostbusters. It might take some time to crack, and until then I can't really rank it higher than Star Wars.
---
3. Star Wars
The newest Star Wars pin has the lowest rating on the pinball community site Pinside of the three Stern machines released this year. That's surprising to me, because it's my favorite of the bunch. And it doesn't have much of anything to do with the license. Yeah, Star Wars is evergreen, but this machine works because of how it's designed, not because of what's on the backglass. The shots are easy to see but not always easy to hit, it doesn't go overboard with the toys and gimmicks, and although the objectives might be a little too ramp-heavy, it still finds variety in how you have to hit those ramps. And, okay, yeah, the theme does help—by focusing on the original trilogy, Star Wars skirts any fanboy resentment over the later movies, while using film clips and references that will resonate with at least three generations of fans. It's one of the better recent machines from Stern.
---
2. Dialed In
An original concept from famed designer Pat Lawlor, Dialed In is sensory overload in a pinball machine. Between the HD video screen, the in-game smartphone, and the variety and complexity in shots and objectives, Dialed In almost buries the player under distractions and possibilities. That's part of its substantial charm, though—it's like one of those ridiculously complicated '90s pin updated for the modern day, complete with Bluetooth connectivity, an interactive mobile app, and the kind of constant dread and stress many of us feel on a daily basis right now. (Uh, the theme includes a constant stream of disasters hitting the city the game is set in.) It gets extra points for being one of the very few pinball machines this century to not be based on a licensed property.
---
1. Total Nuclear Annihilation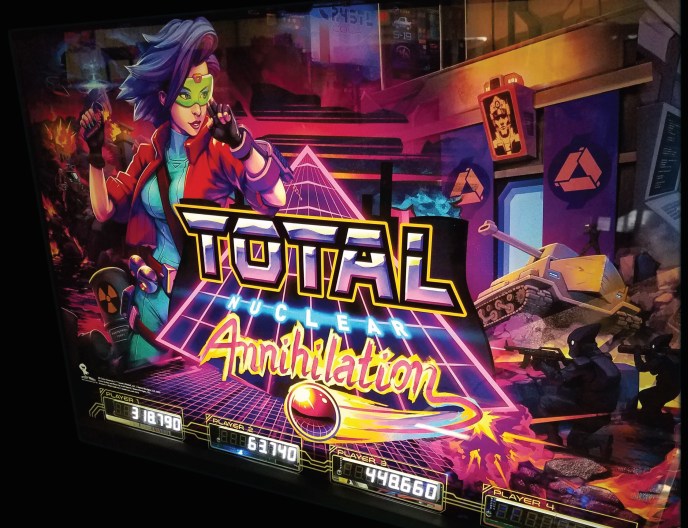 For the top spot on this list we roll from the most overwhelming new game of the year to the most minimal. Scott Danesi's Total Nuclear Annihilation is an intentional throwback to the early '80s, like a Williams System 7 machine updated with a modern sound system. It's a fast-playing machine with a clear cut rule set and a cyberpunk nuclear devastation theme that evokes the late Cold War while remaining (sadly) timeless. "Simple" can sometimes be treated like a dirty word within pinball circles, but the refreshing and carefully designed simplicity of Total Nuclear Annihilation is its greatest asset—or at least it would be, if it wasn't for Danesi's propulsive score, which drives you forward from shot to shot while constantly ramping up the tension. In a pinball industry that's mostly content to slap some movie promo shots on a playfield that'll feel mighty familiar, the thematic and conceptual unity of Total Nuclear Annihilation really stands out. It's also just incredibly fun to play.
---
Garrett Martin edits
Paste
's games and comedy sections, and has five pinball machines in his home. He's on Twitter grmartin.