Noosa Yoghurt Founder Koel Thomae's Inspirational Flavor Trek
Photos courtesy of Noosa
Food
Features
Yogurt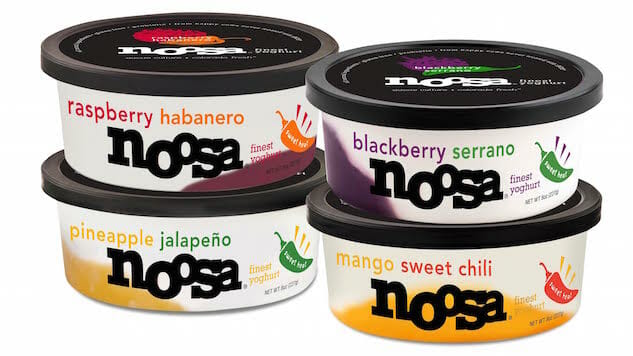 Whether a fan of Greek, sykr or a non-dairy variety, yogurt consumers stick to their favorite brands. Consequently, the extremely competitive yogurt industry continues to grow alongside the increasing popularity of new types of yogurt. According to a recent statistics report, the industry is expected to hit $ 9.3 billion this year. With yogurt giants such as Yoplait and Chobani dominating the market, and trendy, niche brands vying for what's left, how does a company effectively disrupt the competition?
The major catalyst of success for Koel Thomae, co-founder of Noosa yoghurt, has always been travel. It was during a trip back to her homeland of Australia that she unassumingly took one taste of a creamy yoghurt combined with passionfruit purée. It was this moment that sent her on a mission to bring the same goodness back to the U.S.
Soon thereafter, she founded Noosa yoghurt, which immediately set itself apart from most of the competition at the time in that it incorporated whole milk. "At the time we entered the marketplace, not many other yogurt companies were using whole milk in their products. It was dominated by the major players finding yoghurt aisle success with low-fat and functional benefits (probiotics, digestion, etc.)," said Thomae. "Choosing to make Noosa with whole milk at a time when low-fat, Greek yoghurt was flying off shelves was a major risk, and now full-fat dairy is a well-established movement in food that is now trickling down to the masses."
Another differentiator? An eclectic variety of nearly two dozen flavors, ranging from pear and cardamom in its "tart & sweet" line, to the raspberry habanero (yes, like the chili pepper) in its "sweet heat" line.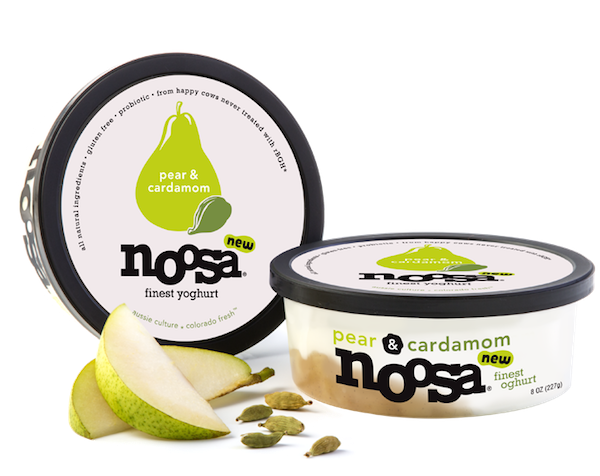 Last year, Thomae embarked on a flavor trek across several high-consumption dairy cities in the U.S. and Europe (Copenhagen, Paris, San Francisco and New York) in order to develop these types of global "culinary inspired" flavors. "So much of my travel has been focused in the U.S. and my homeland of Australia and we wanted to broaden our global view point to take advantage of trends in countries where dairy is such a big part of their culture and eating habits," said Thomae in response to how she came up with the idea to embark on a flavor trek. "Our trek through Europe and the U.K. led to the development of our recent "tart & sweet" line, which draws from global culinary trends of pairing juicy fruits with warmer spices. For example, we saw a lot of floral notes on menus throughout Europe, which led to one of our latest flavors, "strawberry & hibiscus." Our "pear & cardamom" flavor was similarly inspired by all of the savory Indian spices we enjoyed in London."
Thanks to Thomae's enjoyment of travel and appreciation for the tastes of local foods, Noosa's flavor concepts are unlike any on the market today. "We literally use our guts to come up with new flavor combinations which makes us unique in the competitive yogurt industry since mainstream players typically use consumer focus groups to develop their new flavors," said Thomae. "We're always on the hunt for the next best food trend and traveling helps fuel our creativity and think outside of the box. The majority of my travel is within the U.S. but I've relished the opportunity to travel through some other high-dairy consumption locales in Europe where I saw savory and spicy yoghurt combinations all over. This inspired me to experiment with Noosa's "sweet heat" line which led to the development of blackberry serrano that we launched last year."
"I'm always pushing the boundaries of what is possible to bring to life in our world of yoghurt. Sometimes we are constrained by the fact that a particular fruit just isn't grown by enough farmers that we can source enough volume to launch it," Thomae said after being asked about new flavor concepts she's particularly excited to explore next. "I love the opposition of sweet and tart and how to bring that to life in Noosa flavors so I'm always searching for that combination in a single fruit, but now that we are starting to successfully bring herbs and spices into our line up there is more fun exploration ahead."
As people who have traveled abroad or experienced living in different cultures may have noticed, flavors that are well received in some countries might not be in the states. "When I think of my adventures in some of the hotbeds of food culture in the [U.S.] there is such an amazing melding of global flavor happening that really has gone beyond the traditional flavors of very familiar international cuisines of say China or Japan and people are certainly embracing them, like the explosion of Filipino food," says Thomae. "But when it comes back to the landscape of yoghurt it is going to be a slower process to shift people's mindset towards that more global, savory experience. Noosa is definitely starting to push on some of those boundaries but we understand that it is still a very small percentage of people that are ready for big, bold umami type taste experiences in something they traditionally eat for breakfast." Though, I know to some Americans it may be surprising to learn that not everyone loves a fluffy stack of syrup-drenched pancakes in the a.m.
One of Thomae's best meals was at a restaurant in Copenhagen called Amass. The dish that particularly stood out was a modern take on Nordic culture of pickling and fermentation, which was best represented by her dessert. "It was a rich creamy ice cream studded with pickled blueberries and a salt and vinegar crisp on top which we were told to crush and mix in with the ice cream. I was dubious but it was a taste explosion in the best possible way," said Thomae. "Again, I'm not quite sure people in the US are ready for a similar flavor experience in yoghurt but we will continue to find ways to bring these types of inspirations to life in a unique and accessible way."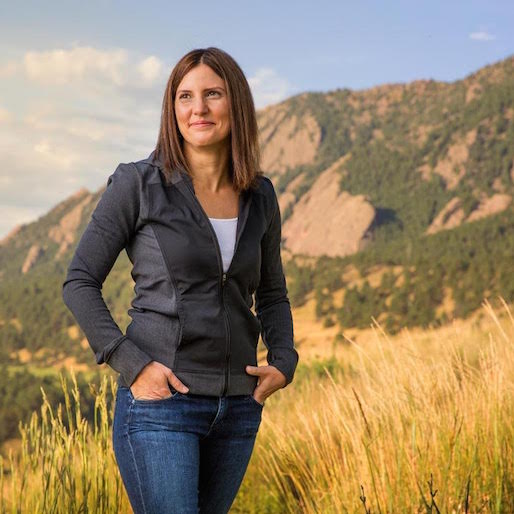 A word of advice from Thomae: "Travel while you're young because once you get locked into a career path you don't get to do it quite as much. It allows you to challenge yourself in different ways that you don't think you can." Traveling has allowed her to see trends and explore new food ideas which have proved to be fundamental to Noosas's development. What began as a small operation in Colorado is now a company whose product is sold in more than 25,000 stores nationwide.
---
Hailing from California, Chelsea is an inquisitive dessert enthusiast and Golden State Warriors fan. Since graduating from Columbia University, she has amassed a colorful professional background, with experiences in industries that include news production, radio, public relations & media communications. Upon realizing that her true passion revolves around traveling the world, immersing herself in new cultures and eating, she is now a full-time freelance journalist, based in New York City. Chelsea's work has been featured on Thrillist, The Daily Meal, Yahoo! and MSN, among other nationally recognized outlets. Follow her on Instagram and her blog .