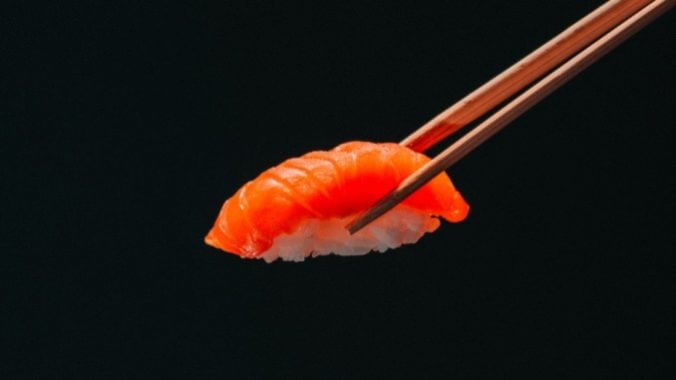 Most of the time, I have a healthy (probably too healthy) appetite. But unfortunately, the minute I arrive at an airport, it vanishes completely, leaving me nearly unable to eat despite my rumbling stomach. I'm not a meal-skipper, though; if I go more than a few hours without eating, I feel tired, anxious, aggravated. It can make traveling difficult. However, there is one food that I can almost always eat at the airport, regardless of my anxiety level before I step on the plane: sushi.
I know this won't make sense to some people. To be fair, the CDC advises against eating raw fish while traveling, as it does carry an increased risk of causing food poisoning, and the last thing any of us want is to develop gastrointestinal issues while on a plane. I'd be lying if I said I haven't thought twice before downing tuna sashimi right before boarding an aircraft. But up to this point, I've gotten lucky, and I tend to think the chef's choice sushi platter is generally worth the risk.
Apart from the risk of food poisoning, sushi tends to be pretty healthy—rice, fish and the occasional veggie are not going to make you feel too heavy or nauseous during takeoff. When my appetite is poor, the last thing I want is a burger and fries or anything greasy in the slightest, and sushi seems like the opposite of that: light and refreshing. It's something I always crave, so even if my appetite is at an all-time low, I can usually manage to down some fresh sushi.
Although some airports have stands or stalls that sell sushi, most of the airport sushi I've gotten has been at an actual sit-down restaurant near my gate. Do you pay a premium by going to these sit-down restaurants in airports? Of course. But as far as I'm concerned, money doesn't exist in an airport; I can deal with my poor financial decisions as soon as I reach my destination. These restaurants provide prime people-watching conditions: You can take advantage of the free Diet Coke refills while you people-watch and anxiously check the airline's app to see if your plane has been delayed. Add some just-average spicy salmon maki into the mix, and it's the happiest you could possibly be at the hellhole that is the airport.
There's something about the people who frequent these airport sushi restaurants too: They're adventurous souls. Anyone who decides to buck the advice of not eating raw fish in the name of enjoying their meal before a flight immediately earns my respect. You're risking experiencing diarrhea six miles above sea level? Me too. I see you.
That being said, contracting food poisoning from sushi is a relatively rare occurrence, so rest assured that you're probably going to be fine if you, like me, choose to indulge in the best possible airport meal. Maybe you're the kind of person who never loses their appetite and can happily chow down on a pepperoni-covered pizza right before you hop on a plane. But if you're like me and struggle to eat when you're at the airport, consider grabbing some sushi. You might just develop a new airport ritual.
---
Samantha Maxwell is a food writer and editor based in Boston. Follow her on Twitter at @samseating.