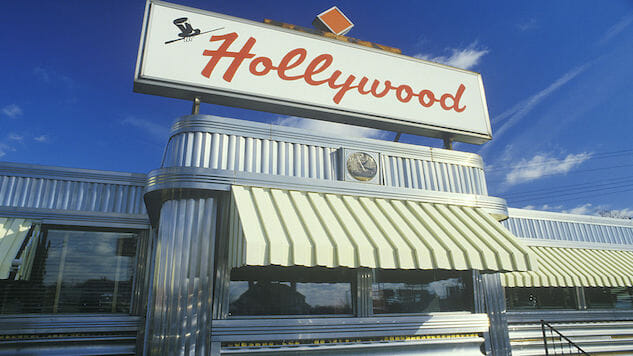 The American diner is a home away from home for many Americans. Often open 24 hours a day, the diner is a place to socialize, eat when working a late shift or enjoy a meal any time of day. It is an American icon that has appeared in all facets of popular culture.
The concept of the diner began when Water Scott, a Rhode Island entrepreneur, repurposed a horse-pulled wagon into a car that served sandwiches, coffee, pies, and eggs to people late at night. He quit his job as a printer to sell food from the wagon. Soon other companies followed to produce lunch wagons or early diners.
Worcester, Massachusetts' T.H. Buckley found that designing and manufacturing lunch cars was more profitable than running one. He is known as the inventor of the diner and owner of the Worcester Lunch Car Company. These early dining cars had large wheels, overhangs, murals, lettering and frosted glass, while the interior contained basic stoves and an ice box. In the 1900s there were three companies manufactured lunch cars — Worcester Lunch Car, Tierney and O'Mahony.
Later diners had smaller wheels, larger counters, tile and bathrooms and often were permanent establishments, catering to the lunch and night crowd. In 1913 Jerry Mahoney established the first stationary diner. He owned companies In New Jersey, Massachusetts and New York that shipped diners all over the country — in the 1950s, he owned 6,000 diners nationwide.
After World War I broke out, diners shifted to catered to women, adding flowers boxes and wallpaper and advertising their food as home cooked meals. Diners in the 1930s had a streamlined design, featuring bullet-shaped exteriors and chrome interiors. The streamlined modern design of the diner first appeared in the 1930s in an effort to change their image. The streamlined futuristic designs reflected the modern era. During the Depression many diners stayed in business due to their low cost menus. The demand for diners increased after World War II when many service men and women returned home. There were over a dozen diner manufacturers.
After World War II, diners implemented Formica countertops, porcelain tiles, leather booths, wood paneling and terrazzo floors. The look of the diner changed as it spread to the suburbs, implementing stainless steel exteriors, large windows and wall decor. In the 1970s a revival took place and many diners were built with a retro look. Diners spread to Europe which gave economic support to diner companies in the U.S. Today many companies build new diners and remodel old ones. There are many diners listed on the National Register of Historic Places.
The diner is an icon of American culture located in almost every city and town. During most elections political candidates often make a stop at the local diner to meet voters. The diner is a place anyone can go and sit down to eat. Diners were built by many different nationalities using different materials. This melting pot is what produced such a unique well made building.
The diner's role as a cultural icon is indesputable — it is a setting in acclaimed films like Pulp Fiction and When Harry Met Sally, some of the greatest novels of the 20th century and even paintings by Edward Hopper and Norman Rockwell. In the TV series Twin Peaks, the detective often stopped at the diner. Artist Edward Hopper has a painting of people alone in a 24 hour diner at night sitting at the counter called Room in Brooklyn. Tom Waits first live album was called Nighthawks at the Diner and he had a song about diner food and nightlife on the album.
Richard Gutman, director of Culinary Museum at Johnson & Wales in Rhode Island, is an expert on diners. He has more than 250 photos of his own collection at the Johnson and Wales Culinary Museum. He has photos of stainless steel diners, floor plans, and notes of the builders that designed them. The diner exhibit at the museum is a big highlight of museum. Many diners are restored today by people like Gutman.
Every diner Gutman says reflects regional cuisine on the menu and comfort food. It is a place where people from all walks of life can stop. It is a home away from home for most people. TV shows like Happy Days often had diner scenes.
New Jersey is known as the diner capital of the world, boasting 600 diners. It has all the right elements like a transportation system, large working class population and many diner manufacturing companies. More than 350,000 Greeks immigrated to the U.S. bring with them the concept of a coffee house and business smarts — today, more than 500 diners in New York City are Greek-owned.
American diners are still popular with families, adults, seniors and children. Known for their reasonable prices and delicious food they are a frequent stop for workers, families, students, seniors and housewives.