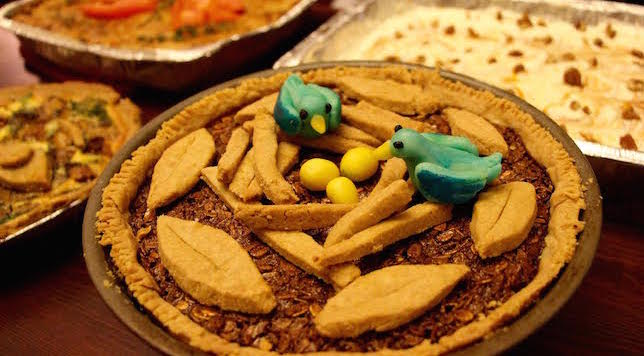 Like many fans of edible windmills, gentle strangers and bun-centric baking puns, I was crushed to learn that The Great British Bake Off will be losing its most beloved talent after a split between the production company and the BBC. Hosts Mel Giedroyc and Sue Perkins, along with esteemed judge and walking gif opportunity Mary Berry, will not go with the show when it moves to Channel 4 next season. While the golden age of the Bake Off may well be over, I'm not ready to let go. A few friends and I decided to take matters into our own hands and make our own Bake Off.
For us, it was important to design sufficiently interesting and tasty challenges that still fell within striking distance of our skills. All the contestants on The Great British Bake Off are amateur bakers, but our group was miles more amateurish and lacked high-grade kitchen equipment. We did have an unusual factor in our favor, though: my friends' apartment has two kitchens, one on the ground floor and one in the basement. I think it'd be possible to throw a similar Bake Off party without multiple ovens, but it'd require some clever adjustments, like staggering the challenge start times.
In the show, each episode is comprised of three timed challenges, which the contestants complete over the course of a weekend. Each episode has a theme — Cake Week, Bread Week, Pastry Week, etc. To prevent monotony and baking fatigue, we ditched the category themes and split the challenges over two weekends, completing the first two of them one Sunday and the final the following Saturday.
With our two ovens, we broke into teams. My friend Hannah and I comprised the upstairs team while Steve and Chad held down the basement kitchen. Cosme took on the role of both judges and both hosts, while other friends dropped in as supplementary judges/eaters/merrymakers. I rigged up a strand of DIY bunting to lend a country tent vibe to our Brooklyn apartment setting and Hannah found a playlist of songs from the show, which we blasted at full volume. This music is, I have to say, intensely motivating and deeply soothing at the same time.
Armed with whisks and poorly calibrated British accents, we got to baking.
The Signature Bake: Savory Quick Breads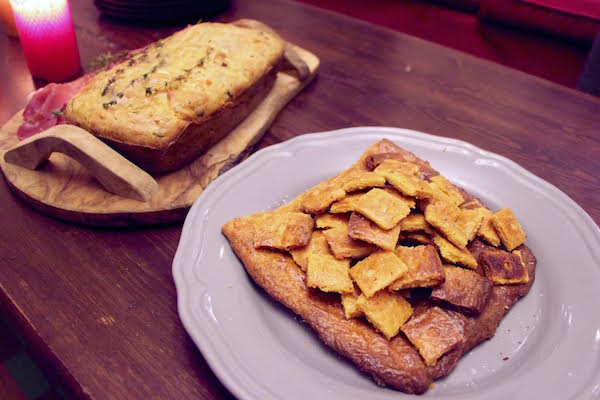 On the show, contestants plan and practice their signature bakes in advance. We chose quick breads — defined as any bread that uses chemical leaveners like baking powder rather than yeast or eggs — because they seemed like a relatively simple way to get started on the savory course of the meal. We gave ourselves two hours for this challenge.
Hannah and I chose a goat cheese, olive and prosciutto bread based on this recipe. We topped the bread with a honey butter glaze and garnished it with fresh thyme. Chad and Steve took on the Herculean task of making Cheez-Its from scratch. They used this recipe, which impressively calls for more cheese than flour. They made one giant cracker as a plate for a hoard of traditionally-sized Cheez-Its.
Neither team had much trouble finishing within the allotted time. As Hannah put it, we had "plenty of thyme and nothing to prove" (ba dum tss). Both breads turned out salty and decadent. The judges and bakers made quick work of them, noting that my team's bread was slightly under baked in the middle. The Cheez-Its, thicker and more buttery than the commercial variety, were delightful if labor intensive. On the show, the signature bakes aren't ranked, although they are considered in the final decision on who will be eliminated and who will be crowned star baker for the week.
After decimating the quick breads and cleaning the kitchens, we moved onto our second challenge.
The Technical Challenge: Chocolate Hazelnut Star Cookies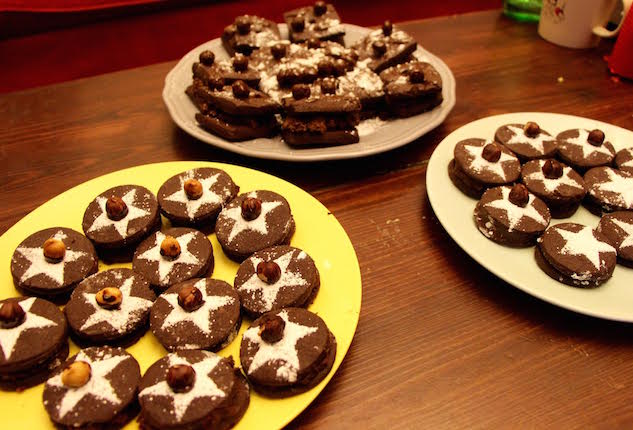 Bake Off contestants do not know what the recipe for the technical will be in advance. At the start of the challenge, each baker gets an identical set of ingredients and a recipe. In the show, the recipes are considerably pared down, often comically so, in order to gauge how well bakers can rely on their instincts and previous baking knowledge. As we hoped to make something at least passably edible, we decided not to get too minimal the the instructions.
Judge Cosme chose this chocolate stars recipe, which he carefully converted from metric and transcribed for the teams with a few deletions. We spent two and a half hours on this challenge. Cosme didn't specify what shape the cookies should be, although we could get a pretty good idea from the title. With no cookie cutters at our disposal, both teams initially attempted to cut star shapes from the dough with a knife. Hannah and I soon found that it was impossible to remove the fragile stars and place them on a baking sheet, so we opted for circles instead. In the end, we stenciled powdered sugar stars on the top of each cookie. The downstairs team decided on large rectangles, reprising the shape of their Cheez-Its.
After four and a half hours of baking, sluggishness was setting in. The upstairs team's cookies were a bit too soft and the basement team's ganache was slightly gritty and bitter, but all in all the chocolate "stars" were rich and nutty without being too sweet. While both teams' offerings would have likely been judged "informal" on the real Bake Off, Hannah and I ended up winning by a hair by virtue of our more polished presentation.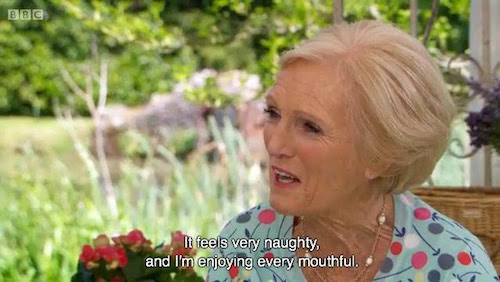 The Showstopper: Pies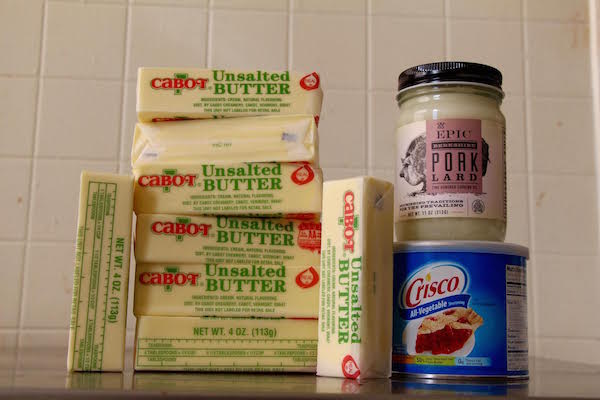 We reconvened the next weekend to tackle the biggest challenge of all: the showstopper. This challenge is a chance for bakers to showcase their decoration skills and creativity. In our Bake Off, each team had four hours to make two pies — one sweet, one savory. In preparation for the showstopper, I bought fat, fat, and fat. It felt amazing.
Hannah and I made a caramelized garlic, spinach and cheddar tart. For our sweet pie, we attempted a chocolate oatmeal pie, which we decorated with hand-molded marzipan birds in a pie crust nest.
Downstairs, Steve and Chad braved puff pastry for a beef curry pie and then swung into more American territory with a salted caramel apple cheesecake. A few friends showed up right as the final pies came out of the oven to judge our masterpieces. Both savory pies were excellent, even if the wealth of wet ingredients in our tart did result in the dreaded soggy bottom. Caramelized garlic is a truly a thing of beauty, and beef curry can only be improved with the addition of pie crust.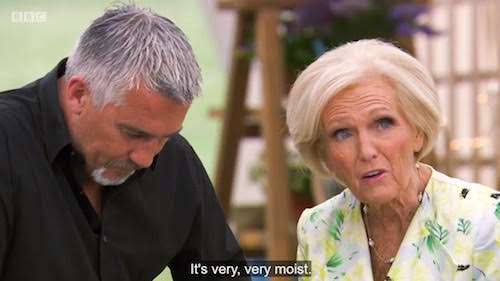 Next up, dessert. The apple cheesecake was indeed show stopping — rich and multi-textured if a bit sweet for my taste. The oat pie, on the other hand, proved a disaster. While we felt proud of our decorating chops, Hannah and I learned we had made a fatal substitution: I'd forgotten to bring corn syrup, so we used molasses instead. A major ingredient, it totally overwhelmed the flavor of the pie. The chocolate ganache base layer also wasn't sweet enough, making the whole thing a bitter, sulfurous, gelatinous mess. As Mary Berry might put it, this pie was "not a joy to eat."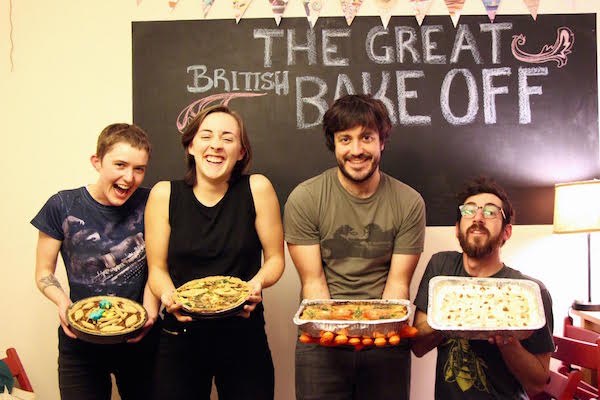 In the end, we didn't get a firm verdict as to who won our Bake Off. It turns out that polite guests who are being served mountains of butter crust don't really want to choose winners and losers. At the risk of sounding saccharine, we all won the Bake Off. Well, sort of. Alas, there can be such a thing as too much butter. Much like a reptile who has just ingested an entire rodent, I felt full and slightly nauseous for several days in the wake of the pie challenge. But it was worth it, soggy bottoms and all.
Molly Jean Bennett is a writer and multimedia producer based in New York City. Her essays, poems, and strongly worded letters have appeared in McSweeney's Internet Tendency, Atlas Obscura, VICE, and elsewhere. Her chapbook Paper Apartment is out now from Essay Press. Follow her on Twitter at @MollyJeanBee.