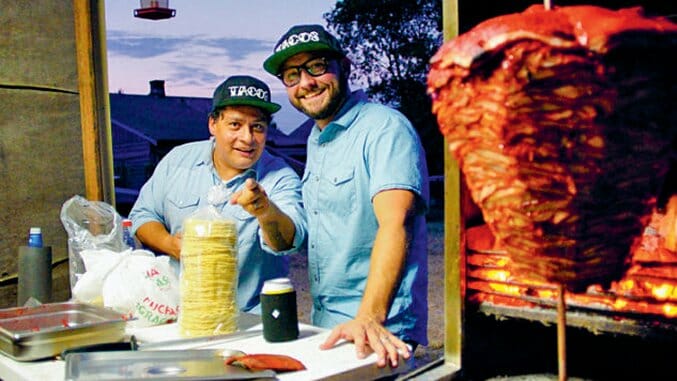 Mando Rayo and Jarod Neece are Austin-based taco experts known for their Taco Journalism website and their 2013 book Austin Breakfast Tacos: The Story of the Most Important Taco of the Day. Now, with their latest book, Tacos of Texas, the duo takes us on a ten-city tour that covers thousands of miles and hundreds of tacos.
Part guidebook and part cookbook, Tacos of Texas shows the many varieties of lone-star taco love, incorporating tips, recipes and stories from dozens of restaurateurs, food bloggers, community leaders, and various taco-rati (including musicians, academics, and even a police chief and a Catholic Monsignor).
While these local experts rep their hometown favorites, Mando and Jarod's taco love spreads across the whole state from Abilene to El Paso to Brownsville with a book that celebrates not only traditional tacos (al pastor, tripitas, street tacos), but Tex-Mex standards (crispy tacos, fajitas, breakfast tacos) and what they call "New Americano" fusions (anything from fried oysters to Korean barbecue).
I met Mando and Jarod at Austin's Mi Tradición where we all enjoyed the tacos al pastor (it might be my favorite version in Austin). This was two days after Latinos for Trump founder Marco Gutierrez spoke of how current immigration laws could lead to "taco trucks on every corner." For some, the remark may have been a threat, but for taco lovers like the three of us, we can only dream. As for now, we'll have to settle with living in Texas, where tacos are only available on every other corner. Happy National Taco Day, y'all.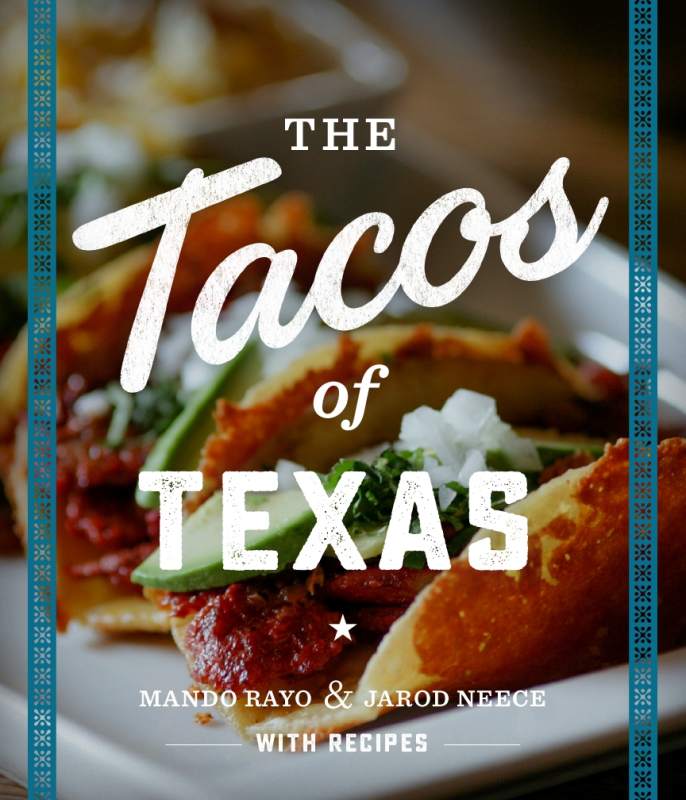 Paste: So, to start off, what's going on with the Austin versus San Antonio breakfast taco rivalry? Are people still arguing about where the breakfast taco comes from?
Mando Rayo: Austin is so media-savvy and Austin loves Austin, so every time there's a story about tacos in Austin, it will come up.
Jarod Neece: And we have a lot more social media tourism too — people that come here and eat a breakfast taco and post, "I just ate a breakfast taco! It was amazing! Austin invented the breakfast taco!" But we can both agree that they were not started in Austin.
MR: I don't know if anyone knows where the breakfast taco started, but it definitely started in South Texas and Mexico, and south Texas starts with San Antonio. If you're a writer, you need to do your homework. Just because Austin's hot, that doesn't mean that's where the food came from. And, for me, some of the best breakfast tacos I've eaten have been from outside of Austin: San Antonio, Corpus Christi, Laredo … man.
Paste: But people sure love to argue about one taco being better than another.
MR: Yeah, and part of it is the food itself, and the other part is nostalgia. It's like, what you grew up with, where you went with your friends, what your mom cooked, what your grandmother cooked, so a lot of that kind of deep connection.
Paste: And the taco is bigger than ever. Why is that?
MR: Markus Pinyero at Urban Taco in Dallas said it: "Tacos are the new burger." You don't have to go to a Mexican joint to eat tacos; you could go to barbecue joints, to gas stations . . .
Paste: Watch out! Taco trucks on every corner!
JN: Yes, our plan is working perfectly.
Paste: What's crazy about that "taco trucks on every corner" remark is that the taco truck is like the American Dream condensed.
MR: It is! Here's the thing: we've done interviews with older taqueros and restaurateurs and when they were growing up in the fifties and sixties, they would bring tacos to school for lunch and were made fun of because they couldn't afford that white bread and bologna. But culture happens in bubbles, so when people are introduced to new culture, it's like, "What is this? I haven't tasted that before." But once they taste it, they're like, "Oh my god, this is amazing." But now we have more Latino culture, and more Mexican influence, and more of American influence too — many people's perception of tacos comes from Taco Bell. But tacos have been around in Texas before Texas was Texas.

Photo by Andrew Hyde CC BY
Paste: So when you go to a taco spot, how do you judge its food? How do you assess a restaurant or taco truck?
JN: You have to go in with an innocent-until-proven-guilty mindset, and then you get your food and think, "What are the ingredients? Is there love involved?"
Paste: But how do you know which taco to get?
JN: There's always a baseline. For me, it's bean and cheese. You can learn a lot about a restaurant through its bean and cheese taco: how they make their beans and their tortillas, if they're homemade.
MR: And there's the type of salsas they have.
JN: You're looking at the trinity.
MR: The holy trinity: the tortilla, the fillings, and the salsas. So, at the baseline, you've got to have that tortilla. I'm a traditionalist that way: you've got to have corn or flour. And there's also the feeling you get when you come in, the aromas and the people that are sitting around you. But with what to get, it depends on the place. For me, one of my favorites is tacos al pastor.
JN: Al pastor is a good way to judge. And you talk to the owners, the waitstaff, and ask what's good, what's popular.
Paste: I do that, but I wonder sometimes if they're giving me the gringo answer.
MR: That's where I come in, haha. We like to say that if you have to practice your restaurant Spanish, that's a sign your tacos will be good.
Paste: Very true. Is there any other state that rivals Texas when it comes to tacos?
JN: California, for sure.
MR: Los Angeles, really. But let me ask you this, is there another state that rivals Texas?
Paste: Well, no, but, growing up here, I've been indoctrinated.
JN: If you asked about the best state for barbecue, there may be some debate, but I don't think anyone — other than maybe in Los Angeles — would debate what state is the state for tacos.
Eric Wallenstein is a writer, educator, and taco-lover in Austin, Texas.
Preview image by Robb1e CC BY-SA