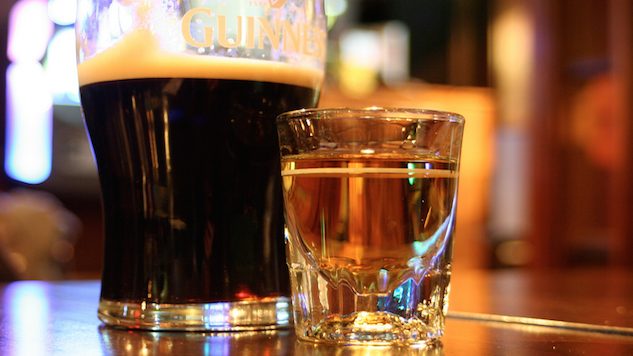 Everyone's favorite Celtic holiday is around the corner—St. Patrick's Day. But before you get decked out in green and head to any 'ole average bar to chug some beer, make sure you're not wasting your time (or sobriety!) at a fake "Irish" pub. Though shocking, not every O'-insert-Irish-sounding-last-name flying Ireland's flag is an authentic Irish watering hole. So what exactly separates the traditional Irish pubs from the gimmicky, run-of-the-mill bars?
Paste Magazine chatted with the charismatic Irishman Niall Hanley, owner a handful of popular Raleigh dining and drinking spots, including The Hibernian Restaurant and Pub, to find out.
Growing up in County Mayo, Ireland, Hanley—the youngest of five children—began working on his family farm, as well as the pub they owned, as a child. "I began pulling pints at around age 11 and so Irish pubs and the culture that surrounds the importance of Irish pubs in the community, was instilled early on," said Hanley. "The interaction with patrons, family and friends was the best part."
After leaving Ireland in the early '90s, Hanley landed in Boston where he worked the local bar scene before finally making his way to North Carolina. Once settled in Raleigh, he began building The Hibernian in an area that has grown to house his culinary empire which includes The Raleigh Beer Garden, which holds two Guinness World Records for largest number of operational taps (current count is 367) and Solas Nightlife, along with two new projects on the horizon: Watts & Ward, a speakeasy-style underground bar, and the Morgan Street Food Hall.
Determined to bring the traditional Irish pub experience to Raleigh after seeing the need for an authentic Irish social club and a homey gathering space for locals and visitors alike, The Hibernian was born. "The pub life is in my blood and after moving to North Carolina in the late '90s I realized that I wanted to bring a place where I could feel at home in my new home," explained Hanley in response to why he returned to the pub industry. This year marks the establishment's 17-year anniversary of, "celebrating the old-world flavor and the new vibrancy of Ireland," reads its website.
The Hibernian, which originates from the Latin term Hibernia, meaning "one who comes from Ireland" or "cold, wet land," is a prime example of an authentic Irish social club. How can you tell? Well first off, this welcoming pub fosters a sense of community for the diverse group of patrons that frequent it. "Being central in the life of our neighbors is the true hallmark of an Irish pub," said Hanley. Whether you're with family, fellow sports fans or friends, people come and feel "like a local" in the pub.
"An Irish pub is the neighborhood's community center—everyone meets there to socialize, celebrate holidays and special events such as baptisms, engagements… etc., and to watch sporting events," said Hanley. "The Hibernian, because it is such a large space, is able to appeal to all different types of Irish pubs," he continued while on the topic of the Hibernian's authenticity. "I was able to replicate the feel of a city pub, in a cozier country pub that also has a mercantile feel with lots of shelving, nooks and crannies and Irish knickknacks. But both spaces are filled with comfortable gathering places full of dark wood interiors, cozy nooks and beautifully sculpted bars."
What are some obvious red flags when it comes to authenticity? "The staff and décor are two dead giveaways. There are the pubs that are trying too hard and drawing off Irish stereotypes, and then there are those that say St. Patty's Day instead of St. Paddy's Day. The latter is a dead giveaway."
And don't miss one of the most unique aspects of the traditional Irish pub—the Snug, a self-contained tiny bar-within-a-bar. The Hibernian happens to be home to one of only a few in the United States. Dating back to the mid-19th century, the Snug has a long history in Ireland's pubs as a small private room, seating only one or two patrons, where individuals could drink without being seen. Many times, these were women who wanted a drink while still respecting societal norms, priests who wanted a pint without being seen or lovers sneaking away for clandestine visits.
While the atmosphere of a thriving pub like The Hibernian is undeniably Irish, so too must the food and drink be. Any Irish pub should be able to whip up the classic such as bangers and mash; corned beef and cabbage; fish and chips; and Shepherd's Pie. An extensive Irish whiskey selection and kegs of Guinness are also must-haves. Moreover, no night at the pub—or more specifically any St. Paddy's Day celebration—is complete without live music.
For those lucky enough to be in the Raleigh area on March 17—stop by The Hibernian for a St. Patrick's Day celebration that bring thousands of revelers to the streets in front of the pub for live music, Irish dancers and plenty of Guinness and Irish whiskey.
The Hibernian Irish Pub and Restaurant is located 311 Glenwood Ave., Raleigh, N.C. 27603 and is open daily 11 a.m – 2 a.m.
Photo by IntangibleArts, CC BY
---
Hailing from California, Chelsea is an inquisitive dessert enthusiast and Golden State Warriors fan. Since graduating from Columbia University, she has amassed a colorful professional background, with experiences in industries that include news production, radio, public relations & media communications. Upon realizing that her true passion revolves around traveling the world, immersing herself in new cultures and eating, she is now a full-time freelance journalist, based in New York City. Chelsea's work has been featured on Thrillist, The Daily Meal, Yahoo! and MSN, among other nationally recognized outlets. Follow her on Instagram and her blog .