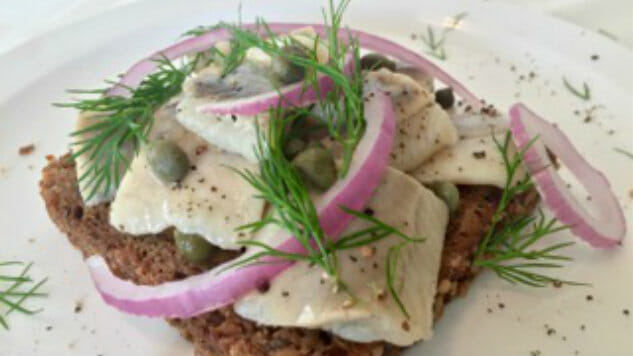 As a little girl, I only recognized two food groups: grilled cheese sandwiches and scrambled eggs. This presented a challenge for weekend sleepovers at my grandparents' house. My grandfather, a Russian Jewish immigrant who spoke mostly Yiddish, would take me with him to stock up at one of Los Angeles' old-country Jewish delis. While he was picking out sliced corned beef and tongue, I'd try to peer over the edge of a huge wooden barrel that was almost as tall as me. My grandfather would come and select some chubby dill pickles that the shopkeeper pulled dripping from the pungent barrel. Finally, after choosing a long loaf of sliced corn rye, my grandfather, a small man with a big heart, would buy a little chunk of marble halvah just for me. We didn't talk much, but his sweet gift spoke volumes. "Thank you, Zaida," I'd say, nibbling on the confection to make it last, as we left the deli with a hefty bag of provisions.
Friday nights, my grandmother humored me by making grilled cheese sandwiches with the heavenly rye. But Saturday mornings, I would stare down a massive platter arranged with smoked salmon slices, a whole smoked whitefish and a mound of pickled herring. "Es, mayn kind," said my grandfather, urging me to partake of the fish.
I always hoped to get away with just a soft, fragrant slice of caraway rye smeared with cream cheese. At least the lox slices were a pretty pink and didn't resemble any sea creature, but the shriveled whitefish with a curly tail seemed to be looking right at me with its creepy, opaque eyeball. And the odd morsels of pickled herring, dull brown and flecked with silver, were covered with sliced onions and reeked of vinegar. There was no way I could eat those so-smelly-I-had-to-pinch-my-nose fishy slabs.
In my twenties, a friend's introduction to LA's sushi bars considerably widened my edible horizons. I swore that the wasabi wielded some kind of addictive power. The tuna in tekka maki was my gateway fish, and once my seafood explorations began, I was inexorably drawn to raw fish of all stripes. In my thirties, I fell hard for elegant, icy platters of raw oysters in Paris. Then in my 40's, I was invited to lecture for a week in Denmark.
On a crisp day in early December, I arrived in downtown Copenhagen with a rumbling stomach. Looking for a place to eat lunch, I bumped into a line snaking out the doorway of a tiny shop. Its glass case was filled with what looked like artistic assemblages, but were actually exquisite, open-faced sandwiches. The colorful compositions displayed backgrounds of creamy Havarti, satiny pâté or rare roast beef set off by asparagus spears, cucumber disks or tomato crescents. The foregrounds featured decorative flourishes: radish coins, a sprinkle of chives, a fan of cornichons.
When it was my turn to pick out a couple for a take-away lunch, I pointed to an undulating wave of smoked salmon topped by a mound of baby shrimp with a sprig of dill, and a handsome stack of gleaming, pickled herring, with a twist of lemon and a mini-bouquet of fried parsley.
I took my edible artwork outside, found a sunny bench and discovered the joys of the traditional Danish lunch of smørrebrød, which means "buttered bread" and refers to the essential ingredient: a buttered slice of dense, dark Danish rye, hiding coyly beneath the elegant toppings.
The shrimp and salmon I was familiar with, but the briny, velvety herring was a revelation: soft, almost creamy, and not "fishy" in the least. In succeeding days, I learned that pickled herring plays a significant role in Danish cuisine, especially at holiday times. I sampled classic preparations: herring filets in sour cream, mustard, sherry or curry sauce, or rolled around a pickle, with the evocative name "rollmops." I found that I preferred a simple preparation that let the herring's hint of ocean spray shine through. At my hotel's breakfast buffet table, I'd butter my own hearty dark rye bread and top it with herring, sliced red onion and fresh dill.
My Danish friend Kim confided that he had a very positive association with herring, but not because of its taste. As the obligatory first course for the Christmas lunches with co-workers, friends and family that occur almost daily in December, herring is traditionally paired with akvavit, the distilled spirit flavored with botanicals, whose 40% alcohol loosens inhibitions and leads to all sorts of mischief.
While I was bonding with my new fishy friend, I wasn't even aware that herring boasts many health benefits. It is low in mercury and high in omega-3 fatty acids, selenium, Vitamins D3 and B-12. Herring is awarded an OK rating by the Environmental Defense Fund and is not in danger of over-fishing. Besides being a Scandinavian staple, herring is also an important part of Russian, Baltic, Dutch, Czech, German, Polish, Slavic, Scottish, and Ashkenazi Jewish cuisines.
Pickled herring's history goes back to medieval times. Pickling was a useful way to store and transport fish. Sailors would salt the fish on the boats while still at sea to prevent spoilage. Most pickled herring uses a two-step curing process. First, herring is salted to extract water. Then the fish are soaked in cold water for several hours to remove the saltiness. Finally, the herring are placed in a marinade, with vinegar, salt and sugar, and additional flavorings such as peppercorns, bay leaves or raw onions.
When my last day in Denmark dawned, I decided to bid adieu to Copenhagen by visiting Nyhavn, the picturesque waterfront canal and harbor lined with Crayola-colored townhouses and cobblestone streets. The Christmas market was already set up, with festive wooden booths selling holiday gifts and treats. Although the air was nippy, the sky was clear and blue, and the view sublime. I took advantage of a thoughtful outdoor café's heater and thick woolen blanket, settled myself in, and ordered a farewell dish of pickled herring with dark rye bread. As I sat cozily wrapped up, watching the ships bobbing in the harbor, a smartly dressed Christmas band marched by, serenading me with a jaunty send-off.
Even though pickled herring seemed to mesh perfectly with the Danish culture of coziness, candles and fluttering red and white flags, I pined for it back in California. But here, no one seems to share my attraction to this unassuming fish. It's a shame that my Zaida is not around. I could make him an open-faced herring sandwich on dark rye bread. I'm sure he would declare it "Geshmak!"
Anna Mindess leads a double life in Berkeley, California. She is a food and travel writer and a sign language interpreter, two fields bridged by a fascination with culture. Her work has been published in Oakland Magazine, Edible East Bay, KQED's Bay Area Bites and The Washington Post. Share her visual take on the world via Instagram @annamindess.