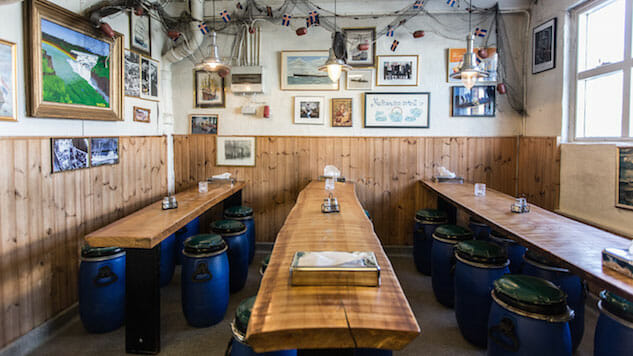 With a topography characterized by endless stretches of volcanic rock, epically large waterfalls and majestic fjords towering over the sea, dotted by waterfalls and stone
labyrinths, Iceland is Lord of the Rings meets The Martian.
Tourism has been exploding since the country rebuilt itself after the financial crash of
2008 — bringing in more yearly visitors than the country's inhabitants. But even with media hype around its culinary culture and natural wonders people come from all over the world to experience, there are still many pockets left to discover, particularly if you're looking for more quirky, off-the- beaten-path food and drink experiences.
Be forewarned, however. Iceland's gastronomic landscape is, in many ways, a riddle wrapped in an enigma, wrapped in something fermented or jellied. Because of its bone-chilling climate, dearth of forests and crippling darkness, there have always been limitations to the country's food sources, keeping it on the non-traditional, if not unpalatable, lists of many U.S. taste preferences. After all, what are you going to eat when things can't grow in your soil? And with what will you cook, if there are no trees for wood? You've got to use your resources. Enter the sheep's dung fuel sources and pickled ram's testicles many of us have read about. These things, along with jellied lamb's head, whale, horse and fermented shark, are still part of the Icelandic diet, but are counterpoints to a burgeoning food scene filled with creative interpretations of the past and modern inventions that rely solely on the things Iceland does have in abundance — great water, locally foraged ingredients and some funky twists on brownies and fish heads.
Here are eight things we highly recommend trying out on your next trip.
1. Eat Lobster Soup On a Plastic Bucket
At Sea Baron (Sægreifinn), one of the cheapest meals in Iceland can be had inside an old fisherman's hut in the Grandi harbor district, started by a fisherman turned Coast Guard chef who is said to have the best lobster soup recipe in all of Iceland. Owners Elísabet Jean Skúladóttir and Daði Steinn Sigurðsson welcome guests to take their meals at communal bench tables, seated on plastic buckets typically used for storing fish eggs, while surrounded by nautical tchotchke. You can choose from a variety of grilled skewers such as minke whale, monkfish, cod and scallops, but what you'll really want to do is get a steaming bowl of rich and buttery lobster soup and a loaf of bread for under $15 USD, which is a steal in Reykjavik.
2. Eat A Giant Brûléed Fish Head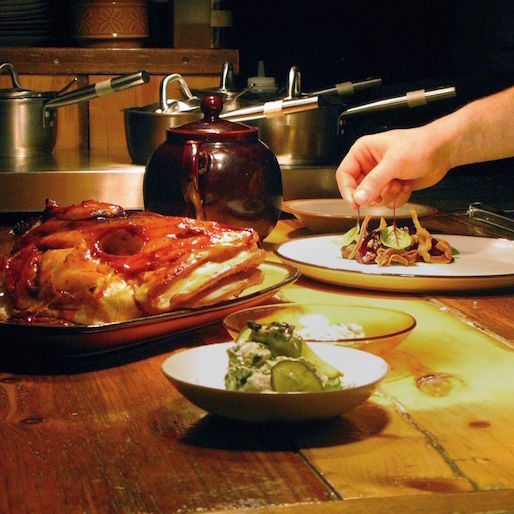 Photo courtesy of Matur og Drykkur
Staring down a singed fish head the size of a deflated basketball may seem more old school Icelandic than you expected, but at Matur Og Drykkur, there is magic involved in taking an Icelandic recipe from more than 70 years ago and dousing it in flaming liqueur. The 1947 cookbook, Matur Og Drykkur (food and drink), after which the restaurant was named, showcased a recipe for cod's head boiled in water with a pinch of salt. Founding chef and co-owner, Gísli Matthías Auðunsson, added a modern spin by cooking cod head in dulse and chicken stock, dousing it in birch liqueur, then torching it, to get a sticky crust. This is the restaurant's signature dish, and has mass appeal. You can find diners snapping photos every night, making this one of the most Instagrammed heads in all of Iceland.
3. Get Drunk Off Rhubarb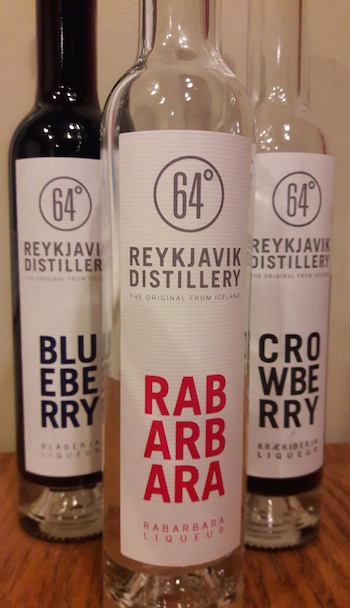 Photo by Stefanie Ellis
At 64 Degrees Reykjavik Distillery, you'll find a wonderland of liqueurs made from locally foraged ingredients, including crowberries, juniper and rhubarb, which grows in abundance in this volcanic land. Still a staple in Icelandic households, long ago, rhubarb was a snack for Icelandic children, dipped in sugar and eaten raw. In this case, however, rhubarb is transformed into a mildly tart, silken liqueur that tastes like a mix of apples and strawberries that weren't quite ready to be picked, but wakes up the senses enough to leave you puckering and licking your lips at the same time, wanting more. All the liqueurs are infused with pure Icelandic glacial water, and are great on their own as an after-dinner drink, or mixed into champagne for an elegant cocktail.
4. Get Your Hair Cut in A Bar

Photo courtesy of Quest Saloon
Sometimes, a haircut can be a harrowing experience, particularly if you're going in for more than split end removal. Thankfully, the folks at Quest Hair, Beer and Whiskey Saloon have got you covered. The vibe is relaxed and welcoming, and you can get styled by someone who has an appreciation for both hair and fiery spirits. After your haircut, stay for a concert, which the saloon hosts regularly. Only in Iceland will you find a salon, saloon and concert venue all in one.
5. Do Your Laundry in A Restaurant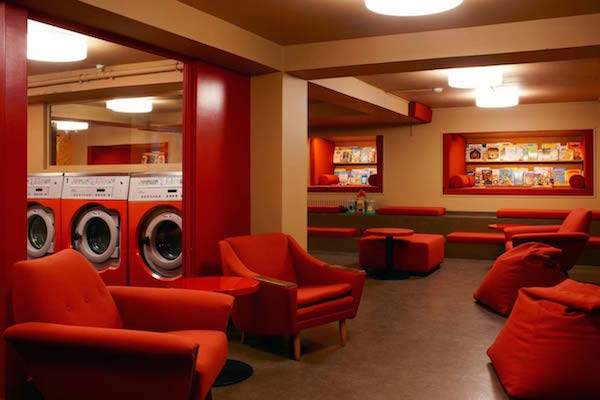 Photo courtesy of The Laundromat Cafe
The Laundromat Cafe originally got its start in Copenhagen, but has become a popular place for tourists and locals alike. If you're staying in the country, and have some garments that need tending to, why not enjoy a nice meal while you wait for your whites? The menu is decidedly American, with things like grilled cheese, hamburgers and salads, but you can also find a few local favorites like lamb, Icelandic cod or skyr with blueberries, along with a lengthy breakfast menu.
6. Drink the Water
Many Icelandic VRBO owners have sent their guests a list of dos and don'ts for their house, and, more often than not, the list of dos includes drinking the tap water, and the list of don'ts includes drinking any water other than tap water. Thanks to the fresh water that streams from the mountains and glaciers, the country has one of the purest water systems in the world, with virtually no pollutants or chemicals. It's difficult to explain the addictive quality of the water until you taste it for yourself.
7. Get Locally Made Licorice Ice Cream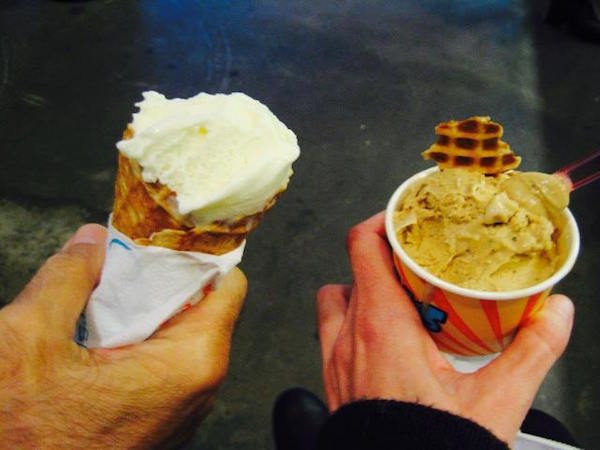 Photo by Stefanie Ellis
Valdís is the go-to place in Iceland for locally made ice cream. Customers are drawn in by flavors such as Toblerone, pistachio, tiramisu and raspberry jam, but it's the homemade waffle cones and Danish licorice ice cream that keep them coming back. Think salted caramel with a kiss of anise. Tiny pieces of licorice are studded in the ice cream like crunchy cacao nibs, and taste less sweet than regular black licorice. The licorice flavor sneaks up on you after a few bites, but the creamy caramel base helps take the edge off, resulting in a salty sweet flavor combination not entirely familiar to U.S. palates.
8. Eat A Raw Brownie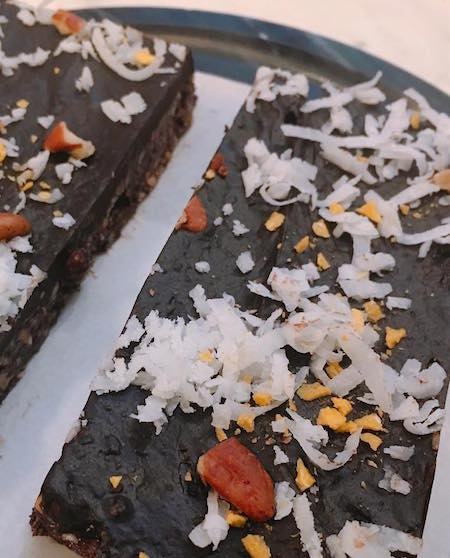 Photo courtesy of 17 Sortir
It's odd to imagine you could walk into Iceland's dainty cupcake- centric dessert shop, 17 Sortir, in the trendy Grandi district, and end up being blown away by a raw brownie, but be prepared by surprises in this city. Though the cupcakes do not disappoint — including several gluten-free options that are surprisingly moist and flavorful — it's the raw brownies made of cacao, raspberries and dates that truly take the cake here. They rival some of the best raw food spots in San Francisco, L.A., Seattle and Portland. You may not notice them amidst the full display of desserts, so be sure to ask for them by name.