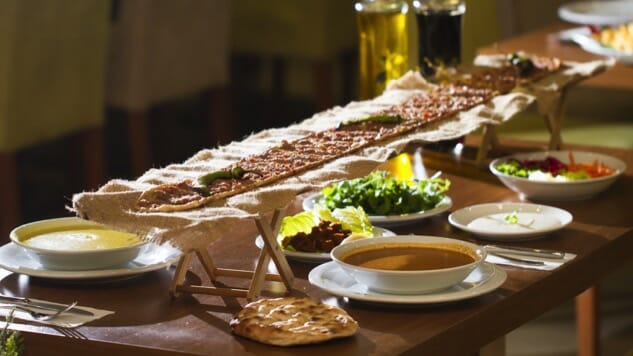 Muslims around the world observe the month of Ramadan with daily fasts, often gathering with friends and family when they break the fast at sunset with a meal called an iftar. Like so many holidays of different faiths, there are special foods associated with Ramadan, and desserts are the crowning glory.
In the Middle East, atayef asafiri are one such treat. "These little pancakes are only available during Ramadan, and If you grew up in the Middle East you definitely have fond memories of going to buy atayef with a parent or an older sibling," says Sawsan Abu Farha, the Jordanian-Palestinian behind the Chef in Disguise food blog. As a child, she was mesmerized watching the speed and precision of the bakers pouring atayef onto the griddle. "They manage to get them all almost the same size, in perfect rows without measurement. Then you go home with a plate full of hot atayef and you try to sneak away as many atayef as possible to enjoy after iftar."
Some prefer the silver-dollar pancakes "raw" (cooked only once on the griddle), topped with rose-scented clotted cream and doused in sugar syrup. Others fill the atayef with sweetly-spiced chopped nuts or a semi-soft cheese and then fry them before drizzling them with syrup.
According to Rafaat Hallab, owner of the legendary sweet shop Rafaat Hallab 1881 in Lebanon, lots of people like to make a simple sweet at home, then purchase one of the more elaborate desserts to accompany it. (Abundance is a classic characteristic of a Middle Eastern iftar.) His family has turned the Middle Eastern sweet tooth into their success: what started in 1881 as a tiny shop in the old souks of Tripoli is now a chain across Lebanon that even offers international shipping. Rafaat is the fifth generation of sweet-making Hallabs, and he produces all of the most popular regional specialties: mafroukeh, a sweetened semolina paste topped by cashews and almonds (with or without Lebanese-style ashta cream); namoura (known as basbousa in Egypt), a dense semolina cake cut into small squares, each topped by a single pine nut; and of course, the regional celebrity baklava—to name just a few.
For Egyptian-American Amira Ibrahim, the home cook behind Amira's Pantry, no Ramadan sweet can compare to her mother's knafeh. The semolina cake is crunchy with kataif, a shredded phyllo noodle, and is a Ramadan must-have. There seem to be as many variations of knafeh in the Middle East as there are home cooks: layered with ashta cream or gooey cheese or left plain; the indispensable sugar syrup perfumed with either rose or orange blossom water. (Amira's mother is in the ashta camp, while Palestine—Nablus in particular—is renowned for its dairy-free version.)
Similar to the way Easter holiday follows the Christian period of Lent, the month of Ramadan ends with a three-day holiday called Eid al Fitr. Some delicacies wait to make their appearance at Eid, such as the beloved shortbread cookies stuffed with sweetened and flower-scented dates, walnuts or pistachios, known as kahk in Egypt and as maamoul in the Levant (Lebanon, Syria, Palestine and Jordan).
"We usually share cookies during Eid when we gather with friends in the U.S., while in Egypt, many families buy cookies for guests who stop by for Eid," says Ibrahim, who has a soft spot for betefour cookies. An Arabicization of "petit four", betefour are molded butter cookies similar to spritz (and if you happen to have a spritz cookie press, you can use it to make them). In Egypt betefour are often made with ghee instead of butter, and sometimes smeared with jam and stuck together as tiny cookie sandwiches. To gild the lily, Ibrahim likes to dip the edges in melted chocolate, chopped pistachios or shredded coconut.
During Ramadan and Eid, Farha loves to have halawet al jibn (ashta cream rolled up in a semolina-cheese dough and topped with rose petal jam) and date ring cookies. "It's a toss-up for my favorite," says Farha. "Halawet al jibn reminds me of my childhood in Amman, but date ring cookies remind me of my late grandmother."
Visiting friends and family is an integral part of both Ramadan and Eid. It's only fitting that the favorite sweets evoke memories.