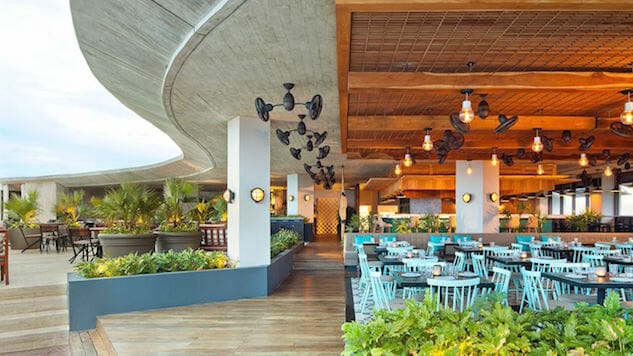 The first thing that may come to mind when you think of Playa del Carmen is the 4-mile pedestrian (read: tourist) stretch called Calle Quinta Avenida. But that's not all there is to this bustling beach town. For those looking to venture out, Playa del Carmen includes a mix of street vendors, cheesy eateries and off-the-grid gems that are frequented by locals. We've rounded up some of the best places to dine while you soak up the sun in this Riviera Maya town.
CATCH
Hailing from New York, the seafood hotspot opened up a Riviera Maya outpost in 2015 on the rooftop of the luxe Thompson Playa del Carmen. Diners can expect the same seafood-centric menu with signature dishes like the truffle sashimi, Hellfire Roll and Wagyu on a rock while enjoying panoramic ocean views on a 30,000-square-foot rooftop. CATCH Playa del Carmen boasts a more beachy vibe compared to its sister properties, but since the seaside restaurant is in the heart of the vibrant La Quinta Avenida you can expect evening entertainment which includes a violinist or saxophone player that plays alongside the resident DJ and might just make you bust out your dance moves during dinner.
Los Hijos del Mar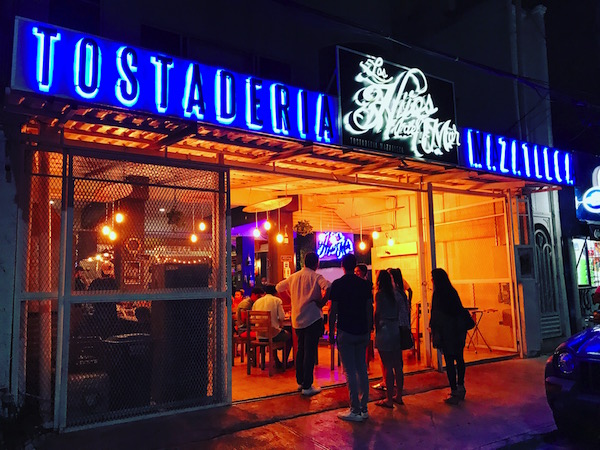 Photo by Leila Najafi
You know you've found a gem when there's no English menu in sight. Los Hijos del Mar is a fairly new-ish tostaderia not far off from Calle Quinta Avenida (about a 15-minute walk). It was started by a group of friends and it wasn't long before word got around that this place serves up some serious seafood tostadas. The bright and spacious interior looks like a surfer's abode with a rustic feel, dreamy beach photos hanging behind the bar and a neon sign to remind you where you are. The menu includes a laundry list of tostadas for about $2-3 a pop (must try the tostada de atun sellado!) as well as generously portioned ceviche and aguachile dishes where you decide how much heat you're belly can handle. Wash it all down with a carajillo, a strong Spanish drink that combines alcohol and espresso for an extra kick.
El Fogon Tacos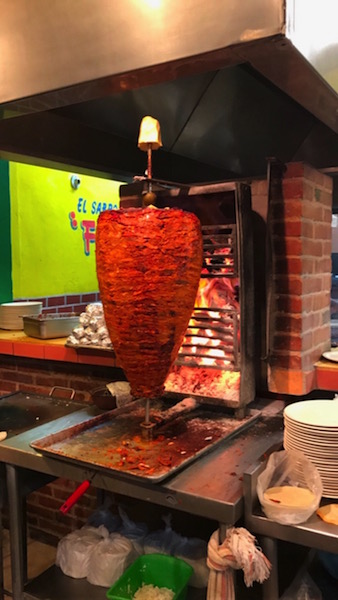 Photo by Leila Najafi
If you're on the hunt for some of the best authentic tasting tacos in Playa del Carmen then El Fogon is a must. You can't miss this indoor-outdoor, no frills taco eatery where locals flock to get their taco fix — and at less than $1 per taco, why would you want to? The al pastor tacos are the most popular, topped with chopped onions, cilantro and a slice of pineapple to balance out the flavors. These mouthwatering bites are so good (and cheap!) you'll want to order two (or five). If that's not enough to convince you, just walk passed the rotating spit facing the sidewalk, and wipe your drool as you watch the giant slab of al pastor sweating with juices. That should do it.
C Grill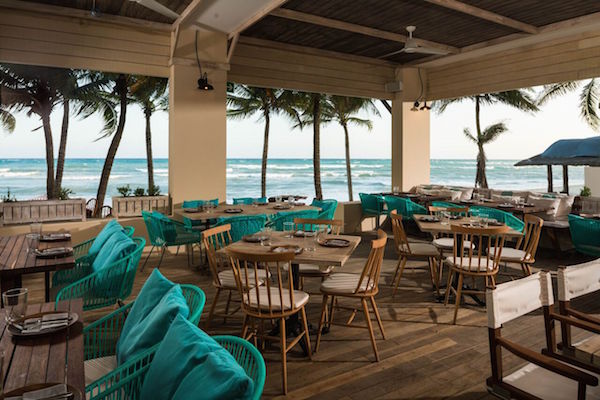 Photo courtesy of Thompson Playa del Carmen
Executive Chef Pedro Abascal serves up traditional Mexican cuisine with a twist using locally-sourced ingredients at this casual beachfront restaurant nestled in the Thompson Playa del Carmen Beach House. The menu at C Grill is centered around wood oven-fired dishes and other favorites like a fresh nopal cactus salad, chochoyotes and tacos dorados with a generous list of options for vegetarians as well. Kick off your dinner at the Beach House bar for a complimentary tequila or mezcal tasting at 6 p.m. which includes three tastings. Pro tip: upgrade your experience to a premium tasting or expand it even further with pairings at C Grill while you enjoy ocean views.
Taqueria El Arbolito

Photo by Leila Najafi
Every now and then during your travels you may discover an off the beaten path eatery that is bursting at the seams with locals, the kind of place that makes you feel like an insider because not even Google can pull up a URL to said eatery. Well, the secret is out. Taqueria El Arbolito is a short 15-minute drive south from La Quinta Avenida (convenient if you're headed to Tulum). It's easy to miss, but if you're lucky enough to find it, it encompasses everything you could crave from a roadside taco joint: staff that only speak the native language, an archaic ordering system, menu prices so low you might blink twice, homemade tortillas and a plethora of salsa options with varying degrees of heat. Finding the place isn't the biggest challenge you'll be faced with though — it's deciding which of the dozen or so taco fillings to choose from, and at around 15 pesos per taco, you can get one of each and still manage to stay under $15. Pair your meal with a cup of traditional piping hot café de olla (which literally translates to coffee from the pot) that you can pour yourself from the clay pot.
---

Leila is an LA lifestyle and travel writer who spends about 95% of her time writing about food, thinking about food, cooking food or eating. You can follow her food and travel adventures around LA on Instagram and Twitter @LeilasList.