Icelandic Restaurant Dill is the Country's First Michelin Star Recipient
Images via Facebook (@dillrestaurantrvk)
Food
News
Michelin Star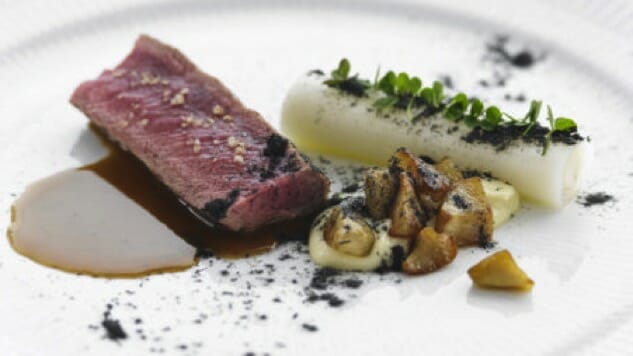 Iceland, home to just 330,000 people, can now lay claim to its first Michelin star.
The restaurant Dill, located in the central part of capital city Reykjavik, was recently presented with the award at a reception in Stockholm, Sweden. Dill's been open since 2009 and has won numerous regional awards since then, but this is the 30-seat venue's first brush with broader international acclaim.
In an interview with The Iceland Monitor, head chef Ragnar Eiríksson said the news was an enormous honour for Dill's crew, and that the restaurant "builds on Icelandic traditions and Icelandic and Nordic ideology" while only using "the best and purest of Icelandic ingredients in our cooking."
Current items on Dill's ever-changing menu include pork belly with parsnips and honey; tusk, kale and black garlic; and Arctic char with fennel. Seven-course meals at the minimally lit locale top at out 13,900 Icelandic Krona, which equates to about $128, though those numbers may well inflate after Dill's Michelin win.
Dill's success represents the continual, broader success of the so-called "New Nordic Cuisine," which was effectively started by Rene Redzepi at Noma in Copenhagen in 2003. Salting, smoking and pickling are all prioritized in this style of cooking, as is the use of foam and food dehydration.
Along with foods such as root vegetables, dried fish, roe and caraway seeds that tap into the country's 1200-year history, decor at Dill is meant to harken back to Viking heritage, and features slatted wood ceilings and stone walls. In fact, before Dill was awarded its Michelin star, the restaurant was previously nominated for a Restaurant & Design Award in 2015.
Find out more about Dill here.