A Taco A Day: A Tortilla-Wrapped Tour Of Mexico City
Photos by Veronica Meewes
Food
Lists
Mexico City
A trip to Mexico City will easily confirm what we already know— one can live on tacos alone. And if there weren't so many other delectable things in the city's every crook and crevice, I certainly would've tested this theory. The great thing about tacos is that they can be eaten just about any time of day— even in between meals. They're slung on the streets just as easily as they're reinterpreted in the finest restaurants. And once you taste the taco rainbow in the Distrito Federal, you'll develop new standards for this tiny folded wonder.
Cochinita Pibil
Rico's Mixiotes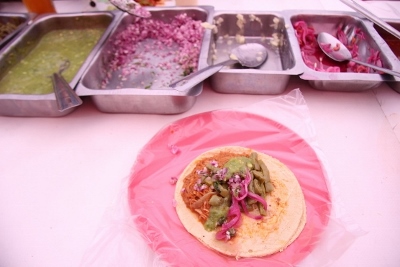 Mercado Condesa, Calle Pachuca from Juan de la Barrera to Veracruz, Condesa
Each Tuesday, the Condesa tianguis (street market) appears on Calle Pachuca. Vendors line the streets, showcasing buckets of beans in different shapes and sizes, cases of fresh cheese, stacks on stacks of tropical fruits. Past the man weighing elephant ears of chicharrones and the boys handing out samples of mamey and papaya, through the fragrant, bustling maze of makeshift lunch counters, you will find a stand called Rico's Mixiotes. Have a seat and order the cochinita pibil taco— double corn tortillas filled with pork made tender and juicy from marinating in achiote before it is pit-roasted in maguey leaves. Various accoutrements line the center of the table— from finely diced raw onion to strands of pickled red onion to salsa verde to nopales.
Gringa Taco
Tacos El Vilsito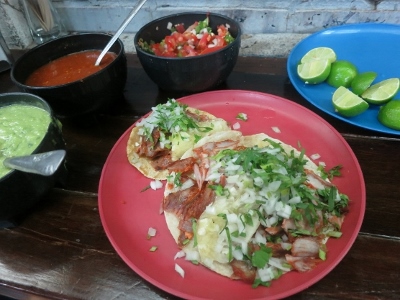 Avenida Universidad 274 (corner of Calle Petén), Colonia Narvarte
Since Mexico City is so huge, culinary adventures can take a bit of pre-planning, especially when some of the most highly recommended taquerias are in faraway neighborhoods. That being said, the tacos at El Vilsito were certainly of the "destination" variety— obtained via Uber late one rainy night and worth every peso (and then some). The auto-repair-shop-by-day-and-taqueria-by-night is known for their pork al pastor, shaved from a marinated cone suspended on an upright spit, placed on a teeny corn tortilla then topped with a slice of roasted pineapple, onions and cilantro. But what I found even more delicious was their appropriately named Gringa taco— all the ingredients of an al pastor but served on a larger flour tortilla and topped with melted cheese (even better when washed down with a homemade horchata).
Barbacoa
El Hidalguense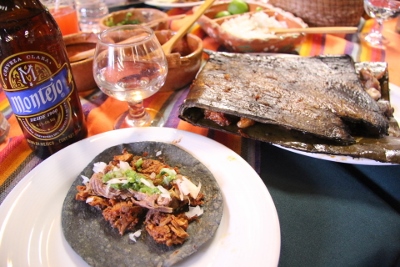 Campeche 155, Cuauhtémoc, Roma Sur
The barbacoa at El Hidalguense was hands-down one of the best things I ate in Mexico City. Chef Moisés Rodríguez raises his own lamb two hours away in Hidalgo. He constructs his own underground clay pits, where he places the lamb, wrapped in charred pencas de maguey (agave leaves) over aged oak to slow roast for 12 hours. Pile that succulent meat onto a delicate blue corn tortilla, sprinkle with onions, cilantro and any of their fresh and flavorful salsas, and you've got yourself a little piece of handheld heaven.
Pato Taco
Paxia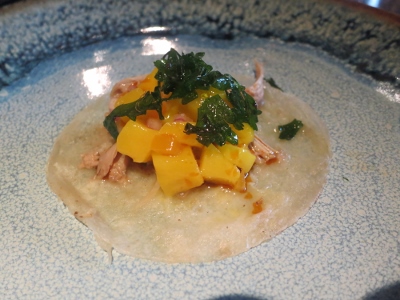 Avenida La Paz 47, Álvaro Obregón, San Angel
At Paxia in San Angel, Chef Daniel Ovadia composes playful reinterpretations of Mexican classics, such as his modernist quesadilla, which bubbles into molten mole before the diners' eyes, or his tiny torta ahogada which arrives with with a plastic glove and instructions for eating neatly. His duck taco is not quite as involved, but it is every bit as delicious. A mound of shredded duck is placed atop a paper-thin flour tortilla, then topped with sweet chunks of mango and apple given heat with several types of chile peppers and chile oil. No salsa needed here.
Taco de Pescado a la Talla
Tacos El Patán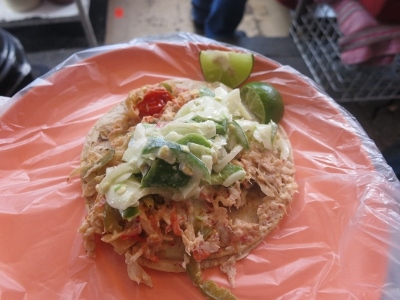 República de Bolivia 67-C, Centró Histórico
I'd received an email from a friend with a slew of recommendations for bars and restaurants in the DF, with mention of a fish taco stand at the very end. "If you don't go to any of the other places I mentioned, no big deal, but you must go here!" he signed off. Say no more! (As you already know, I will travel for tacos.) This particular spot happened to be tucked deep into the cacophony of street vendors on and around Calle del Carmen— pretty much the last place you'd expect to happen upon a couple cooking whole fish the length of their two-foot grills. Juan Manuel starts by butterflying and grilling his catch of the day (usually barracuda, wahoo or red snapper). He then slathers the fish with mayonnaise and pico de gallo before sealing it back up with foil to cook a bit more. The resulting fish is creamy and spicy, wrapped in double corn tortillas, topped with a crunchy jalapeño slaw and served with lime slices. Ice cold Victorias will be just the quench you need to cool the fire.
Rellenito
El Parnita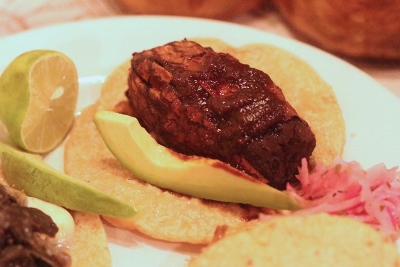 Avenida Yucatán 84-E2, Cuauhtémoc, Roma Norte
El Parnita is a charming cafe in Colonia Roma featuring a menu of antojitos, perfect for snacking on while catching up with friends. I tried several of their tacos and found them all tasty, but was particularly taken with the Rellenito. It consisted of a dried meco chipotle pepper stuffed with silky black beans and a cube of cool queso panelo, the whole thing slathered in a piloncillo sauce and topped with an avocado. It was sweet, savory, smoky and delicious. For added heat, El Parnita's signature habanero salsa arrives at each table in a rustic molcajete, as well as their red and green salsas, which both have layers of brightness and depth. After your meal, be sure to pay a visit to Tlapalería Gastronómica, their adjacent culinary shop which sells a number of the products found on El Parnita's menu (salsas included).
Tacos Al Pastor & Cabeza
El Borrego Viudo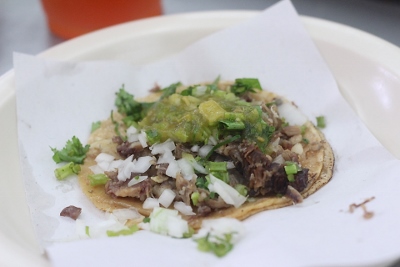 Calle Cerrada de Revolución, Tacubaya
Mexico City is one of those sprawling culinary meccas where every suggestion you follow automatically yields three more. This was, in large part, thanks to Instagram, where my posts would be equally met with hungry admiration and insistence that "you can't try the al pastor here and not try the al pastor there!" Needless to say, I never tried ALL the al pastor. But I did make a pilgrimage to El Borrego Viudo after it was recommended several times. Located on a very busy road, this little fonda specializes in a very short list of menu items and is well known for their tacos al pastor, which are masterfully shaved off the spit by chefs in old school paper hats. Their al pastor had a delectable seasoning and a nice variegated texture, served on delicate little corn tortillas. The house tepache (a fermented pineapple beverage) served as a sweet thirst quencher and palette cleanser between tacos. I also tried their cabeza, which was tender and buttery, perfectly accompanied by their spicy green salsa and a sprinkling of onion and cilantro.
Gaona's con Queso
El Califa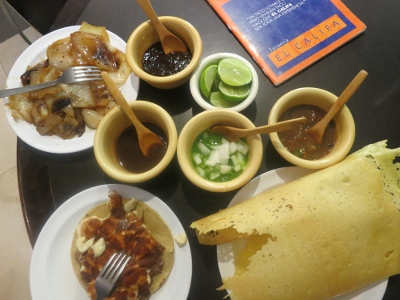 Altata 22, Condesa
Not only did The New York Times say El Califa has having the best tacos in the city, but one of the owners of the Red Tree House (an incredible bed and breakfast I stayed in in Condesa) agreed— and apparently he's known to be picky. That was enough to pique my interest, and one of their locations was mere blocks away. I ordered the legendary "Gaona's con Queso," a thin steak laid across a corn tortilla and covered in grilled cheese. And while I wouldn't call it the best taco I'd come across so far, I will say the side of grilled onions and variety of four distinct salsas sweetened the deal. My favorites were a sweet tamarind salsa and a spicy salsa verde mixed with diced onions. Be sure to order a chicharrón de queso as well (think large, cylindrical Parmesan crisp).
Taco de Cordero Lechal
Pujol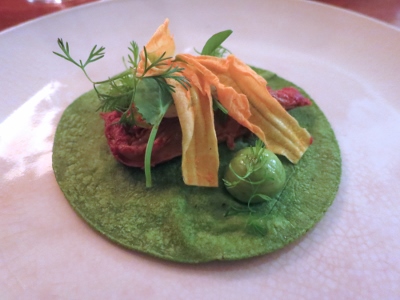 Calle Francisco Petrarca 254, Polanco
It's fitting that my last taco in Mexico City would be this stunner from Pujol, the city's crown jewel for Mexican cuisine. Since Chef Enrique Olvera opened it almost fifteen years ago, it's risen to the top twenty of San Pellegrino's list of the World's 50 Best Restaurants— and the top three on Latin America's 50 Best Restaurants. Many of his classic dishes are riffs on classic Mexican cuisine— for example, street food gone gastro-molecular and reduced to precious sizes— and this is undoubtedly his interpretation of barbacoa. Tender suckling lamb is cooked in an adobo made from lamb bones, chili guajillo, vinegar and avocado leaves, then placed on poblano-cilantro tortilla, topped with herbs (cilantro, pea sprout, chive), draped with squash blossoms and daubed with avocado purée.
Veronica Meewes is an Austin-based freelance journalist specializing in food, beverage, and travel features. Her work has appeared in Forbes Travel Guide, Food & Wine, Tasting Table, GOOD, The Local Palate, The Today Show, Serious Eats, Austin Monthly, Texas Highways, Citygram and more. Follow her on Twitter and Instagram @wellfedlife.