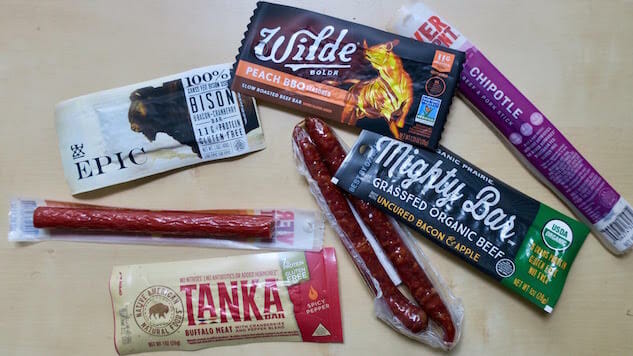 While tasty plant-based protein treats abound, the omnivorous human snacker sometimes craves something more, you know, meaty. Fortunately, it seems the golden age of meat snacks is upon us. Stalwarts like beef and turkey jerky aren't going anywhere, but there's quite a bit of new innovation in the meat space.
It's true that these snacks can be a bit pricey—the products I tried for this story range from $2 to $5.50 for a single serving package. Ethically raised meat may not come cheap, but meat bars, sticks and chips can be a tasty way to shake up a snack routine even if they aren't an everyday indulgence.
1. Epic Bars
Sold in grocery stores in all 50 U.S. states, Epic Bars are possibly the most widely available meat snack bars. The Chicken Sriracha variety is dense and spicy—delicious but so intense that I can only handle half a bar at a time. The Bison Bacon Cranberry bar is softer and more chilled out. Other flavors in the Epic lineup include Smoked Salmon Maple, Venison Sea Salt Pepper and Lamb Currant Mint.
2. Wild Zora Bars
Calling themselves "the original meat and veggie bar," Wild Zora bars come in thin, pliable strips. The veggie aspect makes them a bit less dense and rich than some of the bars I tried. I especially like the Mediterranean Lamb flavor—it's supremely herby and not too salty, like a tiny lamb burger you can carry in your purse without getting grease and meat fragments on your phone and stray hair ties.
3. Organic Prairie Mighty Bars
Also in the meat bar category, the Uncured Bacon & Apple Mighty Bar by Organic Prairie is chewy, substantial and intensely smoky. With both beef and bacon, this snack is bound for glory.
4. Tanka Bars
Tanka makes a variety of buffalo-based treats, including bites, sticks and bars. I love the Cranberries and Pepper Blend bar in particular. Tender in texture, the cranberries create pleasing pockets of tartness and add a nice bounce.
5. Wilde Boldr Bars
Wilde Boldr's Peach BBQ Beef Bar may be my favorite of all the bar-type snacks I tried. It has a melt-in-your-mouth softness, almost like brownie made of meat (which I mean in the best way possible). Wilde Boldr also uses chia seeds in their bars, which adds some nice variation. I was worried the peach would be sugary and artificial, but in reality it brings a subtle tanginess that balances the savory beef. Intriguingly, Wilde Boldr plans to release a product called "Chicken Chips" soon. And speaking of meat chips…
6. Yeh Chips
Yeh Chips are a different beast entirely from the moist, dense meat bars. These crisp, featherweight dreams come in two flavors: Umami Bacon and Rosemary & Meyer Lemon Turkey. Yeh Chips founder Daphne Yeh was inspired to create her product after trying a wafer-thin street snack made of meat on a trip to Taiwan.
7. Vermont Smoke & Cure Meat Sticks
Vermont Smoke & Cure's meat sticks are essentially a gussied up Slim Jim. Bouncy and flavorful, the Chipotle Beef & Pork Stick tastes like the interior of an A+ taco. I hesitate to say it's the Gogurt of meat products (because frankly that sounds foul) but the portability and fun factor are not dissimilar.
8. Fleishers Craft Butchery Pork Sticks
The portable pork offerings from NYC-based Fleishers Craft Butchery are unabashedly rich and salty—the perfect companion to hoppy beer and a tall glass of ice water after an especially monstrous workout.
---
Molly Jean Bennett is a writer and multimedia producer based in New York City. Her essays, poems, and strongly worded letters have appeared in McSweeney's Internet Tendency, Atlas Obscura, VICE, and elsewhere.