The Butcher Babe Dishes it Out about Beef, Bourbon and Butcher Aprons
Photos by Jessica Ebelhar.
Food
Features
Loreal Gavin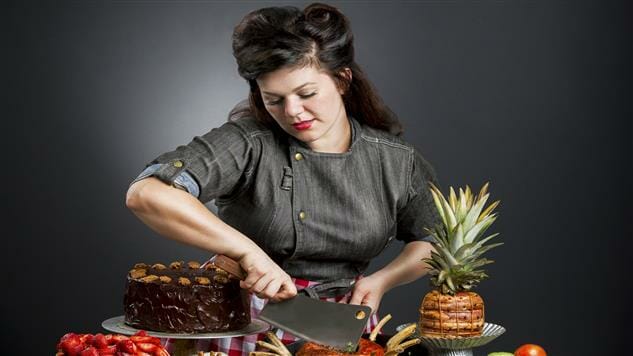 Loreal Gavin's favorite phrase these days seems to be "out of this world." It is how she describes everything from her preferred lipstick shade or bourbon recipe, to her experiences on Food Network's Cutthroat Kitchen and Next Food Network Star. It's also how she describes the process of penning her first cookbook, The Butcher Babe Cookbook, on sale this week.
"At first, I was developing recipes to show off for my chef friends," Gavin says. "But when I talked to other chefs who'd written cookbooks, they said that making the recipes too hard in their first book was one of the things they most regret," she explains. "So I started thinking about my roots, and then I really stepped back and thought about the home cook. This book in so many ways is surprising — I can't believe that it is actually happening — but it was one of the most difficult things in my life to tackle, and I think how it came out is out of this world."
Gavin, who stresses that she did all the recipe testing and writing for what she sees as the first of many cookbooks, dedicated The Butcher Babe Cookbook (a moniker she has trademarked, by the way) to her grandmother, with whom she enjoyed many a childhood morning making pie crusts ("I'm also a pastry princess," she says) and learning how to grill meat soon after because her grandfather said it would help her grow up healthy and strong. It was a childhood in Kentucky, far away from the lights of Hollywood or the countdown competitions of the Food Network.
She labored in kitchen for years before hitting the small screen, and she's seen and experienced sexism, especially when it comes to being a butcher. "I remember one time I came out of the kitchen per a request from an older lady, and I was in my butcher's apron, the whole thing. She was shocked and said, 'You? Really?' I think it was a generational thing."
All the stereotyping just doesn't make sense to Gavin, however. "At home, women are supposed to make all this amazing food, and then when we get in professional kitchens, it's like 'Hey, what are you doing here?' I think it's an interesting irony," she says. Always unafraid to get her hands dirty, that includes sometimes "ripping off the cap steak of a ribeye," she says. "It's fun, and really doesn't take much knife work to get it off. It has the best tender flavor and is so buttery."
And what does she suggest to drink with it? Well, bourbon of course — she is a Kentucky woman after all. She expanded her palate for bourbon while working with Michael Crouch at Bourbon's Bistro in Louisville, where she helped cook for many of their monthly bourbon dinners. These days, Gavin's favorite "gateway bourbon" is Maker's Mark for those who are just starting to explore the whiskey's nuances. In fact, she has a Maker's Mark bottle incorporated into one of her tattoos, but you don't have to go that far — a pan sauce is far enough, which just might be perfect for that aforementioned cap steak.
"It is a delicious way to get the fond, all those delicious brown bits full of flavor, off the bottom of the pan," Gavin says. "Using something slightly acidic is traditional, but bourbon has enough alcohol that makes it fun to set it on fire, although you don't have to. And once you burn it off, there are these great, complex flavors happening right in the pan. It's wonderful."
Filet with Bourbon Blue Cheese Sauce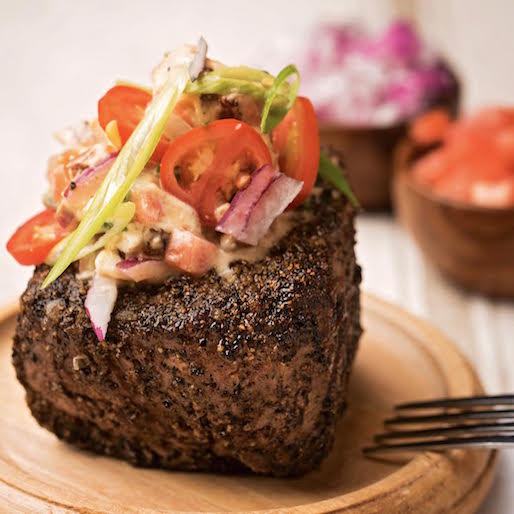 Photo by Jessica Ebelhar
SERVES 2
2 (8-oz [228-g]) filets
1 tbsp (15 g) kosher salt
1 tbsp (15 g) freshly cracked black pepper
1 tbsp (15 ml) vegetable oil
2 tbsp (28 g) butter
1 large tomato, fine dice
1 scallion, cut on the bias
¼ red onion, small dice
Bourbon Blue Cheese Sauce
4 cloves garlic, crushed
2 tbsp (28 g) butter
4 oz (113 ml) bourbon
1 tsp red chili flakes
1 tsp salt
1 cup (240 ml) heavy whipping cream
5 oz (113 g) smoked blue cheese (regular blue cheese is fine too)
Preheat the oven to 450°F (232°C).
Season the filets with salt and pepper.
In a screaming-hot cast iron pan add a touch of vegetable oil, sear the filets 5 minutes on one side then flip them over. Add a nice little fleck of butter on each filet, then finish roasting at 425°F (218°C) for 6 more minutes. Pull the filets out of the oven and remove them from the hot pan. Let them rest for 10 minutes for the perfect mid-rare.
To make the bourbon blue cheese sauce, sweat the garlic, butter, bourbon, red chili flakes and salt in a small saucepan. Once the sauce has reduced by half, remove it from the heat and add the cream and blue cheese. Mix together with a large spoon until incorporated and it starts to thicken up. Right before you serve the sauce, make sure to toss in the tomato, scallion and red onion.
---
Stephanie Burt is a contributor for various publications and the host of The Southern Fork, a podcast that focuses on the culinary South. Therefore, when she's not writing, traveling, visiting kitchens, or traipsing through farms, you can find her … well, eating, of course. Follow her adventures at @thesouthernfork.