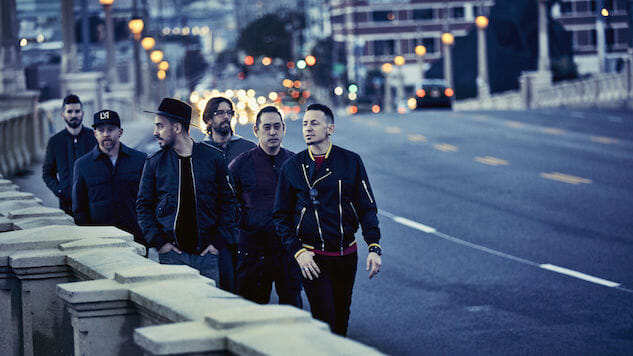 Plan Check Kitchen + Bar, a local Los Angeles chain known for serving up American comfort food in a small plate format, has developed new menu items that offer patrons a chance to taste the essence of Linkin Park—which turns out to be more palatable than it sounds.
Linkin Park, one of the best-known nu-metal/rap-rock bands to get its start during Bill Clinton's presidency, releases its seventh album on May 19. To commemorate the issue of One More Light, the band teamed up with Terry Heller, founder-owner Plan Check, to create a Linkin Park Meal Pack. (Note that they didn't call it a "happy" meal.)
I had a chance recently to attend a tasting of Linkin Park meal with the band, and while Plan Check didn't disappoint with the offerings, there was an ear-to-palate disconnect—at first—between the menu and the music that we grew up with.
Let me explain.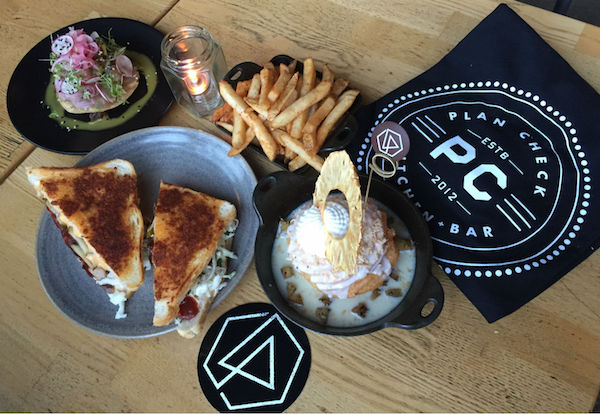 Photo by Christine N. Ziemba
Artists like Linkin Park, Rage Against the Machine, Korn, Slipknot, System of a Down and even Limp Bizkit (on occasion) would rap-rock out the angst, anger and frustration of the kids of the '90s and aughts. Here are the opening lines to the song "Crawling" from Linkin Park's debut album Hybrid Theory (2000): "Crawling in my skin / These wounds they will not heal / Fear is how I fall / Confusing what is real…." And from the band's 2003 album Meteora, here's the opening stanza to "Numb": "I'm tired of being what you want me to be / Feeling so faithless, lost under the surface / I don't know what you're expecting of me / Put under the pressure of walking in your shoes / Caught in the undertow, just caught in the undertow / Every step that I take is another mistake to you….."
Now do those lyrics make you crave an Ahi Tuna Tostada with jalapeno ponzu, radish and avocado? Or how about kimchi-dusted Russet fries? No? Well, me neither. Where's the fear and foreboding sauce or the angry, tongue-punishing spice?
On paper, the lyrics to "Heavy," (the first single from the new album) feature the signature melancholia of older Linkin Park tunes: "I don't like my mind right now / Stacking up problems that are so unnecessary / Wish that I could slow things down / I wanna let go but there's comfort in the panic…" But again, do those words equate to Plan Check's description of "The Heavy" named for the single: "Korean BBQ'd grilled cheese with Americanized dashi cheese, parmesan-crusted sourdough and gochujang-braised pork belly"?
Don't get me wrong, it's a delicious sandwich (and actually not that heavy) but I didn't taste the "essence" of Linkin Park. So then, I actually listened to Linkin Park's new music and did a little more digging. One More Light signifies a significant shift in the band's direction. They've traded in the heavy guitars and rap-rock for a mellower, moodier alt-pop that's loaded with synths. It's a completely different sound from the Hybrid Theory or Meteora days.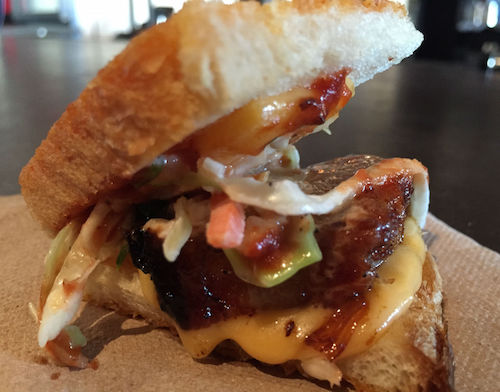 Photo by Christine N. Ziemba
Plan Check's Heller, a former music producer and video director, said of this transformation, "The band's new album completely transcends the tone and energy of their previous work, and I wanted to reflect their reinvention through our collaboration, which is why we're elevating our culinary game with yuzu air and kimchi dust." Heller added traditional Japanese aromatics to honor vocalist Mike Shinoda's Japanese roots, while gochujang and kimchi a tribute to turntablist's Joe Hahn's Korean background.
Linkin Park's co-lead vocalist Mike Shinoda said that the band gave Heller's team free reign on the Meal Pack collaboration."Our only request was look at the ethnicities in the band, look at California, look at L.A.," Shinoda said. "And I think they did that, they threw in a little Asian fusion into the mix."
While he won't admit to being a "foodie" and all the baggage that entails, Shinoda does admit that, "When we are on the road, every city I go to, everywhere in the world, if I eat something good, I write it down. If I talk to somebody who recommends a restaurant, I write it down. It's all on my phone … I have a massive list that I can show you. In fact, one time I met [Chef] Nobu, and I told him I was going to Tokyo soon. Where should I eat? And he gave me five recommendations. So that's my shit."
While some die-hard fans are ticked off (to say the least) about the new Linkin Park sound, the Plan Check menu is a reflection of this new direction. It's fresh, it's lighter in taste and features a complex mix of flavors. Even the OML dessert, a crueller with caramelized pineapple, yuzu air, coconut glaze with a chocolate "disc" bearing Linkin Park's logo, sounds downright delectable.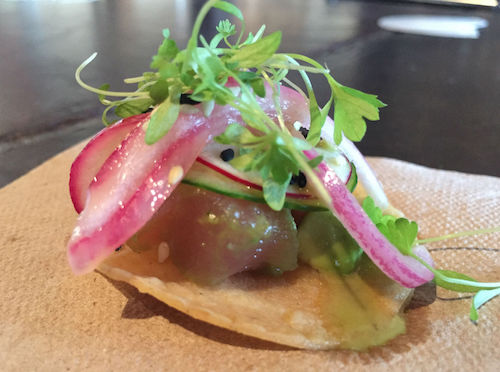 Photo by Christine N. Ziemba
I'm guessing if these older Linkin Park fans had their druthers, they'd want a Whopper-esque burger that pays homage to Bennington's old Burger King gig before breaking big. Or just the junkiest of junk foods that must be consumed on an international tour. Shinoda dispels that rock stereotype, though. "I like eating well, and it's not eating expensive," he says. "Eating well just provides you a foundation of sustenance and happiness when you're on the road in places that might be otherwise be kind of chaotic."
Linkin Park even has their own personal chef—Gray Rollin of Belly, Left Coast Kitchen & Taproom in Santa Rosa, Calif.,—on the road with them through the international tour that begins in July. "We've got one guy who's vegan, and one guy who's lactose intolerant kosher," Shinoda says. "And Gray can cook a dairy free kosher meal anywhere in the world, which in Singapore, Shanghai and Buenos Aires can be really hard to do."
After talking with Shinoda and listening more closely to the music, the Linkin Park menu makes so much more sense to me. While the lyrics and imagery are still sort of depressing, I'll indulge in their yuzu air and the kimchi dust and at least my stomach will be happy.
If you want to check out the Linkin Park Meal Pack (Ahi Tuna Tostada, The Heavy, Kimchi-Dusted Russet Fries, OML Cruller and Mandarin Orange & Black Cherry Cream Soda), it's available at Plan Check's four outposts around L.A. for $39 (it also comes with a new Linkin Park shirt, while supplies last). The items can also be bought a la carte if you only want a small sample of Linkin Park. Available through May 31.
---
Christine N. Ziemba is a Los Angeles-based freelance pop culture writer and regular contributor to Paste. You can follow her on Twitter and Instagram.