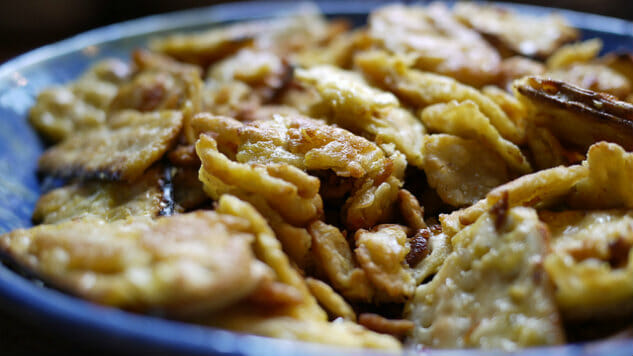 I want to talk to you about fried matzoh. Or matzoh brei. It's that delightfully rich, crunchy and soft combination of matzoh, eggs and butter. I know what you're thinking: it's not Passover yet. And why should I eat matzoh when I don't have to? How can I think of foregoing bread right now?
There aren't many Passover dishes that we'd want to even look at beyond those often grueling eight days. Maybe you aren't Jewish and wonder about that cracker-like "bread" that makes a prominent show only in springtime.
In my family — Memphis Jews by way of New York — fried matzoh was a recurring breakfast, no matter the season. Matzoh can be found at most grocery stores year-round. (Though I have had great difficulty finding kosher-for-Passover matzoh in Brookfield, Wisconsin when we needed that holiday-specific version.) Matzoh is unleavened bread, typically used at Passover where leavened breads (among a few other things) are forbidden. Wheat, water: those are the ingredients in matzoh (though you can purchase many flavors these days, like poppy and egg). The "brei" means "fried," and the dish has its roots in Ashkenazic Jewish communities of Eastern Europe. Sephardic Jews make similar dishes, masa tiganitas, which is similar but a bit creamier, and bumuelos de masa, which is more like a pancake.
Matzoh brei is a variation of french toast, though there's little that's French about it. What makes it superb is the texture — somewhat crunchy, somewhat soft. Think the texture of chilaquiles. Something magical happens when you soften and fry crunchy pieces of food and add eggs.
There are myriad ways to create matzoh brei in the style that would make you happiest. You can go heavier on the egg for more of an omelet consistency. Make it casserole-style or use muffin tins for little matzoh brei cups. Serve it with jelly, syrup, garlic, fruit, caramelized onions, or ricotta — there is no shortage of options. Ruth Reichl's mother claims it's butter — and lots of it — that makes a successful and decadent matzoh brei. I do not disagree. Feel free to host a Matzoh brei bar at your next hosted brunch! I just toss it around for a few minutes in a skillet, and it's super easy. Add a few healthy cranks of black pepper, salt, and maple syrup, and it's gold.
When my grandparents decamped to southern Florida, as many older folks in the northeast tend to do, we spent many school vacations in the sunny Palm Beach climes. In addition to fresh-from-the-grove orange juice, we would wake almost every morning to the sound of something sizzling in a pan and the rich aroma of coffee, a drink we had yet to recognize the value of.
My grandmother had the matzoh brei ready for mixing, hanging out in a 1970s orange bowl with a singed and frayed wooden spoon sticking out of it. She would leave the matzoh squares for me to crack apart. It was a thrill. I would smash it up, stir it up, and watch as she poured it into a cast iron pan. She talked to me about how her grandmother made it for her, when she spent her summers with them in Kosciusko, Mississippi. Sure, Mississippi is a far cry from Lodz or Kiev, but it ties us together, as food tends to do.
Here's how I make fried matzoh, as we Yanks called it. Or fraaaahd matzah, as my Memphis-born grandmother said. Run matzoh under water to soften the cracker-like bread. Break matzoh into smaller pieces. Add to the bowl. Add eggs — I preferred a higher matzoh to egg ratio, but I know many who prefer an eggier, softer texture. Mix. Add seasonings (just salt and pepper for me). Add the butter to the pan. When it bubbles, add the egg matzoh mixture. Here you can also detour: let it sit and create a pancake slab of delectable breakfast, or break it up, a la scrambled eggs. It doesn't take long before you can slide it onto a plate and serve. Douse with syrup. Eat. I liked when I could crunch into the matzoh, though my sister argued I might as well eat it straight out of the box then. She preferred it like a casserole — a kugel, if you will, if we want to keep it in the Jewish lexicon.
Or don't make it and just order it. Many diners and Jewish delis serve it — usually fairly simple in presentation, tossed haphazardly on a ceramic plate with a tiny metal bowl filled with the brown stuff — in other words, the syrup. You don't need much more. When I lived in New York City, the only thing that would get me out of bed before 10 a.m. on a weekend was the promise of the savory matzoh brei at Jane restaurant in SoHo. I've checked recently and I no longer see it on the menu; this is a travesty. However, a couple entrepreneurs, including a matzoh brei pop-up, are making matzoh brei sandwiches, which is a genius way to reinvent this old-school dish.
But you do you. The best recipes are the one you can adapt to your palate and circumstances. Passover is right around the corner; maybe give it a try.
Photo by Jennifer Siegel CC BY