According to Urban Dictionary, "brunchfast" is "when you have not eaten breakfast and it's already between noon and 3 p.m. in your local time zone, and you eat some lunch type food." Possibly a combination of brunch, lunch and breakfast, the non-word "brunchfast" is being trademarked by restaurant chain Jack in the Box, though no one is entirely sure why.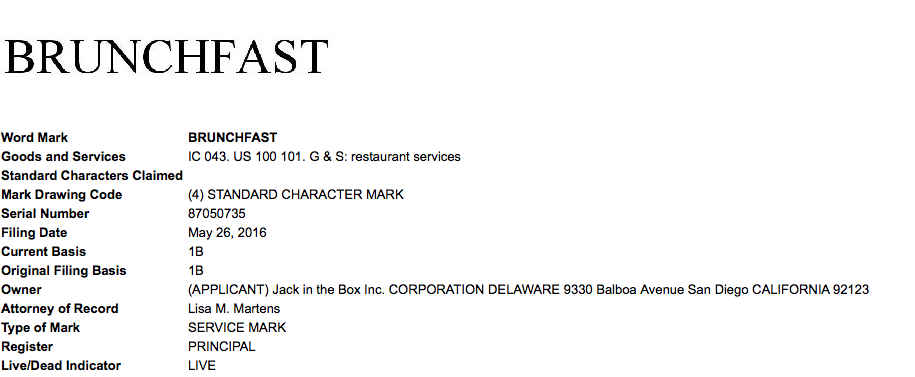 The restaurant chain filled out the trademark registration form on May 26, according to Burger Business. The company has declined to comment on the purpose of the trademark, but breakfast has always been available for purchase all day at Jack in the Box, along with their other menu items. Only "Jack's Munchie Meals," a special menu for late-night diners, is available from 9 p.m. to 5 a.m.
McDonald's all-day breakfast promotion has been biting into Jack in the Box's breakfast sales for customers that normally visit from 10:30 a.m. to noon, forcing the chain to reinvent itself. Jack in the Box has been introducing more high-end foods to its menu, such as the Black Pepper Cheeseburger, Triple Cheese & Hash Brown Breakfast Burrito and Homestyle Ranch Chicken Club, which it brought to its menu last year. It is likely to use the "brunchfast" trademark to advertise future breakfast or brunch items on their menu.
In September of 2014, McDonald's trademarked the similar term "McBrunch," though they have not used it in stores. In 2010, Burger King tested a brunch menu in Massachusetts and Florida.