I Promise, It's Vegan: VegReady, a Plant-Based Meal Kit
Article photos by Annie Black, main image courtesy of VegReady
Food
Features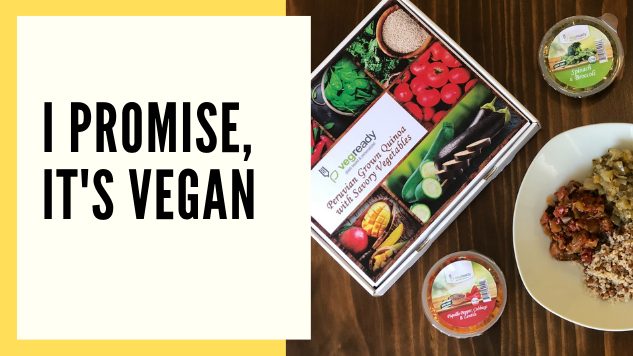 Welcome to the very first edition of I Promise, It's Vegan, Paste Magazine's completely plant-based column. Here we'll taste vegan products, discover new ways to cook cruelty-free, and embrace the veggie lifestyle.
Not vegan? That's totally okay, but it might be something you'd like to consider. Veganism is great for your health. "Research has linked vegan diets with lower blood pressure and cholesterol, and lower rates of heart disease, type 2 diabetes and some types of cancer," according to The Vegan Society. It's also beneficial for the environment! Alluding to an article in Nature, CNN said that eating less animals will lead to the avoidance of greenhouse gases, which is scientifically a detriment to our ozone layer. And lastly, animals shouldn't have to suffer, whether it's in the dairy industry or in a slaughterhouse. Just a bit of (vegan) food for thought.

Kicking off our column is a review series of vegan meal kits. When life gets busy, one of the last things you want to think about is what you're eating for dinner, so why not try a meal kit? I tried a few, and boy, do I have some thoughts.
Read on for that, and stick around for lots more. Here's hoping it all tastes great.
---
Surely in 2019, you've heard of the elusive meal kit. You've seen the ads on social media of happy celebrities posing in beautiful, severely white-balanced kitchens, more ready than they've ever been in their entire lives to make a seemingly delicious home-cooked meal. You might have used a discount code from a friend who swears by the services, or perhaps you've ordered a trial box "just to see what it's like."
There are many, many companies now that provide these boxes, and luckily for vegans, a few include dairy-free, egg-free and meat-free options. In fact, some meal kits companies are completely plant-based. For someone who has to meticulously check ingredients on a daily basis, this is certainly a breath of fresh air to know without a doubt that whatever you're eating is totally vegan.
Completely plant-based companies or not, I've taken it upon myself to review as many vegan meal kits as I can find to help you decide which is the proper option, should you decide to go this very millennial food route. Each box will be reviewed on a scale of 1-10 based on taste, ease of preparation, variety, cost, and portion, which will then be divided into a final score.
First up for review, we have VegReady: a totally vegan, no refrigeration necessary, no cooking required, ready-to-eat meal kit. When you order from VegReady, you receive various containers of quinoa, sauces and side dishes which you mix and match to your own delight. Somehow through a (probably magical) natural process, the food is preserved for up to 12 months. These kits are as easy as it gets. As the brand itself says, "Just open, eat, complete!"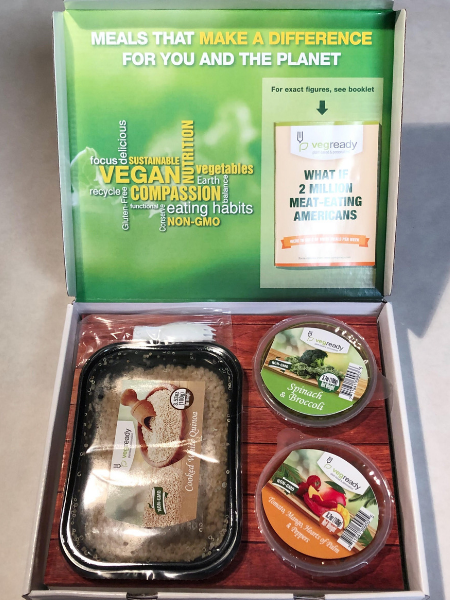 When I received these kits in the mail, they were neatly packed sample boxes complete with a little leaflet full of reasons to go vegan. Each meal included either white quinoa or quinoa and lentils, healthy-looking sauces and a side of spinach and broccoli. The sauces offered four varieties: ratatouille with tomato, eggplant and zucchini, a tomato, mango, hearts of palm and peppers, piquillo pepper, cabbage, and lentil, and zucchini and white onion. The meals contain all natural ingredients.
Let's break it down, shall we?
Taste
When your goal is to make a meal as simple to make and eat as possible, sometimes the taste goes to the wayside. With VegReady, unfortunately they're no exception. To lovingly steal the words of one of our beer taste testers, VegReady is "okay, fine, whatever." It's edible, sure, but not something that you'd ever tout as the best thing you've ever eaten. Out of the four sauces, I enjoyed the savory, tangy piquillo pepper, cabbage and lentils the most. Because of the "natural preservation," each meal has a lingering acidic flavor, which threw off my palette for longer than I would have preferred. My favorite part about these meals was the spinach and broccoli side dish, which came with every single meal. It was very oily, but very tasty.
Rating: 6/10
Ease of Preparation
This meal kit borderlines on Lunchable-level of easy. There is no preparation necessary outside of opening and eating. As stated earlier, you don't even have to refrigerate. Or cook. Just eat.
Rating: 10/10
Variety
Because there are only four sauces included in this meal kit, the variety is regrettably lacking. Three of the four sauces are nightshade (peppers, tomatoes, eggplants, etc.) based, which while healthy, gets old pretty quickly when its the only option. There is also one side offered, and while it was my favorite part of the meal, the acidity made it unappetizing for long term. VegReady is a newer company, so I'm hoping down the road they'll have more offerings.
Alas, for now: Rating: 4/10
Cost
When ordering a meal kit set from VegReady, you receive eight meals for $60. This comes out to $7.50 per meal, which in the world of meal kits is pretty darn affordable. If you're willing to limit yourself to four varieties of meals and you tend to eat out a lot, you might even save some money in the long run by using VegReady.
Rating: 9/10
Portion
These portions are not enormous to the eye, but they are incredibly filling. Quinoa and lentils take up quite a bit of tummy room. I left feeling satisfied, and because they are portioned out individually I didn't feel the need or want to overeat.
Rating: 8/10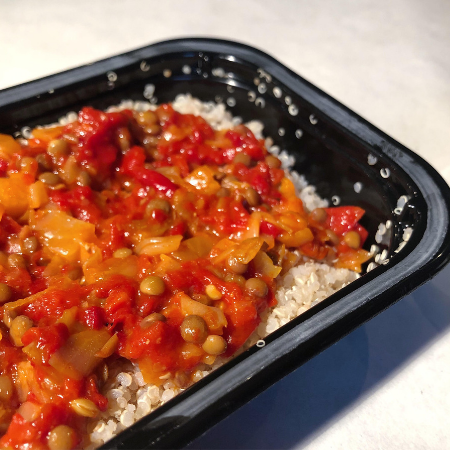 OVERALL RATING: 7.4/10
VegReady is a great option for work lunches, travel food, and in case of emergency. Eating vegan is generally a personal choice, but it's not always the easiest. While traveling it can be tough when you are unfamiliar with your surroundings, so having something both healthy and completely plant-based handy is a must. For VegReady, the flavor isn't the star of the show, but it's possible to look (taste?) past that because of the low cost and ease of preparation. It's probably not what you'd want to eat every day of the week, but having the meal kits on hand isn't a bad idea.
---
Annie Black is Paste Magazine's social media manager and resident plant person. She likes noodles mostly, but will try anything and everything as long as it's animal product free. Follow her on Twitter!