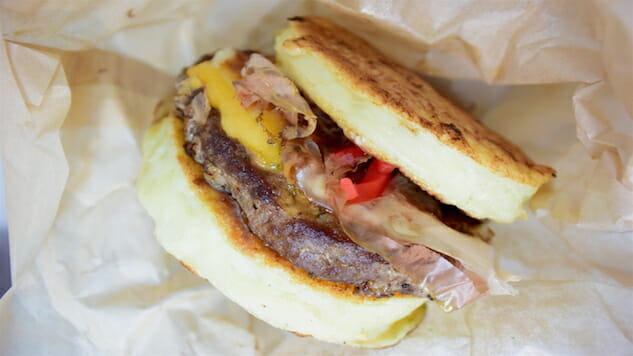 Much of the food that defines American cuisine is not solely American. Quite a few of the chefs and restaurants in the country don't specialize in American fare. Yet every so often, a food craze sweeps through the country's collective consciousness that reminds everyone what makes American food truly American: fusion.
Londoner David Senn and New Yorker Diana Tam know a little something about fusion. The two met in Tokyo and now run a food stall in Manhattan's Essex Market called Osaka Grub. Their signature dish is the okonomiyaki slider, a hybrid between Japan's savory pancake-esque comfort food, okonomiyaki, and the classic American cheeseburger.
You probably have memories of mid-2013, when the ramen burger was introduced to the world at a food stand at the Smorgasburg flea market in Brooklyn. Ramen blogger turned fusion food innovator Keizo Shimamoto had tapped into a trend at just the right time, and the foodies of the internet exploded into a chorus of new ramen obsessives. Osaka Grub, in other words, is just following an established trend of introducing America to traditional foods from other countries through arguably the most American food there is.
"The ramen burger kind of started that whole craze," Tam said, referring to the popularity of Japanese fusion foods. "We weren't thinking of the ramen burger when we started to do our burger though, it just kind of came about. We were having burgers and also making okonomiyaki and we were just like, 'hey, wouldn't this be interesting.'"
To understand the Okonomiyaki Slider, you first have to understand okonomiyaki.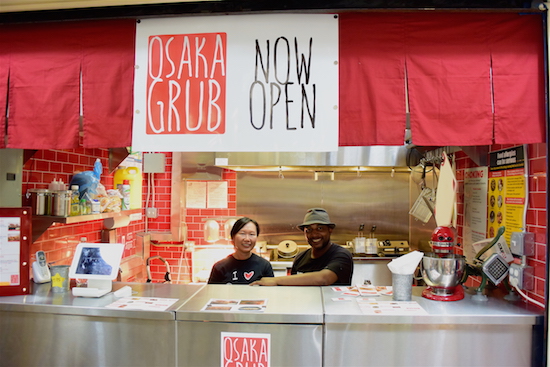 "Okonomi" roughly translates to "what you like," and "yaki" means cooked (think teriyaki). The translation says everything you need to know about it. Other than a savory base cake mix, okonomiyaki is made however a person wants it made, and no two place has the same recipe. It's just like American comfort food in that way. Fried chicken is never the same — copy machine quality fast food joints excluded — despite all fried chicken being pieces of the same species of bird plunged into nearly identical boiling vats of oil.
Okonomiyaki, like meatballs, starts with a base and change serving to serving because pretty much anything could be tossed inside. Okonomiyaki became standard fare in Japan starting around World War II. Wheat and flour were some of the only readily available ingredients. Whatever was laying around could be thrown into the mix and still result in a reliable food. Two styles started to differentiate themselves: One in Osaka, a city on the southwest part of Japan, that put the ingredients inside the batter. The other style was in Hiroshima, where the ingredients were put on top.
After the war, okonomiyaki continued to be an important part of the culture. In Hiroshima, the atomic bomb had leveled nearly every building that was once standing. Stalls with portable griddles popped up and served okonomiyaki on the streets. Like Spam in Hawaii, what started out as convenience and necessity has transformed into a staple. To this day, Hiroshima has the most okonomiyaki restaurants per capita in all of Japan.
None of them, as far as Tam knows, has turned okonomiyaki into burger buns, which in the big picture is somewhat surprising. Americans have been using the burger format to Americanize food essentially since the burger was Americanized from the Hamburg steak. McDonald's, the king exporter of American culture, uses a tried and true format of burgers infused with local food across the globe. There is the McAloo Tikki Burger with fired potatoes and peas in India, the McNürnburger with bratwurst and mustard in Germany and the Ebi Filo-O Shrimp burger with fried shrimp and shrimp tempura sauce.
Americans even like to Americanize their own food with burgers. Take the ungodly Krispy Kreme burger, or the pizza burger (which uses American-style pizza, not Italian).
Osaka Grub's burger draws from the Osaka style of okonomiyaki (hence the name). It starts from scratch for everything. For the sliders, the okonomiyaki consists of the batter, fish stock made from seaweed and bonito fish flakes and a Japanese potato called nagaimo. Cabbage, egg and crispy tempura bits are thrown in before it is cooked. A beef patty is slid in between the okonomiyaki buns, topped with yellow American cheese, then ginger and Japanese mayonnaise. A smaller slider size was chosen, Tam said, to give it structure and keep it from falling apart. All in all, it's around six bites of Japanese-American comfort food.
Osaka Grub is Tam and Senn's first venture into the food business. Both split their time between their restaurant and their finance jobs, while Mandel Elmore manages the business. It's a tall task to open any restaurant, not just one focused on serving Asian fusion in an atmosphere where one summer people can't get enough ramen burgers, the next summer everyone who was in line for a ramen burger is now waiting for a sushi burrito.
Being a social media sensation can help, but it's no guarantee. The only way to success is to keep innovating.
"We still have a lot of ideas," Tam said at one of the metal coffee tables near her Essex Market stall. "We want to do tacoyaki, and if we get some more space we want to do fish balls, but I don't want to give too much away."
Who knows. Maybe 100 years from now McDonald's will be serving up an okonomiyaki burger around the globe with nearly unrecognizable okonomiyaki buns and test-tube beef. Maybe Osaka Grub will get a footnote in food history as more than just a fusion trend food. Maybe okonomiyaki will become a go-to choice for a culture that wants it their way.
Just try not to overthink it.
"I want to introduce New Yorkers to okonomiyaki sliders," Tam said. "It's actually really good."