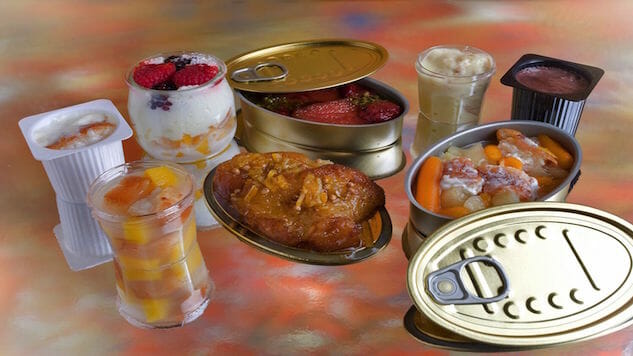 When I moved to Madrid three years ago, I knew close to nothing about Spanish food. I knew all
about the endless tapas and the classic faves — sangria and paella. But I found once I started to adjust to the ebb and flow that was living in Spain, there was something far more tantalizing— the sweet smells wafting through the streets from pastelerías, otherwise known as pastry shops. After nine months of living out my Spanish adventure there are five favorites I absolutely tout as must-tries should you ever find yourself in Spain or have the pleasure of being near a Spanish pastry shop or bakery.
Torrijas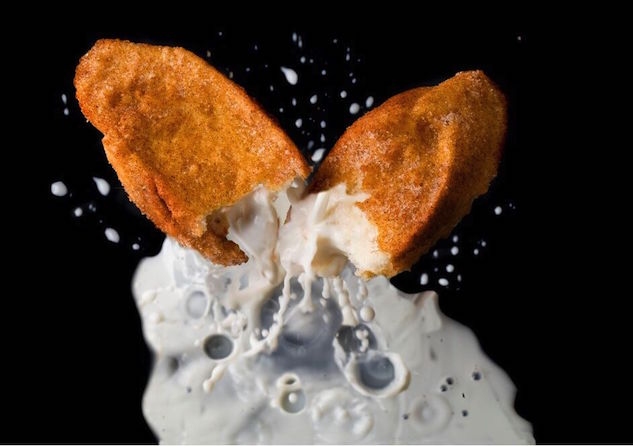 Photo: Pastelería Nunos Madrid
Torrija literally translates to "French toast" in English. But French toast as us Americans know it this sweet treat is not. It looks like French toast on first glance but has a slightly different preparation process. And it's also not typically drowned with copious amounts of butter and maple syrup once it's warm and ready.
In true Spanish fashion, torrijas are a simple pleasure enjoyed during Lent and the Easter Season as a whole. For those who choose to not make it at home, during Holy Week, families make sure to place their orders for torrijas at their local pastelería. There's still a milk bath crusty, stale French baguettes are soaked in, although sometimes the milk is swapped for condensed milk. Dipping the milk soaked bread in egg still happens, too. How are torrijas different from French toast? The bread is flash fried in either olive or sunflower oil and then covered in a mixture of cinnamon and sugar. Quite the (literal) sugar rush.
Where to get torrijas in Madrid: Pastelería Nunos, Calle de Narvaez, 63.
Tarta de manzana
As a native Southerner, I can think back to when I was a young child and my grandmother
would make fresh apple pies during the summer months when I visited her in Alabama. It was the one thing I looked forward to the most — at the conclusion of all the grilled foods I could imagine and my favorite smoked Boston butt shredded for pulled pork — was a slice of apple pie straight from the oven with a molten, melting scoop of vanilla bean ice cream atop it.
But in Madrid, apple tarts (pictured at top) are quite different. The flakiness of the crust is still a characteristic. Instead of the triangular domes deep dish slices of pie typically look like, apple tarts are rectangular. Phyllo dough is the base and the apples, sliced paper thin, are meticulously stacked. Depending on the recipe used, a small bit of custard can be added between the dough and apples. And each rectangle is baked until the pastry puffs up. Doesn't even need a scoop of ice cream to be amazing.
Where to get tartas de manzana in Madrid: Pastelería Mallorca, Calle Juan Pérez Zúñiga, 26.
Roscón de reyes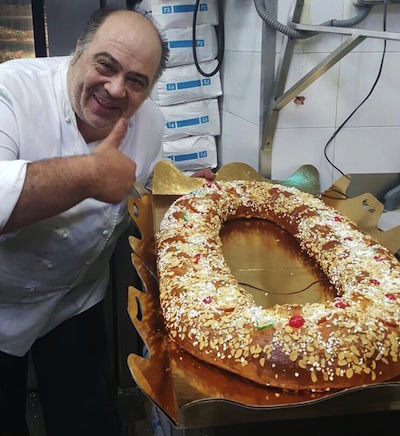 Photo: Pastelería Nunos Madrid
Christmas is different in Madrid. It's not so much about the presents, the revelry surrounding caroling or making sugar cookies for Santa (known as Papa Noel). In Spain, the Christmas celebration begins on Christmas Eve (nochebuena) and lasts until Three Kings Day (Los Reyes Magicos) on January 6. The icing on the cake is roscón de reyes — or king cake, a colorful ode to the Christmas season.
Where to get roscón de reyes in Madrid: Pastelería Nunos, Calle de Narvaez, 63.
Churros con chocolate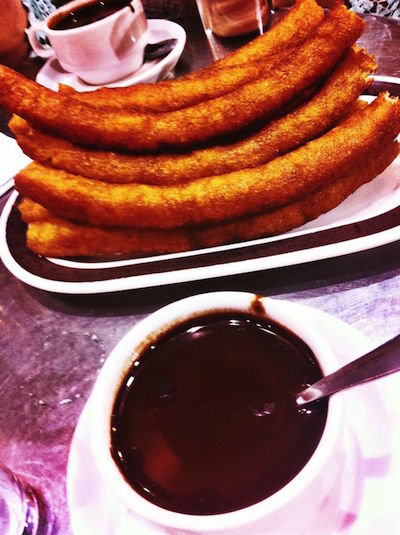 Photo: Nneka M. Okona
I used to always think that churros were the fluted, sweet pastry treat to only be found via the
drive-thru at Taco Bell. They were my favorite during late nights in my college years and aside from beef Chalupas, I munched on the greasy churros, often dotted with powdered sugar. My first few days in Madrid, I learned churros had a long history, one that started in China, and the churros I'd eaten often were quite different from the Spanish version.
In Spain, churros con chocolate are as common as donuts. They're on almost every menu in restaurants but all have the same thing in common: long, not too sweet straws of deep fried dough, the perfect amount of crispiness, with no powdered sugar to be found. As an accompaniment to these long, sometimes curved, non-fluted straws of dough, are dipping cups full of piping hot dark chocolate. Not just any melted dark chocolate either; thick, extremely concentrated cups of it. Madrileños often drink the small cups of chocolate after all the churros have been eaten as a last hoorah. I've never quite been up to that challenge.
Where to get churros con chocolate in Madrid: Chocolatería San Gines, Pasadizo de San
Ginés, 5.
Caracolas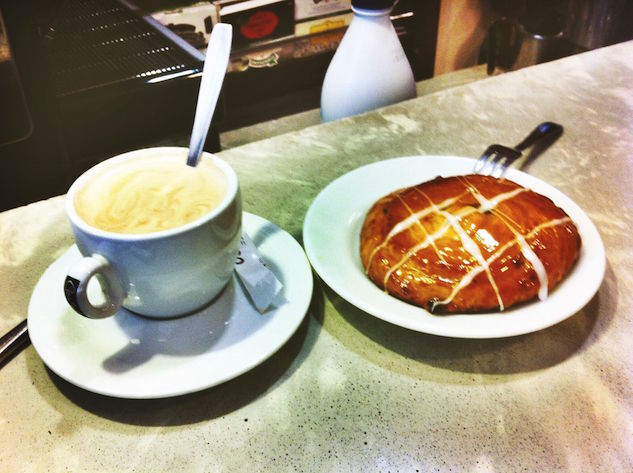 Photo: Nneka M. Okona
Perhaps my favorite of all the things I've eaten courtesy of a Spanish pastelería (and perhaps the most overlooked) are these little darlings. Caracola means snails in English and one could see why they've been dubbed as this when you look at it. It's a pinwheel shape but one that can be eaten. When I first saw caracolas peering at me from inside a glass case, I thought they were cinnamon rolls, cinnamon rolls with raisins on them. But these taste nothing like cinnamon rolls.
There are variations between caracolas I discovered, too. Sometimes the glaze is clear and acts as a sweet gloss and other times it's white a la the hot cross bun icing variety. Either way, there's no cinnamon flavor whatsoever. The taste is comparable to a honey bun yet definitely not as dense but a lighter, fluffier dough. And yes, you can unwrap it and eat it like you would a cinnamon roll. That was always my process.
Where to get caracolas in Madrid: Hotel Puerta de Toledo Pastelería, Glorieta Puerta de Toledo, 4.
Nneka M. Okona is a writer based in Atlanta, Georgia, who lived in Madrid and three years later still sings its praises.