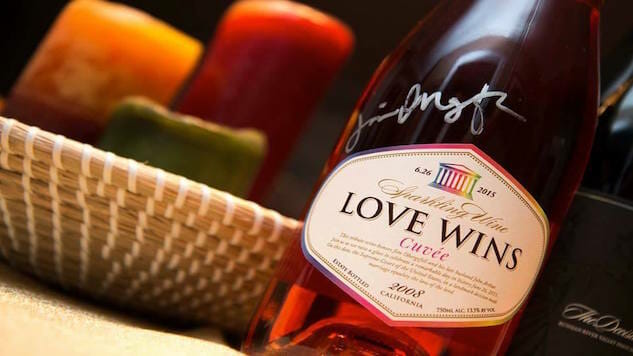 In need of yet another reason to indulge in your love of vino? Here it is: equality. San Diego-based Equality Wines is the world's first cause wine portfolio solely dedicated to the fight for equal rights for all. Launched in the summer of 2016, this label is the result of co-founders Matt Grove and Jim Obergefell's commitment to both quality wine and human rights.
Equality Wines is inspired by the late Dr. Marilyn Schultz, a pioneer in the fight for women's equality. The proverbial glass ceiling was no match for Dr. Schultz, who refused to be held down by a sexist corporate America. In 1971, she led the successful class action discrimination suit against NBC and its affiliates, which ultimately re-shaped the company and the corporate world by demanding equal pay and opportunity for women.
After six years of campaigning for women in the workplace, the verdict set the stage for the battle against similar discrimination that is still present today. It was Dr. Schultz's passion and lead-by-example mentality that taught Grove that equality is always worth the fight.
"Equality Wines celebrates Dr. Schultz's tenacity by bestowing the Dr. Marilyn Schultz Tribute Wine honor upon activists who fight for equality in the face of adversity," said Grove. "The first recipients of the honor are Jim Obergefell and his late husband John Arthur, reluctant activists whose love inspired the landmark Supreme Court case Obergefell v. Hodges that made marriage equality the law of the land."
Two hundred cases of the limited release, Love Wins Cuvee, which incorporates the grapes grown by Iron Horse Vineyards in Sebastopol, came out in June 2016 on the first anniversary of the court's historic ruling in Obergefell v. Hodges. A tribute to the couple on the bottle states, "this beautiful sparkling rosé is a toast to marriage equality and those reluctant activists who change our world." In addition, the label's second release The Decision Pinot Noir which also honors the ruling, has been a huge success achieving a coveted 90+ rating from Wine Enthusiast.
A portion of the proceeds from each bottle is donated to an organization fighting for equal rights. Its first partnership is with the Human Rights Campaign and the nonprofit organization One Glass for Equality.
"Over the course of our nation's history, millions of people have left their homes for a chance to start a new life in the United States, a place where life, liberty and the pursuit of happiness are our shared values. Our nation has moved ever closer to that ideal of equal justice under law—for women, people of color, the LGBTQ community, Native Americans, the disabled, immigrants, refugees and more," said Obergefell. That said, given the rhetoric of hate and intolerance that has flooded our country's narrative this year, this brand's commitment to gaining respect for all types of people is even more pertinent.
"Although Equality Wines wasn't inspired by or launched in response to the actions taken by the new administration, our guiding beliefs and efforts could not be more timely," explained Obergefell in response to whether the current political climate has influenced the direction of Equality Wines. "Equal rights for all is the hallmark of this brand and something that we will always stand for, regardless of the political climate. We believe our message is now more important than ever."
"Our team decries discrimination and instead focuses on inclusion and love for all. This is what drives the work we do, motivates the people and winemakers with whom we work, and inspires the wine lovers who enjoy our specially-selected vintages," expanded Grove.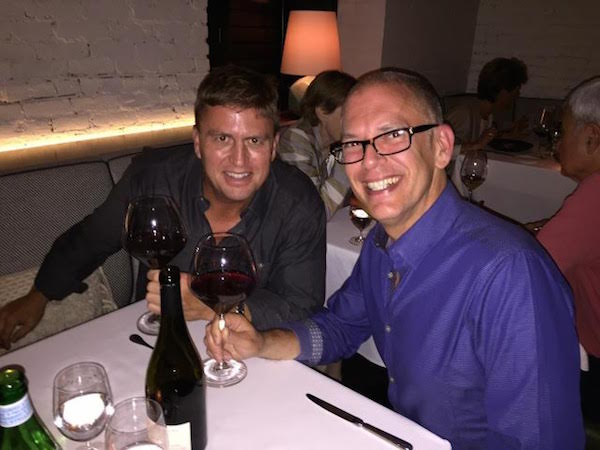 Photo courtesy of Equality Wines
In a time where societal upheaval and political contention is the norm, many individuals and groups of strong-willed people are pushing back against those in charge. With that said, who will be the next featured pioneers of equality, honored with the special tribute on the upcoming edition of bottles?
"We continue celebrating LGBTQ equality with Stonewall Cabernet, an homage to the courageous souls who fought back against oppression, due to be released during the summer of 2017," said Obergefell. "We are launching a new series of wines by women winemakers, and our first wine in this series, 23rd Amendment Sauvignon Blanc, will be released in April 2017. The 23rd Amendment celebrates the Suffrage movement and the pioneers of the fight for women's rights."
"We have yet to define a specific cause or activist(s) to honor with our next tribute wine, but with the many brave souls who have helped move us along on the path to full equality, we have plenty of worthy options," continued Obergefell. "Look for something powerful and poignant from Equality Wines soon."
---
Hailing from California, Chelsea is an inquisitive dessert enthusiast and Golden State Warriors fan. Since graduating from Columbia University, she has amassed a colorful professional background, with experiences in industries that include news production, radio, public relations & media communications. Upon realizing that her true passion revolves around traveling the world, immersing herself in new cultures and eating, she is now a full-time freelance journalist, based in New York City. Chelsea's work has been featured on Thrillist, The Daily Meal, Yahoo! and MSN, among other nationally recognized outlets. Follow her on Instagram and her blog .