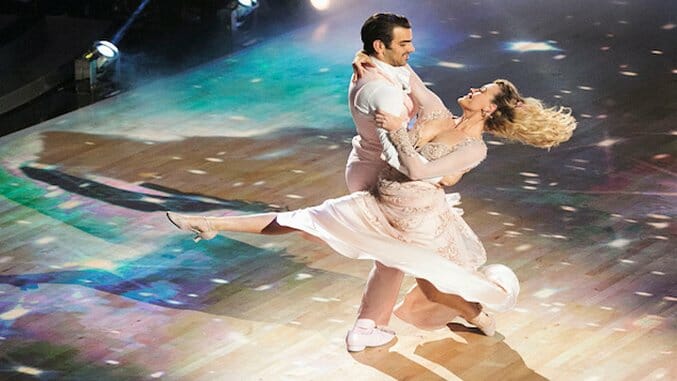 The 22nd mirror ball has been awarded (congrats, Nyle and Peta), and now the speculation can begin: Who will cha cha cha their way into America's hearts on the next season of Dancing with the Stars?
For all their affection for former child stars, Olympic athletes and people who make you go "who?," DWTS has only featured three food-related celebs: Paula Deen, Rocco diSpirito and Mark "The Chairman" Dacascos (and he's really an actor).
This just seems wrong. I say, let's get more people in the ballroom who know how to handle themselves in the kitchen. To the executive producers at ABC and Dancing with the Stars, these are my official picks for six celebrity chefs and culinary stars I would like to see whisking around the dance floor.
Hannah Hart
You have to be dead inside to not want to hang with YouTube sensation Harto, host of "My Drunk Kitchen." Her first video, "Butter Yo Shit," a treatise on grilled cheese (and why you should remember to have cheese at hand), has nearly four million views. Her formula is simple on its face: Get drunk, (attempt to) cook, make people laugh. But Hart isn't just about getting wasted and messing around in the kitchen. She's kneaded her MDK celebrity into opportunities to encourage volunteerism, speak openly about her experience with coming out and publish a cooking-meets-self-help book. Along with fellow YouTuber Grace Helbig, Hart is starring in the reboot of ElectraWoman and DynaGirl, a commentary of the ills of Hollywood and the boons of female friendship.
Who she should partner with: Val Chmerkovskiy. Because two words: Drunk Ukranian.
Recipe she should use to charm the judges: Peanut butter & jelly pasta
Mary Berry
Moving to the entirely other side of the food/entertainment (foodtertainment? people can't get enough of portmanteaux) spectrum, is Mary Berry, CBE, Cordon Bleu graduate and England's Queen of Cakes. Known to Americans mostly as one of the judges on The Great British Baking Show, (if anyone can tell me where seasons other than the first are available, I'll bake you cookies) Berry has published more than 70 cookbooks, is a polio survivor and can rock a rave. Her foxtrot footwork is likely to be as precise as one of her layer cakes, but seeing her mambo shake would be even more fun.
Who she should partner with: The more "experienced" ladies are typically paired with Tony "Debonaire" Dovolani, but I think baking royalty Berry should tango with South African prince and fellow culinarian Keo Motsepe.
Recipe she should use to charm the judges: Len is guaranteed to have a Berry crush, but her Victoria sandwich expertise can't hurt.
Gordon Ramsay
First of all, I just want to see Ramsay make Bruno cry. But that aside, seeing the notoriously demanding chef be thrown into the unfamiliar waters of the ballroom would be fairly fascinating to watch. He's accustomed to being the expert, and no one can deny that a turning of tables always makes a good show. Still, while Ramsay thrives on playing the villain, he's also a marathoner – so accustomed to tough physical training – and an advocate for spina bifida, HIV/AIDS and the Great Ormond Street Children's Hospital. The Viennese waltz would be a great opportunity for him to show his soft side.
Who he should partner with: I would pay real money for DWTS to have their first man-on-man pairing to see Ramsay match fiery tempers with Maksim Chmerkovskiy. Unfortunately, that's probably a pipe dream, so second choice is matching Ramsay's gruffness with Witney Carson's sunshine.
Recipe he should use to charm the judges: Coffee and chocolate cups
Carla Hall
Hootie Hoo! Nashville native Hall has already stated her desire to be on the show, and her Southern sauce and spice would be fabulous to see on the dance floor. While some stars are just awkward in the ballroom (ahem, Mischa Barton), anyone who's seen Hall match wits (and forks) with her co-hosts on "The Chew," knows she knows how to have a good time. Her relaxed demeanor comes from a healthy meditation and yoga practice that keeps her centered and able to harness her famous energy. Sure, everyone's after a trophy, but dollars to doughnuts we'd be able to count on Carla to add a heaping spoonful of fun to the season.
Who she should partner with: Hall took a little spin around the floor with Derek Hough when he was a guest on "The Chew." Let's keep that momentum going.
Recipe she should use to charm the judges: Sweet potato and pea hand pies. Eat with one hand, hold up that "10" paddle with the other.
Amy Bouzaglo
Let's be straight: Amy Bouzaglo made a name for herself as a horrible person. She shot to infamy when her Scottsdale, Arizona restaurant was featured on Ramsay's Kitchen Nightmares. Bouzaglo and her husband Samy yelled at customers and drove a young waitress to quit in tears after screaming at her for questioning an order. If the subsequent social media and online responses are any proof, Amy doesn't take criticism too well, which would prove entertaining when she has to come up against the judges. The Bouzaglos claim, of course, that the episode was edited to make them look bad, and that their online accounts were hacked, but the truth is that no one actually cares what the truth is. We just like to watch the trainwreck.
Who she should partner with: Tony Dovolani has three children, so he probably has experience dealing with tantrums. But the best would be if both Bouzaglo and Ramsay were on and they had to dance together at some point.
Recipe she should use to charm the judges: Creme brulée spoons, and it might not hurt to toss in some bourbon.
J. Kenji Lopez-Alt
First, a point of disclosure: Lopez-Alt was a high school classmate of mine, so if he were to go on DWTS, someone (not me, I don't drink enough) would be sure to call out for some cha-cha moves at the upcoming 20th reunion. Which would be more entertaining than the barrage of kid-related humblebrags and resume updates that usually happen at those things. But my quest for amusement at the expense of former schoolmates' dignity aside, Kenji has become the talk of the town (the kitchen?) for his scientific approach to cooking. The MIT grad is a recent James Beard Award winner for his "hey-if-you-can-lift-this-it-would-be-a-good-murder-weapon" tome The Food Lab: Better Home Cooking Through Science, and his dedication to practice and precision in the kitchen would translate nicely into the ballroom and would be sure to please the persnickety judges.
Who he should partner with: Sassy Aussie Sharna Burgess.
Recipe he should use to charm the judges: Lopez-Alt's Hasselback potato gratin has been featured in the New York Times, and would leave the judges in a cheesy, creamy, carb-happy food coma.
Holly Leber is a writer and editor based in Silver Spring, Md. When she's not hunting for stories, she can be found going on produce-related shopping sprees, making jam, wine tasting and reading 1930's Nancy Drew. Holly is the editorial director of The Daily Do Good.