Life-Changing Cookbooks: The French Laundry Cookbook
Paste's column on the cookbooks that shape who we are
Photos by JoAnna Novak
Food
Features
cookbooks
At the heart of every marriage are those inside jokes so elaborate and long-standing, so well-nurtured they might as well be pets. For some couples, those jokes manifest in shower-time songs or invented voices for the dog; for others, those jokes enter the bedroom. For my husband and me, one of those jokes lives in our apartment kitchen.
"Hey, Diaper, Chef was straight-up knifed when he couldn't tie his bird! Get trussin'," my husband, Thomas, calls from the butcher block. A sheen of sweat glistens on his chin; I can see the muscles in his forearm as he works. Over the Pearl Jam blasting, he's talking to me.
"Okay, Diaper," I counter, as I stand, wide-stanced before the cutting board, channeling my inner bro. "You jerkin' off or kneadin' agnolotti? Yo, Dipes: you know what TK says, 'You cannot overknead this dough!'"
TK is Thomas Keller, chef/owner of the acclaimed Yountville restaurant, The French Laundry, and its empire: Per Se, Ad Hoc, Ad Lib, the Bouchons. He's been recognized with Michelin stars (seven total) and James Beard awards. To foodies, he doesn't warrant further introduction.
Our Diaper does, though.
Some days a commis, others an escuelerie, "Diaper" is the persona my husband and I have created, an amalgamation of skulking dishwashers and prep cooks we've known over our combined two decades of restaurant work, the grunt guys on whom chefs are always harping. Diaper is the dude you don't meet if you're a patron whisked behind the scenes for a kitchen tour; he's the lunk responsible for the grodiest, rangiest tasks—breaking down boxes, filling everyone's deli with ice water, pulling feet off scallops. "Someone get Diaper! The fish stock needs straining!"
That my husband and I worked in restaurants, despite neither of us attending culinary school, is not so strange as the fact that we've worked at three of those restaurants together. Actually, we delight in tallying our shared experiences: we met in college, where we were both creative writing majors, but before that we were two Midwestern children who requested lasagna on birthdays like Garfield. Today, more than pondering over classes we took or professors we knew, we relive restaurants: we giggle at old tableside flubs ("How are your liquids?" asked one bespectacled server), we gossip about former coworkers.
So I like to think our sympathy toward Diaper is unique to our level of culinary engagement. Diaper may be snaggle-toothed, but behind that dude-ical mug, he has ambitions. He's willing to try. We've known dozens of Diapers, dozens of chefs, dozens of the characters that make working in the food industry the arduous, gritty, sexy, sweaty reality it is. Of course, we've known, too, the post-shift drinks, the post-shift chicken wings, the post-shift banter and the resulting post-shift crash: of leaving with tips and a rush of frustrated energy, knees and feet aching to stop standing.
To cook from The French Laundry Cookbook is to demand of yourself exactitude. Sometimes, there's going to be a lug to help with the dirty work, other times not.
But even understanding the behind-the-scenes of the hospitality industry can't destroy the faith my husband and I put in degustation. If anything, all the Diapers make us love the TK's more. From the inception of our relationship, when we visited Vancouver for a writing conference and went to restaurants in lieu of readings, my husband and I have been—and I say this reluctantly because the word's mouth-feel has never been quite right—foodies. It was 2005, and eating 12 courses at Rob Feenie's restaurant Lumiere became our introduction to Le Bernadin and Charlie Trotter's: both restaurants appeared as blurbs on Feenie's book, which would become a fixture in our tiny kitchen (we were the 20-year-olds pestering the semi-rural Illinois grocery, Hy-Vee, for sushi-grade tuna).
That my boyfriend and I, two hopeful college students, should become foodies by the book made sense. Hadn't books taught us to become writers? Hadn't reading driven us to try devising something of our own? By Lumiere alone, it would have been easy to reify the restaurant world. But we were lucky: we taught ourselves to cook while we were both serving in a bistro helmed by a CIA-trained chef, where the dishwashers—definitely Diapers—were ex-cons. The coffin was nailed shut a few years after college: I was pursuing an MFA in fiction writing when a proclivity for fine dining combined with a penchant for procrastination-baking led me to stage at Shawn McClain's Custom House in Chicago. Only there did I really realize that not all people who work in restaurants are gourmands; for some cooks, food is just a career.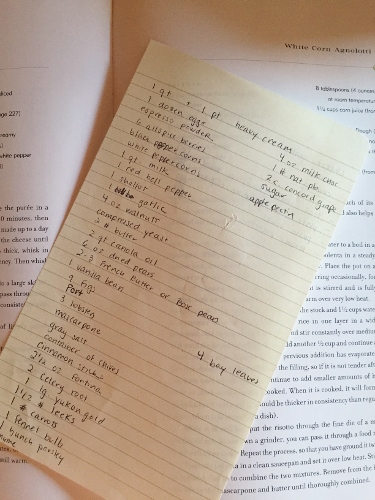 A few weeks ago, I met a pastry chef friend for dinner. There was a crock of baked French feta on the table between us, hunks of grilled sourdough. We were discussing dating—my friend is a serial dater—and cookbooks, those we love.
"I cook with The French Laundry." I said, ashamed. It felt like declaring Finnegan's Wake my favorite novel, like presenting at lunch a dessert garnished with gold-leaf and spun sugar.
"It's more a coffee table book," my friend replied. "I mean, what home cook is actually going to go through the trouble of getting those things? Though I do make something from there. I can't think of what."
I wanted to counter, to play difficult, to ask what my friend used. I wanted to offer that TK's pasta dough and Caesar dressing were go-to's for my husband and me. I wanted to say: when I cook Thomas Keller's food with Thomas, my husband, I realize the pleasures in striving for the best in a meal or a marriage, regardless of occasion. I wanted to say fine work makes an occasion. But I didn't: that would've been boasting.
For the home cook—and for the less-than-bankrolled restaurant chef—Thomas Keller's meals require an investment in all manners of contraptions and comestibles. There's something mildly ludicrous about Keller that inspires giddy abandon.
In her essay, "The Quest," writer Jane Kramer of The New Yorker historicizes American cookbooks. There are "workhorse books" and then, "the ones like Keller's … coffee-table books, not only because of their size and their gloss and their four-color illustrations but because they seem to have replaced art books as the status offerings you find casually stacked in front of the couch in Manhattan living rooms." Kramer needs a couple months before she can bring herself to subject her copy of TK's objet d'art to a potential "first splotch."
But what if those coffee-table books arrive already splotched and tattered? I bought The French Laundry Cookbook secondhand. A year after our wedding, Thomas and I moved apartments—to a space that permitted a dog, a space with a nicer kitchen—and one day, on our new commute, we stopped at an antique shop. I don't remember what we were looking for, but I do remember my excitement at seeing The French Laundry Cookbook, an oversized anomaly on an otherwise leather-bound shelf, for a mere $12. The dust jacket was torn—and it's only torn more. It was a marriage gift: one of those gifts as much for myself as for my husband, like the spalted maple salad bowl Thomas just yesterday bought for me; like jibing Diaper on a Thursday evening; like the devotion of cooking with one person for more than ten years.
So our family has grown to include a twelve-pound dog named Lucy and a fictional, fuller-than-full-grown man, who, on more affectionate days, is referred to as Pampers. I don't know if Thomas Keller would love or hate what my husband and I have done with his cookbook. Unlike the more recent Ad Hoc at Home or Bouchon Bakery (where, respectively, Keller clutches a bulb of garlic to his skull and peers through a sugared doughnut), TFLC does not reveal Keller's sense of humor. Instead, it highlights TK's rigor: "When in doubt, strain."
Still, there's something mildly ludicrous about Keller that inspires the giddy abandon out of which Diaper was born. For the home cook—and for the less-than-bankrolled restaurant chef—Thomas Keller's meals require an investment in all manners of contraptions and comestibles. To prepare "Chestnut Agnolotti with Fontina and Celery Root Puree," I purchased a tamis and a chinois, ordered a vacuum-packed bags of chestnuts; for "Five-Spiced Roasted Maine Lobster with Port-Poached Figs and Sauteed Moulard Duck Foie Gras," three lobsters and 1.5 pounds of Grade-A foie gras that arrived on a bed of dry ice; for "Coffee & Doughnuts: Cappucino Semifreddo with Cinnamon Sugar Doughnuts," I procured a milk frother.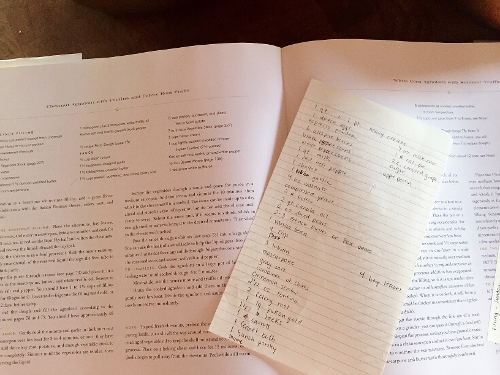 I realize these purchases may merely expose gaps in my cabinets; I also realize the extravagance of preparing any one of these courses—let alone all three, and then some, as my husband and I did for a dinner party two years ago, an extravagance akin to skydiving: a lark of time and money on a random Friday.
Yes, having the time, resources, and skill to tackle "Black Sea Bass with Sweet Parsnips, Arrowleaf Spinach, and Saffron-Vanilla Sauce" is a privilege or a fuss, depending on who you ask. This is a reason I love TK's books but hate accessing his recipes on blogs. There are exceptions (Carol Cooks Keller is one, where sound advice is given on her home page: "if there's any big life lesson from this blog, it's that if I, of all people… the queen of Kraft Mac-n-Cheese throughout her 20s and 30s… can cook from The French Laundry Cookbook, ANYONE can. All it takes is the willingness to try"), but generally speaking, reading a Keller recipe on a blog won't do: people get all worked up over…the work. TK's (in)famous precision is viewed as a challenge, a taunt—rather than a well-tested route.
To cook with a cookbook is to work for a reward designed by someone else. When you begin preparing stock for a meal four days away, when you stand in the kitchen for hours on end, you surrender to a higher power.
Maybe what the Keller-critics really need is a Diaper: someone to tease and boss around, who won't gripe about having to watch the salamander, who's ready to smother five-alarm fires. That's something I miss about working in restaurants: the barrage of feelings I felt knowing how supported I was by a group of people, every one of them as irritated, gratified, agonized, and delighted in a single shift as me. That camaraderie—on The Food Network, so often depicted as bromance—distinguishes my love of cooking from my love of writing; that camaraderie is something I am fortunate to share with my husband.
To cook from The French Laundry Cookbook is to demand of yourself exactitude—emotionally, impossibly—and to discover the comfort in promises and standards and vows that others have taken before you. Sometimes, there's going to be a lug to help with the dirty work, other times not; a custard sets, it doesn't.
And that's all right. Striving for perfection—and not achieving it—doesn't discount the effort.
The same holds for marriage.
When Thomas and I were first dating, a kitchen disaster could ruin my mood. "I'm not eating," I'd say, arms crossed, like the child I was at nineteen—eager to be petulant. "I ordered dressing on the side."
There was the time Thomas and I blended cashew sauce—without securing the lid. The time we watched an egg run from the well we'd made in semolina flour and down the counter, into gaps between our wood floors. The time we went out for chain Italian in Iowa—and I detected a hint of chicken broth in Alfredo. Times when a meal wasn't perfect and so I shied away from happiness, putting all my faith in food. Those were times when Thomas and I were seeing each other mainly at dinner, on dates—before I realized pleasure wasn't one bite or course, not even one menu, but a process, the commitment to an accumulation of some delicious and some mediocre meals.
Here's how The French Laundry Cookbook changed me: submitting myself to Thomas Keller's wisdom, I felt like, for once, I was forgiven the debts of my imperfections. I was in good hands.
Is it strange that I've felt the same way about my husband?
In the opening pages of TFLC, Thomas Keller reflects on "pleasure and perfection." He writes, "when you acknowledge, as you must, that there is no such thing as perfect food, only the idea of it, then the real purpose of striving toward perfection becomes clear: to make people happy."
To cook with a cookbook is to work for a reward designed by someone else. It's to value the trees before the forest, to believe in the forest when all you can see are twigs. When you begin preparing stock for a meal four days away, when you gather spices your pantry's never known, when you stand in the kitchen for hours on end, you surrender to a higher power. I love cookbooks like TK's because they put a face to that higher power: they give abstractions a palate. And I love working in the kitchen with my husband because he reminds me, in the thick of toil, I am not alone. That our humble dicing and frying and grilling and baking is so much more than cooking: that food we make together is really, more than food, time. That degustation is just one amuse of pleasure. That
Sometimes, when I prepare a meal alone, I imagine my husband's in the kitchen with me. I imagine we're listening to '90s alternative music and joking, bossing around Diaper.
Oh, I know Diaper's role: he keeps the tension at a simmer rather than a boil. My husband and I work well together, but I should admit this: it is not always easy to be companionable. Whatever flame my husband sets beneath a pot, I have a habit of adjusting. My knife skills are embarrassing: I can't count the number of times I've heard and rolled my eyes at, "J, watch out."
Maybe this is a question of aptitudes: my husband, my Thomas, was a charming server, a bartender, an almost-not-quite sommelier; I was a pastry chef, a banquet cook, a baker's apprentice, an awful waitress. My husband is accustomed to moving languidly through a dining room; I am wont to rush about messily, starting ten thousand fires I forget to put out.
JoAnna Novak is a writer of fiction, poetry, and nonfiction. She lives in Massachusetts. @JNovacaine