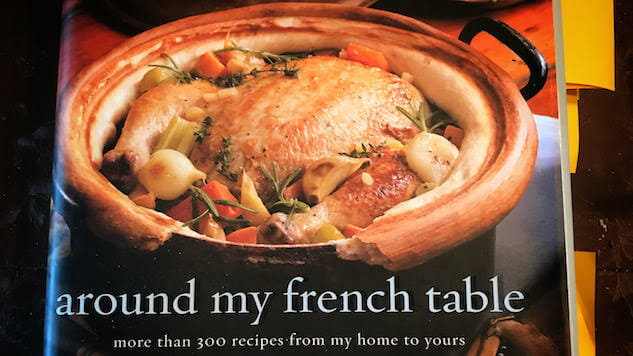 I was already on the other side of 30 when I realized I didn't have a signature dish. I knew how to cook, I liked to cook and I even had the requisite number of flashy appliances in my kitchen — the KitchenAid mixer and the programmable Crock-Pot, to name just two. But I was a serviceable cook. I could make things like roast chicken, pasta sauce and peanut butter cookies. Meanwhile, my friends filled their social media with multi-layered jam and cream filled cakes with homemade buttercream, casseroles of duck comfit with puréed parsnips and plum clafoutis. I had nothing like that. There was no dish I could point to with pride, nothing to whip up with pizazz to entertain friends, no dish that would make others swoon when I arrived at a potluck and definitely nothing whose crumbs anybody would scarf up with the end of a plastic knife if I left it in the break room at work.
Clearly I needed to step up my game. Even though I knew I wanted a signature dish or at least an area of expertise, I had no idea how to acquire one. Would I find it through dumb luck or was a signature dish dependent upon the approval of others? I imagined myself in a scene from a mid-century sitcom dinner party where, dressed like Laura Petrie, I would glide around the living room passing around a silver platter filled with my signature dish while Rob, Buddy, Sally and even Mel cheered and applauded. But it seemed I was stuck between wishing and making it so.
Then I got the book. It was Dorie Greenspan's Around My French Table. It was one of three cookbooks I got for a dollar when I signed up for a cookbook of the month club. French Table is a big heavy book. It's 9" x12", has 530 pages and must weigh at least several pounds. I need two hands to lift it off my kitchen shelf. When it first arrived, I figured it was just an attractive coffee table book, but since I am a serious Francophile I still thought it might be nice book to page through with a glass of wine while looking at glossy photos of France and French food. That was how I read Mastering the Art of French Cooking. I knew I didn't have the skills or the staff to attempt boeuf bourguignon no matter what Julia said about 'servantless American cooks.' I would read this book the way armchair quarterbacks watch Monday Night Football, with knowledge & passion but at a safe distance from the action.
So, with this outsized and fairly heavy book balanced uncomfortably on my knees, I started reading and it was wonderful. I lived vicariously through Greenspan's anecdotes about life in Paris, her personal cheese coach, the black truffle sandwich she whipped up for her husband, the chocolate mousse recipe French hostesses got from the back of a French chocolate bar, the olive bread lifted from a recipe card in a Provençale market. It was like visiting a favorite aunt and spending a lazy Sunday afternoon looking through old photo albums and recipe books, friendly and fascinating. I relished our time together.
And like a favorite aunt, she gave me recipes that were short on obscure ingredients or confusing techniques. As I turned the pages, I started to notice that most of the recipes appeared to be manageable even for us haphazard American cooks. I started reading with a pad of post-it notes next to me so I could tab the recipes I might want to try. My first Dorie recipe was the Top-Secret Chocolate Mousse. I picked it because it was so French and had only two basic ingredients: chocolate and eggs, but it also featured the challenge of beating egg whites to a certain consistency, something I was always nervous about trying. But Dorie did not seem bothered by this and her nonchalance was catchy. The biggest problem I had was trying to get this enormous book to lie flat on my kitchen counter. In my quest for a showstopper that would impress everyone from my friends and family to Padma Lakshmi and Mary Berry I did not deviate even a little bit from the recipe: Dorie said use bittersweet chocolate, I used bittersweet chocolate; Dorie said whip to medium-firm peaks, I watched at least a dozen YouTube videos of egg whites being whipped into to various states of being; Dorie said don't over mix, the streaks are appealing, I did not over mix and I too, had appealing streaks. In the end, I had a cluster dessert cups filled with creamy, chocolate mousse I made myself. It was a delicious moment in more ways than one. I didn't realize it at the time but in my quest for a signature dish, I was slowly teaching myself new cooking skills from the friendly pages of Dorie's book.
My next recipe was the Savory Cheese and Chive Bread (or cake saleé as it is beautifully known in French). I always wanted to make my own bread but lacked the patience yeast breads required for all the kneading and resting and more kneading and chilling. Quick breads appealed to me because they were quick. Again, I placed the giant cookbook that still refused to lie flat out of splatter distance from the bowls of eggs and flour. Carefully I laid out all the ingredients including the chopped chives and the Gruyere cheese that I bought specially for this recipe. (I was a little shocked by the price of the Gruyere, and asked a cheesemonger for possible substitutions but he just shook his head and said "Gruyere is cheese you change to, not from."). It seemed to take forever to assemble the components and pour it into the bread loaf pan but I found out that grating cheese wasn't as onerous as I thought it was going to be. There was something soothing about shredding it back and forth on my little grater. The results, if I do say so myself, were spectacular. The bread was soft and cheesy with a hint of chive flavor — almost like a cake, almost like a bread, beautifully brown and crunchy on the top.
I was so taken with the savory cheese and chive bread that I started making it almost weekly, each time doing battle with the enormous cookbook that wouldn't lie flat and a lovely little block of pricey but tasty gruyère. It became a warm and cozy Sunday afternoon activity. It also became second nature. Eventually, I bought a beautiful Jean Dubost Laguiole serrated bread knife on sale just to slice this bread. Nothing matched the feeling of that knife slicing through the crunchy top down into the soft center of the loaf. I would slice off a small end piece and nibble on it while standing at the counter. It was warm and reassuring and delicious. It made me happy. Eventually I brought some to work and I was delighted to find it made my co-workers happy, too.
I learned a lot about cooking and baking from Around My French Table, most of it unintentional. I learned to be more thoughtful in the kitchen. I discovered it might take several tries to perfect a recipe or learn a technique. I took the time to make brown butter or to gently sautée the onions before adding them to the paté. I learned when to substitute peaches for plums and when to leave well enough alone. But I also discovered that cooking is a journey not a destination and that's what changed everything.
---
Frances Katz is a writer and journalist originally from Boston who now calls Atlanta home. Her work has also appeared in The Atlantic, The Washington Post, Roads & Kingdoms, and others. Follow her @francesk