Considering the Kitchen of the Present and Future at Smart Kitchen Summit
Photos by Jackie Varriano
Food
Features
It was a rainy Thursday in Seattle as roughly 250 people gathered at SODO Park, a cavernous building filled with wide, dark beams and well-worn hardwood floors. Its rustic surroundings belied what was to take place, as vendors scurried to set up their wares, readying themselves for the Smart Kitchen Summit.
A banner read "The Kitchen of the Future Has Arrived", and as the be-suited attendees claimed their seats, the lights adjusted and the first panel began. Curated by Michael Wolf, founder of NextMarket Insights and host of the Smart Home Show podcast, the day was packed with panel discussions featuring innovators and focused around everything from gadgets and integrated home systems to apps and thoughts on the future.
Panelists included Williams-Sonoma president Janet Hayes, Serious Eats managing culinary director J. Kenji Lopez-Alt, Smartplate CEO Anthony Ortiz, and Hiku CEO Rob Katcher. Over the course of 14 panels, a few themes emerged.
First, what is "smart"—and what does that mean for consumers? On one hand, there are ovens that can send you a text message telling you when your food is done. On the other, as Sidechef CEO Kevin Yu said, "The most Googled cooking search is 'how do I know water is boiling'." Finding that sweet spot for consumers is not a one-size-fits-all box.
Consumers want products that are smart enough to learn what the individual user wants.
During a panel titled "Smart Kitchen: Starting Point for the Smart Home Consumer," WeMo's Peter Taylor said, "consumer expectations around the word "smart" are extremely high," which touches on the second theme that threaded through the entire day: personalization. Consumers want smart—they want the scale that can help them craft cocktails and the tea system that helps them brew the perfect cup—but they want them to be more than just smart. People want products that are smart enough to learn what the individual user wants.
Companies realize this and are working to tailor experiences. Yu talked about how with Sidechef, the first time a user chops an onion in a recipe with the step-by-step app, there might be a note describing how eyes can tear up. But by the fifth time that user chops an onion, instead of that note they'll see a link for a video showing a different way to chop the onion. "It's like a game, as you get better at something, we teach you more," he said.
In the midst of all this discussion about devices that could monitor the level of milk in your fridge and tell you when you need more (or even add it to your electronic grocery list), there was a lot of talk about the absence of technology for technology's sake. "Is it easy? Because every step is friction," said Daniel Rausch when talking about Amazon Dash. These makers realize that if they could make a device that lets a roasting chicken tell the oven it's cooking too fast or too slow and in turn have the oven tell you, it better not take a user 15 steps to make sure it works right.
The day wasn't all lip service: there were a few panelists who also brought their smart products for show, giving attendees a hands-on chance to see if smart worked.
Highlights included: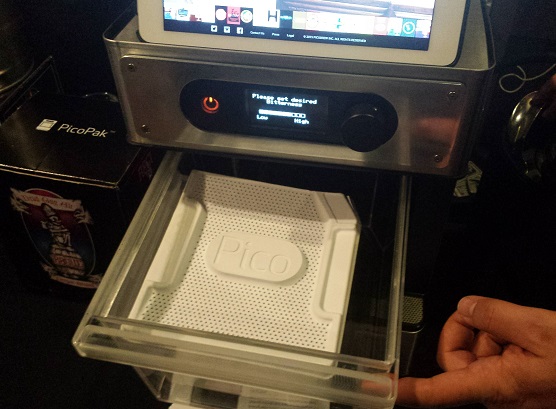 PicoBrew, a countertop home brewing system that comes with a five-liter mini keg and a PicoPak ingredient kit. Turn on the machine, put the PicoPak in, adjust for bitterness and alcohol content, hook up the mini keg that's been filled with water and press start. Two hours later, unhook the keg, add a packet of yeast and forget about it for five days. After the five days pass, you've got beer. Recipes come from craft breweries around the US, but brewers can also create their own recipes. The company has a Kickstarter right now where for $549 backers can grab a machine and PicoPak.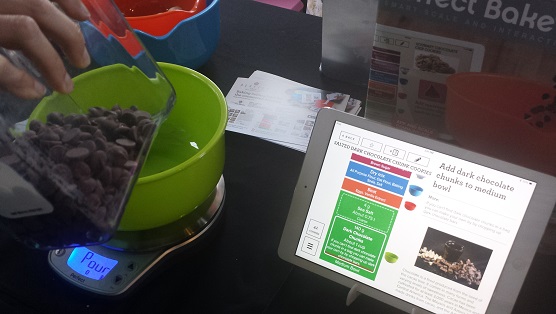 Perfect Bake and Perfect Drink from the Perfect Company brought to the market in part by former toy inventor Mike Wallace, Perfect Bake and Perfect Drink feature a Bluetooth-enabled scale and app that walks users through recipes, measuring ingredients by weight. Come up short on an ingredients and the app can instantly scale down the recipe, or scale up if you get a little heavy-handed. Also, both apps let users input their own recipes. The only downside is that the apps can't talk to each other (for now), so if you want to bake cookies and be a master bartender, you've got to buy both products. Luckily, they can be had for as little as $19.99, depending on the scale you want.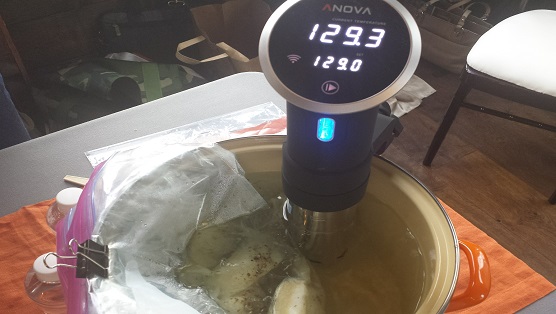 Anova Sous Vide Cooker: This is for anyone who has dreamed of having a countertop sous vide machine. All you need is a large pot and a plastic bag. It's wifi-capable and with the Anova app you can control the machine from your phone. The app also features recipes from chefs, bloggers and editors.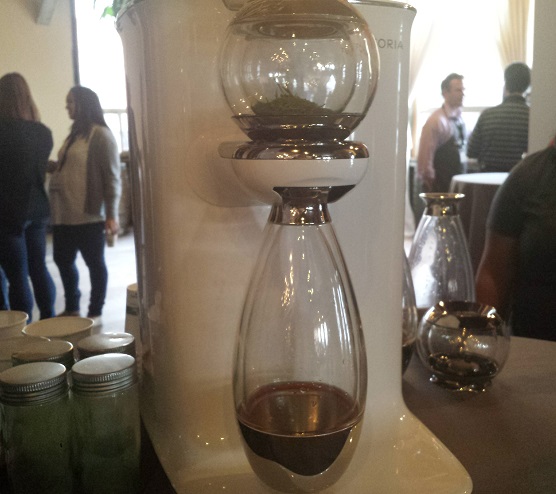 Teforia: This sleek countertop tea brewing system is designed to reinvent the tea experience. Pods of tea get brewed into a waiting carafe in stages ensuring a perfect cup. Use Teforia-branded tea or your own loose leaf. The machine syncs to an app, allowing the user to dial up or down the caffeine level and steep time and can even achieve a perfect cold brew in less than five minutes. The product hasn't fully launched, but early adopters can have a Teforia machine for half price, or $649.