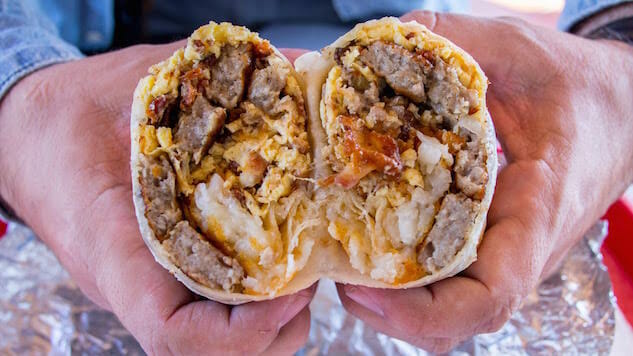 I still remember my first real breakfast burrito (not a frozen convenience store burrito, but a fresh, made-to-order breakfast wrap). That memorable piping-hot pod was served from a dingy taco truck in a Culver City industrial park. It was a blustery autumn morning over a decade ago — long before the popular rise of the food truck, back when they were simply "taco trucks" or, if you were feeling less charitable "roach coaches" — and I don't think I truly understood the adage about breakfast being the day's most important meal until that morning. For $4 I got a steak-and-egg burrito that changed my whole outlook on the day. I even skipped lunch.
Toast, oatmeal, even pancakes and bacon are pretenders to the true breakfast of champions. Cereal and milk? Give me a break — or give me eggs and cheese wrapped in a supple tortilla and kissed by a screaming hot flat top grill and the underside of a weathered taquero's spatula. A well assembled breakfast burrito will make you feel like a champion — make you feel like you could wrestle a horse or punch the devil right in his stupid eye.
There's no better way to start your day, or end an evening of revelry, than with a dense and delicious breakfast burrito, and in work-hard/play-hard Los Angeles, they are a beloved staple. Every corner dive, decades old diner and hip brunch spot offers their own take on a complete breakfast enrobed in a flour tortilla, and the diversity of breakfast burritos in L.A. is as wide as the people lining up to eat them. From the traditional to the baroque, you could spend a year's worth of weekends eating breakfast burritos without having two of the same, and a comprehensive ranking of the city's offerings is both futile and absurd. This list is meant not to be an exhaustive survey but rather an illustrative study on some of the most notable breakfast burritos in Los Angeles.
1.Lucy's Drive In


1373 S La Brea Ave
Los Angeles, Calif. 90019
Among the myriad of variations on the wrapped breakfast theme, the most common examples are simply scrambled eggs, a salty breakfast meat, cheese and some crispy potatoes. At Lucy's — an eye catching 24-hour drive thru offering Mexican and American favorites — you get the choice of bacon, ham, sausage patties or chorizo. Cheese will set you back an extra 60 cents, doubling up on the meats just another 60 cents. The foil0wrapped cylinder is served alongside a small pile of tortilla chips. The salsa is best applied before each bite for its zippy acid that mellows the rich burrito. The hash browns within the just crisped tortilla add some structure, and a one-two punch of bacon and sausage is recommended. Lucy's is both an excellent way to start your day in L.A., and a late-night staple.
2. Cofax Coffee
440 N Fairfax Ave
Los Angeles, Calif 90036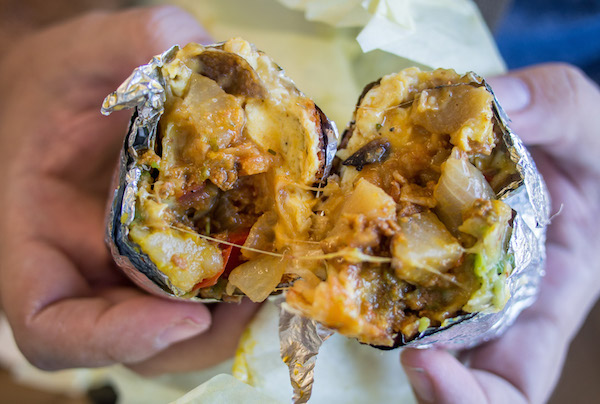 Photo: Julie Verive
The signature breakfast burrito at Cofax departs from the standard formula in one important way: the potatoes. Instead of crispy hash browns, this burrito is built around a smoky stew of potatoes, onions and peppers. You can choose veggies, bacon, chorizo or pastrami as the filling, and a gooey vein of cheese ties it all together. Add avocado for an extra buck, and pick out a fresh doughnut — the tiny kitchen can get backed up and you may have to wait a while for your burrito. You'll be glad to have the snack, and since you have the doughnut, you might as well get a coffee (cold brewed and iced, or a well pulled espresso drink). The wait is always worth it.
3. Lucky Boy
640 S Arroyo Pkwy
Pasadena, Calif. 91106
&
531 E Walnut St,
Pasadena, Calif. 91101
The sleepy city of Pasadena wakes up at Lucky Boy — a decades-old institution of burgers and breakfast burritos with two locations. The monolithic breakfast burrito often ends up at the top of breakfast best-of lists, and it draws crowds from across L.A. on the weekends. While you can get it made with bacon or ham, the regulars know it's the dense and rich chorizo that's the biggest draw. Mounds of potatoes and indulgent wads of bright orange cheese intermingle with fluffy scrambled eggs, and the burrito is served with a few cups of tangy salsa. It's big enough to split and only $7.10, but you gotta get to the walk-up, cash-only window before 10:30 a.m.
4. Astro Burger
7475 Santa Monica Blvd
Los Angeles, Calif. 90046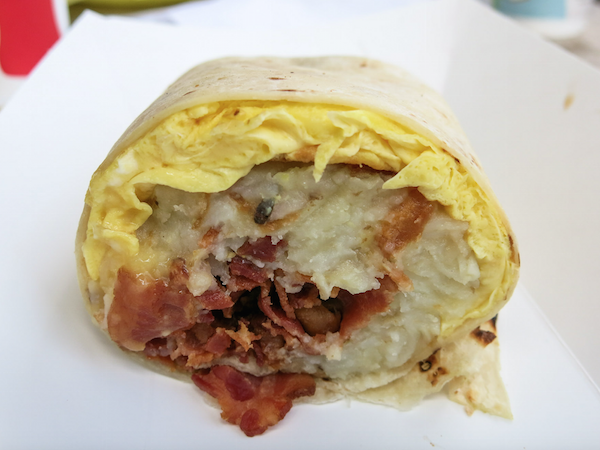 Photo: Julie Verive
The breakfast burritos at this nearly 40 year old hamburger stand on Santa Monica Blvd. are simple workaday fare, but they have one element that separates them from most other burritos on this list: they're rolled-up with a zippy ranchero sauce. The tomato-based sauce is thin and finds its way into every crevice of the burrito, adding acidity and some mild spice to the well-griddled tube of eggs, hashbrowns and salty meat. As for the meats, your choices are finely crumbled bacon, breakfast sausage links, or ham sliced into ribbons (again, the double-up of bacon and sausage is the pro-move at Astro). The decades-old neighborhood spot is, somehow, still under-the-radar of the Hollywood locals, and you'll never have to contend with the lines and waits that you may on the more popular restaurants on this list. Bring cash, and Astro stops serving breakfast at 10:30 a.m. (11:30 on weekends).
5. The Highland Cafe
5010 York Blvd
Los Angeles, Calif. 90042
In Northeast L.A.'s increasingly trendy (some say revitalized, some say gentrified) Highland Park neighborhood this quaint cafe offers solid breakfast options — including a whole lineup of breakfast burritos. You can get them vegan-friendly, with potatoes, with beans, full of french fries, or you can tuck into the ultimate desayuno mash-up: the chilaquiles breakfast burrito. Crispy tortilla chips are tossed with house-made chile sauce (either red or green) and layered with lightly scrambled eggs, sour cream, queso fresco, cilantro, red onions and avocado. The $11 beast embodies the neighborhood's culture-clash in the most delicious way. Even better: the breakfast is served all day, so you can lay down a solid base before hitting the great bars along York Blvd.
6. Trois Familia
3510 Sunset Blvd
Los Angeles, Calif. 90026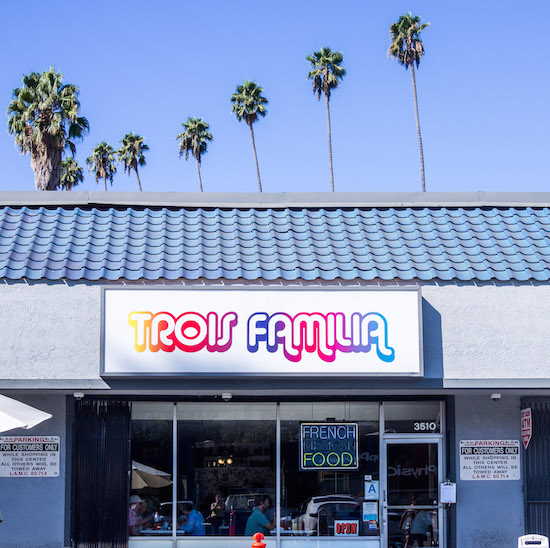 Photo: Julie Verive
Most of what's come before on this list are classic breakfast burritos with only slight variations on the theme. This is different. Wildly different. In a Sliver Lake stripmall off Sunset Blvd., fine dining iconoclast Ludo Lefebvre (Trois Mec and Petit Trois) teamed up with more of L.A.'s star chefs (Jon Shook and Vinny Dotolo of Animal, Jonny & Vinny and Son of a Gun) to open a brunch-focused, French-Mexican fusion restaurant. I'll let that one sink in a bit. Trois Familia is so L.A. it hurts. Everything is so damn chic and Instagrammable and juste comme ça, but the food is très très bien. The dishes are wild and inventive (carrot mole enchiladas, a galette crepe filled with chorizo and cheese), and the breakfast burrito in particular is transcendent. Soft, nearly runny scrambled eggs suggest the perfection of a french omelet, while house-made american cheese ups the ooze-factor. Caramelized onions, Parisian ham and truffle salt fill out the perfectly toasted tortilla. It's $12 well spent and worth a sometimes lengthy wait for a seat at one of the half-dozen communal picnic tables inside the cozy space.
7. Tacos Villa Corona
3185 Glendale Blvd
Los Angeles, Calif. 90039
There are many great taco shacks and walk-up windows in Los Angeles, and this colorful to-go spot near Glendale was already one of the most popular before Anthony Bourdain let the secret out. The traveling celebrity made a stop for a breakfast burrito during an episode of his show The Layover, and the lines have been even longer ever since. While Villa Corona serves breakfast burritos until they close at 1 p.m., their day often ends early on weekend when they sell out of the signature papas burrito (available with all manner of other fillings, though chorizo is the favorite of the regulars). These burritos are large and messy — grease and salsa ooze and drip from all the right places. The family-run Villa Corona is a favorite in L.A. not just because the tacos and burritos are authentic and excellent, but because the Flores family clearly pours their hearts and souls into the food. You can't leave Villa Corona without a smile (and a full belly).