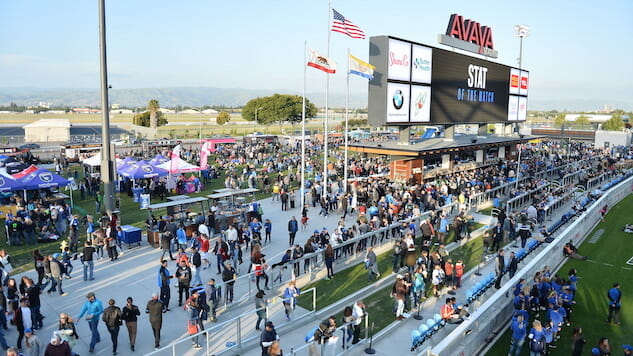 My very first Earthquakes game was impressive on multiple levels. From incredible plays made, which ultimately lead to the win that night, to the ecstatic fans, the high-energy atmosphere and overall the stadium experience was on point.
Since day one, Avaya Stadium's design and intent has been geared towards creating the ultimate fan experience, explains Jake Pisani, Manager of Media Relations at San Jose Earthquakes Soccer Real Reason to Watch the San Jose Earthquakes Live at Avaya Stadium. Nearly all of the seats are on a single level, unlike what's most commonly seen in other stadiums, and the steepest seating in all of Major League Soccer means even fans in the very last row are still right on top of the pitch.
The stadium is also the only one in the Major League Soccer with field-level sideline suites and has an oversized double-sided video board ensures fans stay entertained no matter where they are. Not to mention they offer free Wi-Fi and the 18,000 capacity stadium is shockingly clean.
The icing on the cake, however, is Avaya Stadium's impressive food and drink scene.
2px); width:calc(100% 2px);">
At 3,647 square feet, Avaya Stadium boasts North America's largest outdoor bar. Residing at the north end of the horseshoe-shaped stadium, the Scoreboard Bar features a special Beers of the World section pouring, you guessed it, a rotating selection of global brews.
"The bar is a major draw at Avaya Stadium. The popular watering hole during all Quakes' matches is serviced by 30+ bartenders and features numerous high-quality TCL 4K TVs throughout. Drinks can be purchased on all four sides of the bar and best of all, fans won't miss a moment of the action as it's just yards from the action on the pitch," says Pisani.
"TCL (one of the founding partners for Avaya Stadium) has also provided fans with terrific promotions around the bar since 2016. For example, at every match, drink coasters served have a random minute on them (1-90). When a goal is scored by the Quakes, lucky fans in possession of a coaster with the minute the goal was scored instantly receive 50% off a TCL TV. Additionally, fans who return a ball kicked into the bar area during the run of play win a TV free of charge."
On the food side, Avaya Stadium unveiled new menu items for the 2017 season that caters to the vegan, vegetarian and gluten-free fans. Think vegan pizza with roasted squash purée and hummus; bbq pulled pork or brisket mac n' cheese; a 10-inch all-beef hotdog with grilled peppers and onions; and Portobello sliders with roasted poblano chilies. Moreover, depending on what night you're there, the stadium hosts heritage night-themed cuisine.
The real kicker ?- punny, right? ?- is the slew of 12-14 food trucks that line up nightly at the 7Up Epicenter, the two-acre space behind the Scoreboard Bar that's often home to sponsor activations, children's activities, and other popular festivities.
The eclectic food truck parade has undeniably been a draw since the stadium's opening in 2015. Who doesn't love having nearly limitless options when it comes to chowing down at a game?
Particular crowd favorites include: Twisted Chill (locally made gourmet ice cream), Sam's Chowder Mobile (chowder and seafood), Grilled Cheese Bandits (grilled cheese), Tacomania (Mexican food), 3-3-3 (Mexican, Korean, and India fusion), BBQ Kalbi (Asian BBQ), Speedy Panini (Italian sandwiches) and I Love Cheesesteaks (cheesesteaks), according to Pisani. Now you know.
2px); width:calc(100% 2px);">