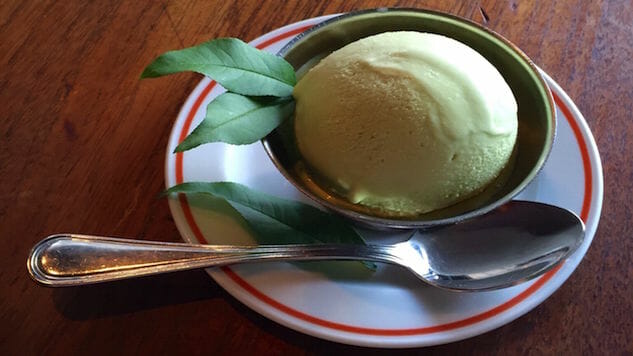 Let the kiddies have their blue Superman ice cream. Cool creams are decidedly grown-up these days, and the adults know that it's more deliciousness for them if the daycare sets eschew fancy flavors. In the Lowcountry, it's hot enough to fry an egg (and almost poach it with our humidity) on the sidewalk most of the summer, so we go for the cool stuff whenever we can.
The South is known for its iconic desserts — sure— but during the summer, some of Charleston's best restaurants churn up unique creams for a sweet finish to an evening. Creativity shines through in a simple scoop, so be adventurous and take a bite.
1. Peach Leaf
FIG
Pastry Chef Caitlin McCormick is newly appointed to her post at this beloved Charleston
restaurant, but if this ice cream is any indication, we are in for a sweet ride. This ice cream has the most unusual flavor — that of almond or pistachio — and she learned how to make it from another chef who once learned the technique at Chez Panisse. Highly labor intensive (each leaf has to be washed and thoroughly dried) but worth the creamy green result, it is one of the most sublime flavors you'll encounter this summer.
2. Toasted Rice
Xiao Bao Biscuit
Another show stopper, this dessert is a surprising first bite. The cream looks like plain vanilla,
but it's far from it. The kitchen toasts rice (filling the room with the scent of popcorn when it toasts), which is then soaked in a sweet ice cream base, then strained out before churning. "The way I explain it is that it tastes like that first bite when you're eating soft serve and you get a bite of the cone," Chef Josh Walker explains.
3. Chocolate Blood Orange
Opal
On the opposite end of the spectrum is Opal's chocolate blood orange cream. The kitchen wanted to utilize the last of the blood orange season, and Chef de Cuisine Ryan Camp wanted to try his hand at the classic flavor combo, but with a twist. Unlike the chocolate orange candy he says that is more "orange" than chocolate, this decadent dessert is a little more balanced since the blood orange variety has a slightly darker (and less sweet) flavor than many conventional oranges.
4. Honeysuckle
Circa 1886
This isn't honeysuckle flavored, or just sweet, or a gimmick. Take a bite at the finish of an excellent meal in this upscale setting, and you might be instantly transported to your childhood summer evenings, leaning into a brushy edge of the woods to pluck the sweetest honeysuckle blossoms from a wild vine. Real honeysuckle imparts a honey sweetness (but also a delicate perfume, akin to jasmine) in each bite of this perfectly creamy — and perfectly plated — scoop.
5. Strawberry Goat Cheese
Cirsea / The Watch at The Restoration Hotel / The Daily
This is a bit confusing, but stay with me. Cirsea is a local artisanal ice cream company that
makes this scoop that is sweet, tangy, fresh and beautiful. But they don't have a retail location and instead sell wholesale to restaurants, or to retail in pints. Therefore, we suggest two special ways to enjoy it: either by sampling at The Watch while enjoying one of the most unique rooftop views in Charleston, or visiting The Daily to take home a pint to enjoy on your porch.
6. Olive Oil & Sea Salt
Beardcat's Sweet Shop
Downstairs from the Obstinate Daughter on Sullivan's Island sits Beardcat's, yet another excuse to forgo worrying about your figure in a bathing suit. While the olive oil and sea salt flavor might be a traditional Italian flavor, you don't see it much in South Carolina. Pastry Chef Victoria Warren starts with Italian olive oil to impart an ultra-smooth texture with just the slightest hint of bitterness, and then the whole sweet cream is garnished with more olive oil and crunchy grains of sea salt.
7. Sweet Corn & Black Raspberries
Jeni's
Sure, it's a chain, but it's damn good ice cream, and if you make a stop at the shop on Upper King on any summer evening, the crowd will attest to that. Sweet corn is a regular sweet dessert inclusion, but if you think of the sweetness of creamed corn, then you'll begin to get the flavor of Jeni's seasonal hit. Tart raspberries are folded into the cream for contrast, and both the corn and the berries are seasonal gold.
Stephanie Burt is a contributor for Paste based in Charleston, SC who is always
"screaming for ice cream" (literally. Somebody please give her some). You can find her on Twitter or Instagram at @beehivesteph or listen to her distinctive Southern accent weekly on her podcast The Southern Fork.