5 Must-Try Restaurants in the South Bay
Photos by Marie Buck Photography and Christina Gilmour
Food
Lists
While the South Bay may have a reputation for beautiful, sun-kissed surfers and beachgoers (all true), it also covers quite a bit of turf. Whether you're looking for a casual, no-frills spot or a neighborhood favorite that highlights the best local produce, these are a few notable restaurants you'll want to bookmark the next time you find yourself in the beach town.
1. Arthur J
Arthur J (pictured above) is not just a neighborhood steakhouse or a restaurant you find yourself at for a celebratory dinner. It's the kind of meal you would dream of on your deathbed (morbid, but true). The restaurant boasts a mid-century modern theme from the Mad Men-inspired decor down to the cocktails and wine list that uses Old Hollywood celebrities to describe the flavor profiles you can expect from each varietal. If you know anything about Chef LeFevre and his other Manhattan Beach outposts, you will know that you should probably start your meal with the glazed Parker House Rolls. Every dish from the buttery steak tartare topped with a quail egg and dollop of whipped horseradish to the perfectly cooked, sizzling hot filet mignon and flavor-packed sides (so good you could practically eat them as a main dish) will haunt your food dreams. There is no such thing as a mediocre dish at Arthur J.
2. Ayara Thai
2px); width:calc(100% 2px);">
Sure, it's by the airport, but If you're looking for Thai food that's ridiculously good, reasonably priced and perfect for takeout the next time you land at LAX, then look no further than Ayara Thai. The restaurant recently underwent a much-needed four month renovation that will hopefully help with diner wait times. Popular dishes include the Drunken Noodles made with stir-fried rice noodles and fresh vegetables, tossed in a chili garlic sauce for a kick and served on a bed of lettuce and their famous Tom Yum Soup that we're pretty sure will cure the winter blues. And if you happen to make it for lunch, their lunch combos are killer deal — for just $10 you get your choice of an appetizer, rice and main dish.
3. Baran's 2239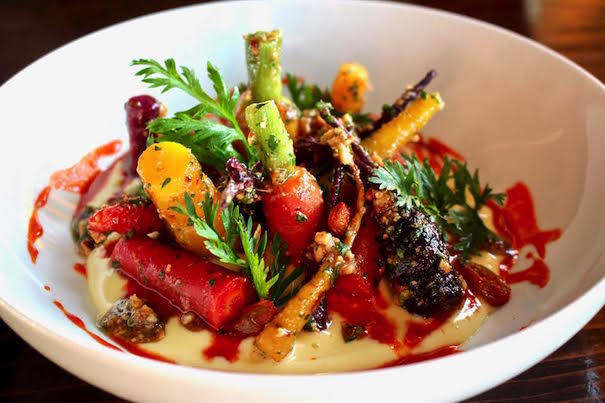 Photo by Lori Hirsch Stokoe
You might miss this hole-in-the-wall gem if you don't look close enough — it's tucked away in a strip mall and sandwiched between a vape shop and a tiny Lebanese restaurant — but once you find your way, you will need some serious restraint because you will crave dinner here every day ending in "y." Executive Chef Tyler Gugliotta (last seen at The Tasting Kitchen) is no stranger to the kitchen and has created an award-winning menu at this South Bay farm-to-table restaurant that highlights what's in season and lets the ingredients speak for themselves. Dishes like the Truffle Linguini and the Indian Egg are packed with robust flavors that will leave a taste in your mouth that will keep you coming back for more.
4. The Original Pancake House
2px); width:calc(100% 2px);">
Some days you crave a yogurt parfait for breakfast, others you just want carb-filled layers of doughy, buttermilk goodness and that is exactly what you'll find at The Original Pancake House. Whatever fillings you fancy in your pancakes — blueberries, bacon, banana or coconut to name a few — chances are, you'll find it on the menu here. But don't leave without trying their signature Apple Pancake, oven-baked with fresh Granny Smith apples and sprinkled with a cinnamon glaze.
5. Fishing with Dynamite
2px); width:calc(100% 2px);">
No beach town would be complete without a solid seafood joint. Fishing with Dynamite is a seafood lover's paradise and the perfect spot after a day of fun in the sun. While the menu is seasonal to keep things fresh (see what we did there?), look out for the Peruvian scallops from the raw bar, the hamachi bathed in ponzu sauce or the beer battered cod over a generous portion of fries although the menu always incorporates a nice variety of fish (and vegetarian!) options. The bright, beach town eatery feels much like a shack that belongs on the sand with indoor seating for 33, and nautical-themed furnishings. It's the perfect place to throw back a few oysters and cold ones on the picture-perfect Manhattan Beach.
Leila is an LA lifestyle and travel writer who spends about 95% of her time writing about food, thinking about food, cooking food or eating. You can follow her food and travel adventures around LA on Instagram and Twitter @LeilasList.