Sammy Hagar is mainly known for being Van Halen's second lead singer and for once owning a tequila label, but with his new lifestyle cookbook (with help from San Francisco food writer Josh Sens, who helped organize Hagar's thoughts) called Are We Having Any Fun Yet?, he wants to be taken seriously as an entrepreneur and as a gastronome. Surprisingly, Hagar—who's basically Jimmy Buffet of the rock world—actually has good taste in food and booze, especially wine (he is, after all, worth millions).
Part memoir and part cookbook, the self-described "half Italian, half Southern redneck" shares a few recipes (Sammy's Wabo Shrimp, lobster burrito) from his Cabo Wabo restaurants, and carb- and meat-heavy personal recipes, some of which are quite sophisticated: breaded abalone sandwich, papas bravas, braised lamb shank, and epazote quesadillas. He also includes a myriad of cocktail recipes, including some made with his own brand of rum—Sammy's Beach Bar Rum (try the Crazy Hagar, invented by Guy Fieri). The book is divided into sections of where he has homes and businesses: Cabo San Lucas, Mexico; Mill Valley, CA; and Maui, and it's filled with photos of his homes and celebrities (name dropper!), such as a photo with him, Michael Bolton, and the Dali Lama all in one place. The book's forward is by his friend Emeril Lagasse. While those are all telling details, they only scratch the surface of what Paste learned about The Red Rocker from reading the book.
Sammy learned to cook from his family.
In the first chapter, Sammy explains he was named after his grandpa, whose "favorite hobbies were hunting, fishing, lying, and stealing…He canned peaches that he plucked from other people's orchards and made wine with grapes he swiped from other people's vines. He taught me how to shoot a gun and bait a hook, how to clean a salmon and field-dress a buck." He jokes his mom was "yard-to-trailer" and cooked with what ingredients she had readily available. "She was MacGyver in the kitchen, stitching together meals from whatever there was." Hagar shares his grandpa's French toast recipe, which uses half-and-half, real maple syrup, and no butter. He mentions how growing up his family didn't eat out much, and that he didn't start going to fancy restaurants until he was 23 years old.
It bothers him people do not take his culinary interests seriously.
"People seem surprised when I tell them just how deep I am into the culinary thing," he writes. "It's as if they're thinking, 'You're Sammy Hagar. What the fuck do you know about serious food?' I dealt with that same question when I opened my first restaurants and launched my tequila. I'm dealing with it still as I'm trying to turn the world on to my rum. My answer is yeah, I'm Sammy Hagar, and I learned to cook before I learned to rock," which has to be one of the greatest retorts ever.
The other members of Van Halen have terrible taste in food.
As people probably know, Hagar was the lead singer of Van Halen from 1985-1996 and again from 2003-2005. Hagar sounds slightly tart about it, but doesn't let it get to him too much. What he does take issue with is Eddie and Alex Van Halen's poor eating habits. "Alex and Eddie didn't give a single fuck about food. They'd nuke up a hot dog or a frozen burrito and chase it with Schlitz malt liquor, and that was dinner. White tablecloths and the Van Halen brothers didn't really get along." Hagar writes bassist Michael Anthony loved chili peppers so much that he'd constantly make an entire meal out of them. But some of his other rock friends do have more sensible tastes: Huey Lewis, Bob Weir, Toby Keith, and Lars Ulrich of Metallica, who likes Domaine de la Romanée-Conti (who doesn't?).
Speaking of wine, Hagar's quite the oenophile.
He talks about how his personal wine cellar's stocked with 10,000 bottles of wine, and how once on a plane ride, after purchasing a $10,000 bottle of 1953 Cheval Blanc, the cabin pressure exploded it. Oh well. Hagar's Mill Valley restaurant El Paseo offers an extended wine list featuring everything from affordable bottles to a 1967 Château d'Yquem Sauternes for $2,800 and a 1999 La Tâche Grand Cru for $7,200. Did we mention those are from his personal collection and part of the proceeds go to charity? Monthly, the restaurant hosts wine dinners for a reasonable $125/person, with each month featuring a different region. Hagar also admits to relishing truffles (Emeril catered his wedding and flew in 10 pounds of white truffles from Italy), caviar, Iberian ham, and porcini.
Every October, for his birthday, Hagar performs four nights of shows at the Mexico locale of Cabo Wabo Cantina.
When Sammy founded his first cantina in 1990, the business struggled at first—"the entire operation was a disaster," he writes. The Van Halens invested money in the business but pulled out when it began to lose money. But, Sammy eventually built up the cantina, and it's now located in other destination cities of Hollywood, Las Vegas, and Lake Tahoe. To give back to his fans, Sammy plays four sold-out shows during his birthday week. This year, he'll kick off his birthday bash on October 7 with his band The Circle (Michael Anthony, Jason Bonham, Vic Johnson), with the final show culminating on his actual b-day of October 13.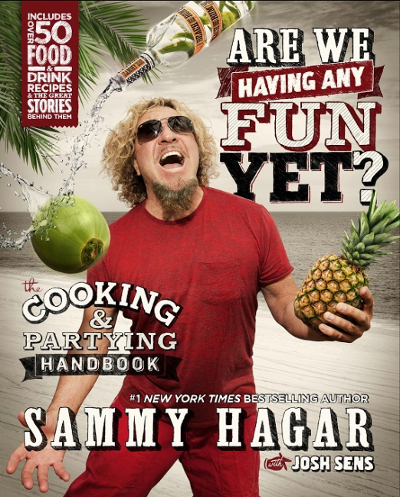 The damiana shrub revs up your sex drive.
Not to get too graphic, Hagar overshares how he one day found the Mexican damiana growing in his yard and how he ate the yellow flowers from the plant. Apparently the Aztecs used it as an aphrodisiac, and well, it's a homeopathic Viagra. Hagar woke up with a, um, stiff one—and I don't mean a drink. But, you can distill the plant into a less potent tea and a liqueur, which is used in Cabo Wabo's Damiana Margarita. "It's one of our best-selling drinks," he jokes.
Sammy sold his tequila business but then unexpectedly got into the rum biz.
In the book, Sammy talks about how in the mid-'90s, without any advertising or marketing, sales of his tequila went from "zero to thirty-six thousand cases that first year. Then to fifty thousand. Then eighty thousand. Then one hundred thousand. At $50 profit per case, we're talking $5 million a year." That's a lot of worms. In 2007, Sammy sold 80-percent of Cabo Wabo tequila to Campari for $80 million (that figure isn't listed in the book), and in 2010 he sold his remaining 20-percent stake in the business. After he relinquished himself from tequila, he serendipitously stumbled into rum. "If you'd told me I was going to have my own rum label, I would have gone a step further. I'd have called the guys in the white coasts and had you hauled away," he writes. When he moved to Maui, he met a guy who was making vodka out of pineapples and Hagar suggested since the guy had access to a field of sugarcane that he should make rum. And boom, Sammy's Beach Bar Rum was born, with white rum, and macadamia rum flavors. He also founded the Sammy's Beach Bar and Grill eateries, which are waiting for you in airports and at Southland Park Gaming and Racing in Arkansas.
Tyler Florence was briefly the chef of El Paseo but that relationship dissolved quickly.
Hagar bought his no-frills fine dining Mill Valley steakhouse in 2009 and brought Florence on as chef. "Tyler wanted to make it pretty much a steakhouse with a small market inside and big cuts of meat hanging in the windows. I told him, 'Hey, man, I've been living in this town since '72. That kind of things doesn't really fit Mill Valley," Hagar writes. Sammy then realized he wasn't a good match for him and said Florence "seemed more interested in being a celebrity than in being a chef." Hagar shares a recipe for the restaurant's deviled eggs, leaving out the fish roe component.
Sammy once ate baby turtle eggs.
Near his beachfront property in Cabo, sea turtles will lay eggs. Hagar talks about how he and his kids will push the baby turtles into the ocean so seagulls won't eat them, but one night the night watchman brought him three eggs. Hagar cracked them open, squeezed lime and hot sauce on them and devoured them. He says it reminded him of an oyster. "I still feel a little guilty about that, but it was a onetime deal. I'll never eat another." Sure, Sammy, sure.
He shares a few good cooking tips.
Hagar learned from his good friend Mario Batali how to grate a fresh tomato. You slice off the stem, make a vertical incision in the skin, grate it gently and the skin automatically folds back. If you're cooking pasta, Hagar recommends reserving a cup of the pasta water to add to your sauce. For a quick BLT hack, Hagar says the way to circumvent the tomato from squirting out of the sandwich when you bite into it is to toast only one side of each bread slice, and be sure to keep the toasted side facing out so the tomato will cling to the softer side of the bread. You can obtain this by doubling slices of bread in your wide toaster, or stack them on top of each other in a toaster oven. Hagar also suggests making honey water instead of simple syrup. He takes fifty-fifty warm water and honey, seals them into a jar, and shakes it vigorously. Voila, honey syrup!
Robert Downey Jr. blew his mind when he told him shellfish is bad for the vocal chords.
In 1995, while on tour with Van Halen in London, Hagar ran into the actor backstage. Hagar was getting busy with some shrimp, but Downey Jr. told him shellfish and red wine are bad for vocal chords. "What the fuck does this guy know about singing?" Hagar writes. Downey Jr. explained whenever an actor does film or voice work, they have to sign a contract promising not to imbibe red wine or eat shellfish, because it swells the vocal chords and makes you think you have laryngitis.
Hagar grows paradise in the backyard of his Maui home.
The Red Rocker ended up in Maui in 1996, when freshly cut from Van Halen he and his family needed some downtime. His home features coconut trees, papaya trees, jackfruit trees, coffee bushes, a tilapia pond where he spears his own fish, and pineapple trees (he planted 4,700 and had so many he sold the fruit and gave the money to a charity). He says the mainland pineapples are "picked green, set aside to ripen, and never become what they're supposed to be. A ripe pineapple straight off the tree is like pure sugar, so sweet you could almost eat the outside, too," he writes. His recipe for coconut cream: blend one cup of fresh coconut meat in three cups of hot water, and pour the mix into a bowl for cooling.
Hagar contributes his recipe for bud butter, which is possibly the most interesting recipe in the entire book.
Take a bud of weed and grind it in a coffee grinder for a few seconds, then whisk it with a stick of softened butter "until you get a nice spreadable bowl of bud butter." Now you can live like a rock star, too.
Garin Pirnia, who has a weird, made-up name, is a freelance arts and culture writer and has written for Rolling Stone, Esquire, Mental Floss, and many other publications. Twitter: @gpirnia
Photo by Ethan Miller/Getty