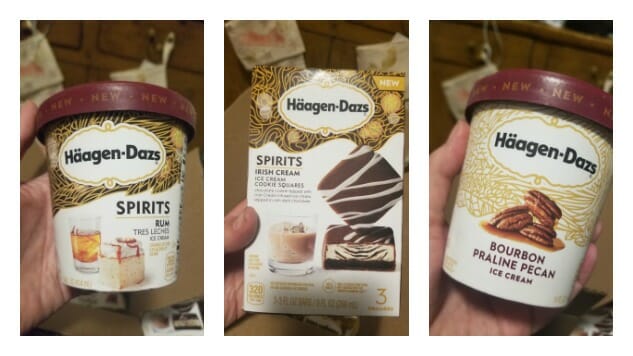 Häagen-Dazs has a new line of ice cream and you're going to love one of its main ingredients: booze.
The ice cream maker announced a new line of spirit-infused ice cream this month. It's officially set to debut in stores in April, but we got our hands on some cartons ahead of time.
Here's a rundown of all the new flavors:
•Irish Cream Brownie: Rich Irish Cream-infused ice cream is folded together with chocolate brownie pieces and a decadent fudge swirl?
•Rum Tres Leches: A Latin American inspired indulgence, smooth white rum-infused ice cream pairs with thick ribbons of dulce de leche and chunks of Tres Leches cake
•Bourbon Vanilla Bean Truffle: A classic pairing: creamy vanilla bean ice cream is studded with chocolate truffles and finished with a spicy bourbon swirl?
•Stout Chocolate Pretzel Crunch: A pub-inspired indulgence: Stout infused chocolate ice cream with notes of toasted malt is studded with chocolaty covered pretzels and decadent fudge swirls?
•Bourbon Praline Pecan: Raise a spoon to lusciously smooth bourbon ice cream infused with brown sugar bourbon swirls and the intense crunch of praline pecans?
•Non-Dairy Amaretto Black Cherry Almond Toffee: Sweet black cherry jam and almond toffee pieces are folded into nutty Amaretto-infused non-dairy frozen dessert?
•Irish Cream Cookie Squares: Chocolate cookie topped with Irish Cream-infused ice cream dipped in coated in rich dark chocolate?
The short answer: These things are good. While each one is infused with alcohol, it's done in a way that the ice cream isn't actually that alcoholic. Häagen-Dazs says that each product contains less than .5% alcohol, so you're not going to get drunk off these even if you eat the entire carton (or a few of them) in a single sitting.
We gave each one a taste, and think they're all actually pretty fantastic. My personal fave of the bunch is Irish Cream Brownie, with a close second going to Bourbon Vanilla Bean Truffle. In the case of both, the flavor of the liquor is there, but it's subtle enough that you don't feel like you're eating a ton of booze. I gave my boyfriend a bowl of Stout Pretzel Crunch, and he didn't even realize it was supposed to be beer flavored until I pointed it out. His response: "Oh, yeah!" So, the flavoring is subtle here, but effective.
If you want to try one of the booze-infused treats you'll be able to get them in cone, cup, and sundae variety at Häagen-Dazs locations starting March 1, and in grocery stores and other such ice cream establishments in April. Each pint will run you around $5.29.