Vinebox's 12 Days of Wine is the Advent Calendar for the Wine Explorer
Photos via Vinebox
Drink
Features
wine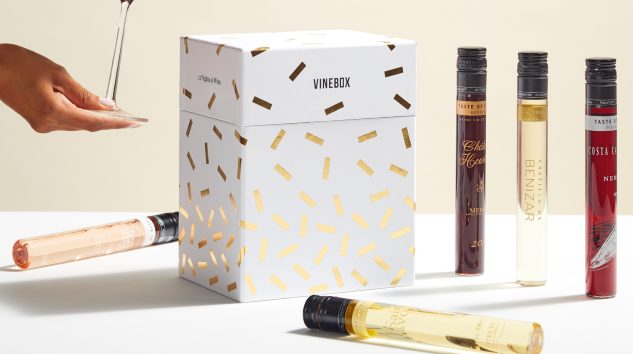 Confession: I regard subscription services with extreme skepticism, especially when their marketing borders on the ideological. Wine and spirits subscription services often have the double-whammy of smarmy claims about health benefits (show me an "Ever since I started letting this organic wine aggregator choose my wine for me I am hangover-proof" testimonial and I will show you the power of the placebo effect). But even if they do not, I am not an easy sell. Even Vinebox, with its perfectly reasonable "we send you a tasting pour so you can pick your bottles" model, doesn't hold a lot of romance for me; I kind of feel like part of the discovery process is taking the risk that you'll open a bottle of something you don't love now and then. But I get that not everyone is like me: You might not be inclined to planting young fruit trees while wearing high heeled sandals, either. And that's fine.
Vinebox treated me to a sample of their "nice" wine advent calendar (there's also a "naughty" one), and I have to say I am, if not converted to subscription-service-devotee, favorably impressed. The packaging is attractive and not overdone. The little vials with the wine samples in them have a nice weight and size, and they're really cute. All of which would be beside the point if the wines were awful. They're not! They're good! You can definitely order one of these for someone on your gift list (or for yourself, why not?) with confidence that you are not saddling them with 12 vials of swill. The wines pencil out to about 10 bucks a glass, which is likely a restaurant-grade markup in most cases (I know of exactly one Sicilian frappato you can get easily in the States that costs more than $22 a bottle or about 4 bucks a glass; I'd giggle at a $10 glass of Gamay in a restaurant too, in most cases). But it's not prohibitive for a gift. I wouldn't be in a huge hurry to subscribe at those prices, personally.
"Nice" contains a range of reds and whites from France, Spain and Italy for the most part; they are generously proportioned and diverse without being nutsy. Since these are pre-selected single servings, there's not really much point to reviewing them individually-the collection works as a whole. The inclusions seem thoughtful. The whites tend to be weightier ones (a Semillon-rich Bordeaux Blanc and a racy Spanish Verdejo were especially nice) and the reds are interesting (a fairly classic Bordeaux, a great Vin de Savoie, a Cahors). Personally, I prefer Italian wine to French and would have been psyched for the balance to be a little more in favor of that, especially because Italy has so many strange local varietals you might not get exposed to another way. But none of that is to say I'd recommend ignoring this box-it's not going to be 100% to everyone's taste, and nothing is. That's fine. The quality is great, the format is appealing, and you're very unlikely to have tried everything in there, so there's going to be something fun to discover.
As much as I would be unlikely to become a Vinebox subscriber just because it's not my preferred way to explore-I 100% recommend this as a gift. The 12 Nights of Wine box will set you back about $130.00, which isn't nothing and perhaps suggests this isn't the acknowledgement-token type of gift you give the UPS man (although in my case the UPS man has more than earned it). It's ideal for difficult-to-shop-for people whom you really do want to acknowledge-a wine-loving roommate (who might take it upon himself to share a pour or two; the 100ml vials are certainly generous enough for it); a parent who loves a glass with dinner and isn't super motivated to stretch their palate; a friend who is always on the hunt for something new. (There is something about the short-attention-span format of the service that makes me want to say parents of new babies would be likely to adore this: no effort, no commitment, amounts you don't have to stress about if you're nursing; what's not to love?)
If I were to complain about Vinebox, I guess what I'd say is this isn't for everyone, but what is? I'm past impatient with the idea that we should have our experiences "curated" for us, and I think a person could be forgiven for pointing out that Vinebox isn't exactly helping to foster an adventurous deep-diver mentality. The service definitely has more to offer folks who aren't interested in the specifics-it's super hard to track down info on the producers, practices and other specifics of these tastes. I even find the website impossible to get real information out of and its UX is infuriatingly designed to force you into a subscription.
But the 12 Nights of Wine gift box has broad appeal for a reason-most people just dig diversity of choice, and it's fun to have 12 different single-serving wines to discover.