Pineau des Charentes: France's Truly Unique Aperitif or Cocktail Ingredient
Photos via Pierre Ferrand
Drink
Features
wine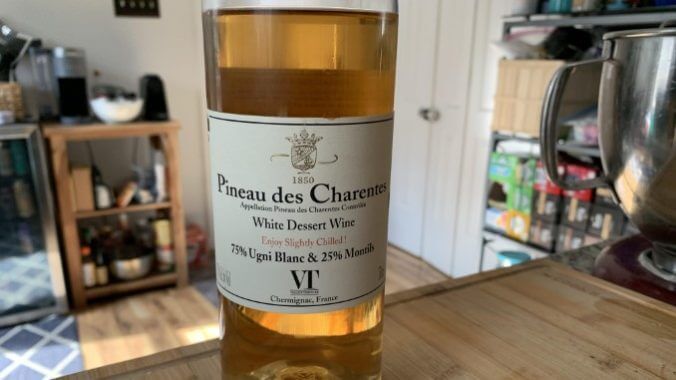 One of my favorite experiences in writing about alcohol and spirits is the discovery of those odd little subcategories to more familiar corners of the alcohol world—bottles that make me sit back and think for a minute, before concluding "I didn't know you could/that people did that." Those broadening experiences are always helpful in the end, because they open our eyes to the ever-evolving mosaic of flavor possibilities, especially in terms of giving a reference point for the next time you're trying to dream up a cocktail, wondering "what would be good in this?"
Pineau des Charentes is one such category I've recently discovered, which had previously been completely unfamiliar. Not particularly well known outside of France, this is a curious little category of aperitif, combining the juicy fruitiness of fresh, unfermented grape juice with the potent flavor of distilled and aged Cognac.
Pineau des Charentes is often classified as "fortified wine," but it's hard to say whether that label would really be considered appropriate, because is it really "wine" at all? The grape juice in a bottle of Pineau des Charentes—made from several varieties such as Ugni Blanc, Colombard and Folle Blanche—is freshly pressed and hasn't gone through fermentation, offering a radically different flavor profile from traditional, fermented wine. The alcohol in the bottle, meanwhile, comes from a blended in portion of Cognac, and like that controlled status, Pineau des Charentes is also made in the Charente and Charente-Maritime regions of France. The blend is made from the freshly pressed grape juice and lightly aged (in oak) Cognac, with the resulting blend then being aged again in oak for at least 18 months. The final result is something entirely different, combining both the aspects of distilled grape spirit and fresh grape juice—one could argue that the resulting liquid is something entirely outside the conventions of classical wine, although at the same time it obviously celebrates multiple aspects of wine grapes. It's a unique product for certain, one made by various Cognac producers in the region.
My sample of Pineau des Charentes is from the Cognac makers at Vallein Tercinier in Chermignac, in production since 1850. This is the "white," which is to say the youngest of the line made with white wine grapes—this expression is 75% Ugni Blanc and 25% Montils, mixed with "a blend of young eau-de-vie aged 3 years in oak barrels." It weighs in at 17.5% ABV. I'll be tasting the Pineau des Charentes both neat, and in the context of a very appealing-sounding cocktail.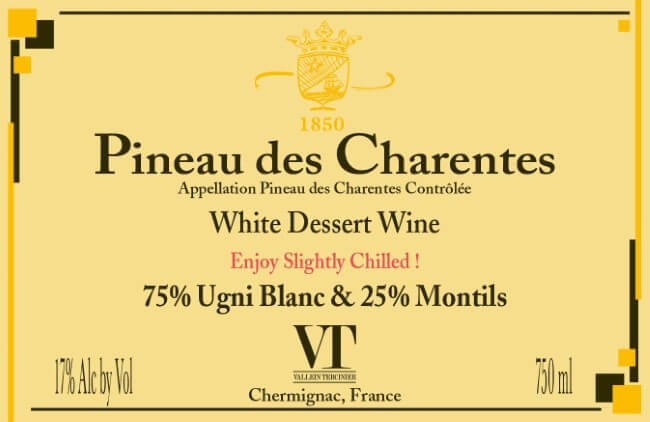 Tasting neat, the nose of this Pineau des Charentes is pretty striking, engaging and juicy. It has an undeniably fresh characteristic to it, evoking notes of peach, citrus, apple and obviously grape along with floral flourishes. Simultaneously, it hints at richer dried fruit from the brandy, with sultana and honey. On the palate, this is quite sweet—and yet the freshness has way of lifting it up, out of the danger of being cloying. All in all, it's that sweetness I was most worried about, as I'm not necessarily a fan of many aperitifs that fall on the intensely sweet side, but here it remains surprisingly drinkable despite the considerable residual sweetness. One also gets just a hint of the alcohol heat, which makes an interesting counterpart with the fresh juiciness. I was drinking this sample neat, but I think it might be equally pleasant on the rocks.
All in all, over time, what I find my memory turning to is actually mead. This reminds me of some of the elements I like best in sack (sweet, non-sparkling) mead, with its honeyed fruit tones and vinous elements, but it has removed the aspect I like least—the tendency to register as cloying and difficult to drink in any quantity. Despite the sweetness of the Pineau des Charentes, I feel like I could actually enjoy a small glass of it.
Much of the current marketing blitz for Pineau des Charentes, however, revolves around its potential as an ingredient for mixologists, and its ability to step in as an ingredient in cocktails. The press kit for the beverage contains a number of pleasant-sounding cocktails, which range from the obvious (mixing it with ginger beer, or tonic) to the more creative—Pineau des Charentes making bedfellows with such ingredients as white wine, Suze, plum or yuzu. One that particularly caught my eye, however, was dubbed the Conveyance, a cocktail from bartender Richard Allison. For a big tiki geek like myself, the combination of white rum, Pineau des Charentes, lemon and chai-infused pineapple sounded particularly attractive, evoking something in the vein of classic island drinks such as the Tradewinds, or a traditional colonial rum punch (thanks to the tea). You can see the recipe below.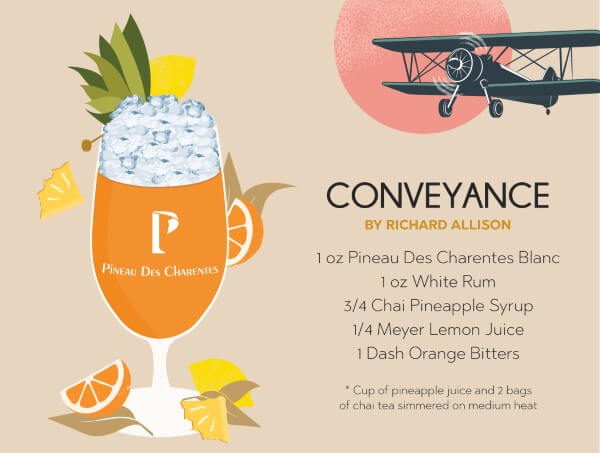 Mixing up a Conveyance for myself—including making the infused pineapple, because I hate leaving out ingredients—I found the drink pleasant and refreshing, if perhaps a bit more thin and less assertive than the bold, punchy tiki classics I can't help but compare it with. The pineapple and light rum shine through, though the more delicate fruit notes of the Pineau des Charentes are more difficult to place, as is the spice of the chai—though you do get some of the tea astringency, which keeps the drink from reading as sweet. If I was making this again, I think I would probably boost its intensity with stronger rum, or the addition of another flavored syrup such as passionfruit, but that's the tiki geek in me wanting to run wild.
When it comes to Pineau des Charentes in cocktails, though, I have a feeling that the "less is more" approach might ultimately be more effective. This does not necessarily strike me as an ingredient to build an entire cocktail around, because its lower ABV and less intense flavors could be lost. Instead, I could see adding portions of Pineau des Charentes to already existing cocktails with pleasant results. A classic mojito, for instance, might benefit from the fresh fruitiness of the Pineau des Charentes. I could also see plenty of ways to mix it with gin, and a perhaps unexpected combination would be the honeyed malt of Irish whiskey or unpeated scotch. And of course, there's always champagne.
At the end of the day, however, I was happy to find that Pineau des Charentes is perfectly pleasant all on its own—perhaps that's the way I'd be most likely to drink it in the future. Regardless, I'm pleased to learn about this unorthodox combination of brandy and grape juice, a new little niche all its own.
---
Jim Vorel is a Paste staff writer and resident liquor geek. You can follow him on Twitter for more drink writing.