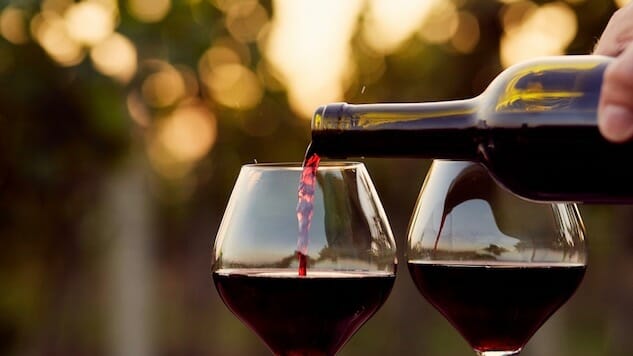 Along with family baggage and dubious Fair Isle sweaters, the winter holidays bring a uniquely baffling array of gifting litmus tests. The good news is, wine is a viable response to quite a lot of those tests (it can sometimes send a strange message to a preschool teacher or a delivery truck driver … but certainly not always). The less good news (and also the best news) is that there truly is something for everyone.
Winter food often (not always; there's no such thing as always here) seems to demand wines that are heavier, denser, richer and more powerful than Salad Season does. For many of us, the holidays entail certain ritual meals that manage to defy all the in-laws' attempts to introduce a soup course and spark oddly emotional arguments if some crazy maverick decides to experiment with leaving the skin on the potatoes, to say nothing of recreating the oyster stuffing Grandma used to have as a girl. Yet palates get tired, so what to do? Changing up your pairings can be remarkably refreshing. Many seasonal favorites tend to favor red wines in the "big and bold" camp, but maybe Cabernet Sauvignon has become too ubiquitous to feel special. Change is good, and luckily you will never have tried everything. Following are a handful of multitasking problem-solvers to help get you through the season of interminable bad Christmas songs, spouse's company holiday party outings, and that terrifying moment when you catch Uncle Jim letting the teen cousins take a hit off his vape or your college freshman comes home and announces he is now a Libertarian. Oh, you're welcome.
Your Dilemma: You can't please all the people all the time.
Your solution: Valpolicella
The first red wine I ever drank was a Bolla Valpolicella. It was grad-student-grade cheap and the word "Valpolicella" felt sophisticated just to say. Four different styles of Valpolicella are made, all from the same grapes (primarily fruity Corvina and flowery Rondinella), but by differing processes. The fruit throughline of all four is marasca cherries, but the variations are immense. Valpolicella Classico is bright, light, herbaceous, lean and juicy, not unlike a Beaujolais (and equally agreeable to a light chill). Valpolicella Ripasso, which is the other "drink it young" Valpolicella, is made by double-processing the juice with skins leftover from Amarone and Recioto wines, and has a moodier disposition, with the bright, juicy pie cherry flavor modulated by soft bitterness and a bit of a raisin quality. Valpolicella Recioto is dessert wine made by air-drying the grapes before pressing; the resulting wine is dense, raisiny and "chewy." Amarone della Valpolicella is the same idea, but the dried grapes ferment completely to a dry wine rather than stopping it while there's still abundant residual sugar. Amarone can age for years and has a hallmark bittersweet character, great structure, and a kind of grandness to it. The cherry note is deeper, darker and more dignified and banked by cocoa powder and black raspberry.
Try: Tenuta Sant'Antonio "Monte Garbi" Ripasso or "Antonio Castanedi" Amarone-or "Nanfre" Valpolicella Classico. Also, Zenato Valpollicella Ripasso, Masi "Costaserra" Amarone, Marchesi Fumanelli Amarone.

Your Dilemma: It needs to feel "Special."
Your Solution: Brunello di Montalcino
Sangiovese is pretty much the red grape of Tuscany, and it makes a vast range of different wines, from straw-clad, ultra-rustic Chiantis to Brunello di Montalcino, a deeply elegant wine that tends to command very high prices, and not without reason. Garnet-colored with rusty edges, resinous, raisiny Brunello is more "dense" than "heavy" and tends to express violets, herbs, leather, black cherries and incense.
Try: Fattoria dei Barbi Brunello di Montalcino, Le Chiuse Brunello di Montalcino, Avignonesi, Tentute Silvio Nardi Brunello di Montalcino, Frescobladi "Castelgiocondo."
Your Dilemma: Vieux Telegraphe is out of your budget.
Your Solution: Gigondas
Grenache is the sometimes-unsung hero of many of the most delectable wines on this earth, from the most laid-back, summery rosés to some pretty exalted heavy-hitter reds including black slate Priorat and Chateauneuf-du-Pape. Gigondas, whose name is derived from the Latin Jocunditas meaning basically "exuberance," is a Grenache-based, terroir-forward red blend from the Rhone Valley. Gigondas wines are lively, even "exuberant," with notes of dark cherry and raspberry, tobacco and other "leafy" notes, and sometimes pronounced marmalade or orange peel notes. It's delicious, and while not always on the bargain shelf, it's a lot more affordable than Chateauneuf, with very similar charms.
Try: Vidal-Fleury Gigondas 2014, with notes of plum, raspberry and rosemary, as well as tobacco and earth. Or Domaine Les Pallieres "Terrasse du Diable" 2015, with spice and limestone notes alongside red fruit.

Dilemma: Apple pie fatigue.
Solution: Icewine (Eiswein)
There's late harvest wine, and there's cool-climate wine … and then there's icewine. To make this delicacy, wine growers must leave fruit on the vines until it freezes, courting disaster all the way. Then they pick in brutal conditions and hope for the best, and process everything while it's still at about 20 degrees Fahrenheit, at which temperature the grapes are transformed into evil little ice-bullets that can wreak havoc on your crushing gear. This endeavor is not possible in most latitudes, and where it is possible (Canada, Germany, Austria, and sometimes the northern reaches of the U.S.) it's not for the faint of heart. But the result can be staggeringly good. Icewines are as far from "dry" as wine gets; they're liquid dessert, with a Brix measurement at harvest that can exceed 45. Viscous, snappy, structured and unabashedly sugary, Icewine is a friend to fatty foods-desserts, sure, but don't rule out luxurious cheeses, Or foie gras. Cabernet Franc makes really stunning icewine (rare, but worth seeking out); however, icewine is more commonly made from cold-tolerant white varietals such as Gewurtztraminer, Riesling, Vidal Blanc and Chenin Blanc. Note: True icewine is expensive, for hopefully obvious reasons. If you're spending under $40 on a bottle, read the label carefully.
Look for: Inniskillin (Canada, $35-75) These guys make delicious icewines from a number of varieties. I've had their Cab Franc (liquid strawberry jam in the best possible way), Riesling (candied citrus and apricot) and Vidal (dizzyingly aromatic with a lot of pineapple flavors)-all beautiful. Also, Kiona (Washington, $30) has a Chenin Blanc Icewine that defies what I said about prices-it's affordable and amazing, with intense brown-sugary and tropical fruit notes (mango is prominent, and some kind of exotic melon).

Your Dilemma: You miss Merlot since Rex Pickett and Paul Giamatti had it killed.
Your Solution: Don't be a fashion victim; drink the !*&%#*ing Merlot
Poor Merlot. The velvet glove to Cabernet's iron fist in Bordeaux blends, Merlot varies some by region, but it's almost always one of the easiest red wines to identify blind by its strong flavor of ripe plums and its uniquely silky texture. Merlot prices never really recovered from the crash they suffered in the 1990s, though they have bounced back some. Still, it's a less-trendy varietal wine these days, which means more for us. Merlot is a great winter wine. It's soft and lush and lavishly perfumed, goes with a lot of cool-weather fare (it's a cinch with roasted veggies among other things) and feels luxuriant. Common notes are plums, raspberries and blueberries, leaves, and purple flowers like violet and wisteria.
Try: McIntyre (Arroyo Seco, $25) with a juicy, lively personality, and notes of lavender, cinnamon, blackberry compote and a trace of fennel seed. Or Abeja (Washington, $50), with plums, cocoa, cardamom, blackberries, mocha and licorice. Or Seven Hills (Washington, $26), a lighter expression with more cherry and cranberry than plum, and a spicy and slightly dry-leaf-like finish. Or Pahlmeyer (Napa, $85), a bargain at $85 compared to other offerings from this producer-and admittedly very seductive, with an interesting oolong-tea astringency and notes of orange peel and cinnamon as well as the typical supersmooth plums-and-satin vibe.