Elizabeth McCall Named Master Distiller of Woodford Reserve, in a Major Bourbon Milestone
Photos via Woodford Reserve, Brown-Forman
Drink
News
whiskey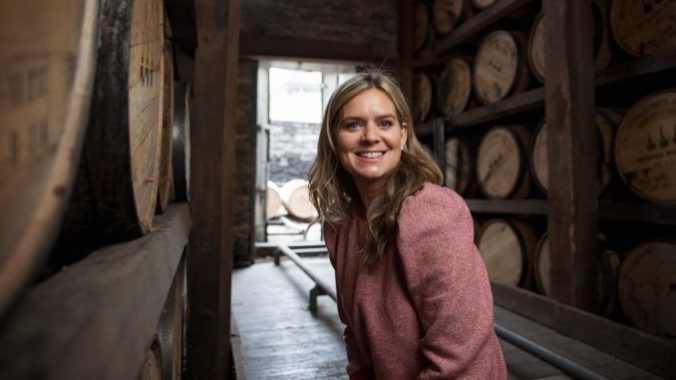 In a truly significant moment for women in the wider whiskey industry, distiller Elizabeth McCall has been named as the new Master Distiller for Woodford Reserve. She succeeds the venerable Chris Morris, who has been working at some capacity at Brown-Forman ever since 1976, who will now assume the role of "Master Distiller Emeritus" while continuing to serve as the everyday Master Distiller on other Brown-Forman brands such as Old Forester.
This is a big moment; perhaps even bigger than it sounds off hand, because there have been very few women given a chance at such a post in the whiskey industry. Although it's not terribly hard to find smaller distilleries, start-ups and microdistilleries with women heading up the distilling operations, Woodford Reserve contends that McCall will likely become the first official female master distiller—ever—for a major American whiskey brand as she takes the post. In the position, she'll oversee quality and innovation efforts, and bring new Woodford Reserve products to the market, including the brand's limited edition bourbon releases such as Master's Collection and the Distillery Series. McCall had been working under Morris for more than a decade, being trained to take on the Master Distiller role. She's been with Brown-Forman since 2009, initially serving in Research & Development.
"I am humbled to stand upon the foundation built by Chris Morris, who is one of the most well-known and respected Master Distillers in the world," said McCall in a statement. "I look forward to following in his footsteps and crafting the world's finest bourbon."
The "boys club" of men at the upper echelons of distilling operations at major American whiskey producers—especially in the world of Kentucky bourbon—has been an open secret for decades. In more recent years, an increasing number of women have worked their way into high-profile roles in many of these companies, but those jobs have in many instances remained on the side of "brand representatives," rather than workers with a lot of direct control over product development. More women have also made their way into roles as blenders and "Master Tasters," like Old Forester's own Melissa Rift (and longtime representative Jackie Zykan, now the owner of the Hidden Barn whiskey brand), but fully taking on distilling operations at a major distillery has remained arguably the industry's final frontier for female employees. McCall has seemingly just shattered that particular glass ceiling.
"I am proud of and confident in Elizabeth's ability to maintain the award-winning flavor profile of the Woodford Reserve family into the next generation," said Morris in a statement. "Her inquisitive nature bodes well for those who have come to expect innovative flavor concepts from our Master's Collection and Distillery Series offerings. The future couldn't be more promising for Woodford Reserve."
---
Jim Vorel is a Paste staff writer and resident liquor geek. You can follow him on Twitter for more drink writing.