The Macallan Has Revealed Its New Pantone Collaboration, the Macallan Edition Purple
Photos via The Macallan
Drink
News
whiskey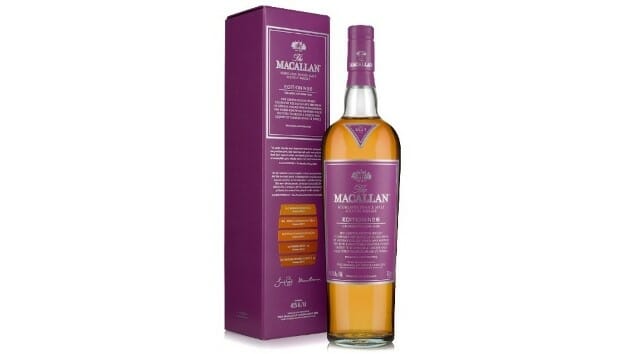 The Macallan this morning unveiled its latest release, The Macallan Edition No. 5, with a special bonus: A brand-new, accompanying color from the experts at the Pantone Color Institute. Dubbed "The Macallan Edition Purple," this new shade will adorn bottles and boxes of The Macallan Edition No. 5 in a rich hue never seen before by human eyes. Both whiskey geeks and color geeks (we assure you that those exist) are likely to get pretty excited about this news.
"As the rainbow's most complex color, purple naturally felt like the ideal shade to highlight the equally complex process involved in The Macallan's whisky making," said Laurie Pressman, the Vice President of the Pantone Color Institute. "This new vibrant shade developed for Edition No. 5, brings to life the exquisite combination of distinctive natural hues found in this whisky."
As for the contents of the bottle, The Macallan Edition No. 5 is a single malt aged entirely within American oak, chosen specifically for its rich color, to fit the theme. The distillery describes the results as "a beautiful, sunlit barley color that is accompanied by an intriguingly intense flavor profile that hosts sweet notes of caramel and fresh fruit combined with oak spices." The bottles will hit the U.S. market soon, before the end of the month, with an MSRP of $120, although this seems like the kind of bottle that could go for significantly higher on the secondary market, especially once Pantone collectors get involved.
You can see full tasting notes from The Macallan below, and a larger shot of the bottle, displaying the new Pantone color.
Edition No. 5 Tasting Notes
Color: Sunlit barley
Aroma: Vanilla and toffee with notes of oak, nutmeg and ginger and lemon basil and pear.
Palate: Fresh and sweet with caramel moving into poached peaches and ripe pear.
Quickly followed by a toffee sweetness with light oak spices in the form of nutmeg and hints of ginger in the background.
Finish: Long and sweet.
ABV: 48.5% (97 proof)