Tasting: Three 18-Year-Old Single Malt Whiskies from Balblair, Speyburn and Old Pulteney
Photos via Inver House Distillers
Drink
Features
whiskey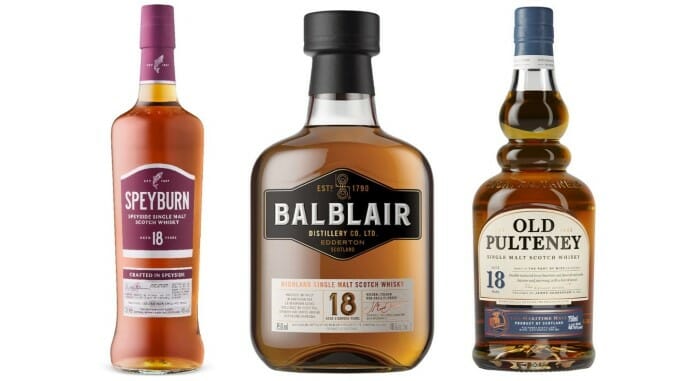 Your average whiskey (or whisky) drinker is likely to be familiar with a wide range of distilleries, and have a sense of the range and profile of products coming from each company—we once wrote a piece on this highlighting specific bourbon distillery house styles, in fact. Less visible, at least to the average consumer, are the similarities that may exist across a wide array of distilleries owned by the same parent company, something that is especially interesting to compare in the world of scotch whisky, where many distilleries are owned by a handful of larger entities. Sometimes, patterns emerge in the marketing or product formulation … but each individual distillery ultimately expresses its own style at the same time, which is why the world "single" is in single malt to begin with.
I found myself mulling these questions recently when I had an opportunity to taste a trio of 18-year-old single malt whiskies from three classic Scottish distilleries: Balblair, Speyburn and Old Pulteney. All are owned by Inver House Distillers, a medium-sized player in the scotch whisky industry that is itself owned by ThaiBev, one of Southeast Asia's largest beverage companies. All are likewise fairly unassuming companies; distilleries that historically haven't made a huge splash in the hype whisky scene of the U.S. market, but which are all looking to expand their reach in the United States.
Looking at the three products, a few similarities are clear. For one, they're all obviously 18-year-old single malts that have become part of each distillery's core range in the last few years. All three are likewise matured in both ex-bourbon American oak and Spanish sherry oak casks, making these fairly pricey, luxury drams with a significant level of maturity—the kind of bottle on which each distillery is staking some portion of their reputation.
Oddly, though, one additional similarity is the fact that you won't see the word "sherry" on a single one of these labels. For whatever reason, Inver House has chosen to highlight each as being at least partially matured in "Spanish oak" rather than sherry casks, which made me initially wonder if perhaps other styles of fortified wine such as port might have been involved as well. Upon further inspection, though, I've seen no reference to this—these are traditional, sherry-finished single malt, and the parent company has for whatever reason simply chosen to go with "Spanish oak" as its marketing tool, rather than calling out the sherry. Who can say why, exactly?
Regardless, these three expressions end up being a beautiful illustration of how each distillery's house single malt style and maturation techniques ultimately lead to three distinct drams. Let's get to tasting.
---
Old Pulteney 18 YearABV: 46% (92 proof)
MSRP: $140-150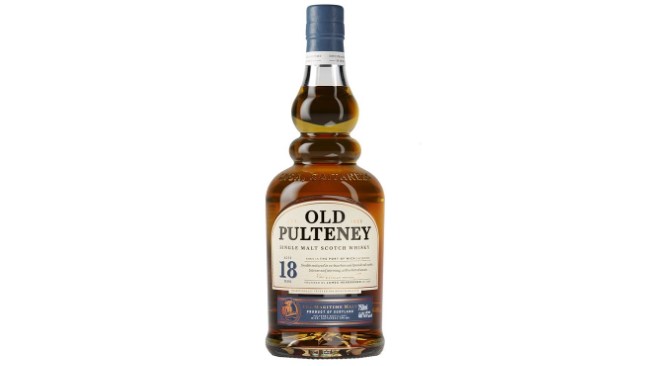 Old Pulteney is known by enthusiasts as "the maritime malt," with its namesake distillery residing in the Highland town of Wick, Caithness, near the northeastern tip of the country—you can't go much further north before you hit ocean and islands. As with other seaside malts, this is often said to infuse a certain sense of salinity and "sea air" into the barrels as they undergo their long maturation. The flagship Old Pulteney 12 Year is a solid value that can often be had in the U.S. for $40-50, or occasionally even less, but this 18 Year core brand demands a rather dramatic MSRP bump. This is sadly not uncommon for sherried malts in particular, as secondary maturation in Spanish oak adds its own increase in cost, and the consumer expects to pay more for such cask finishes. You'll be hard-pressed to find any comparable combination of age statement and sherry finish these days for a significantly lower price tag. Old Pulteney 18 can at least boast the additional feature of the nicely elevated 92 proof point, which is something many drinkers want when they're spending more than $100.
On the nose, Old Pulteney 18 is quite fruit forward, with bright notes of peach, apricot, citrus and sultana. The sherry contribution is on the more delicate side, present in the dried fruit notes but presumably less so in the brighter and fresher ones. Cobbler-esque baked fruit mingles with additional hints of cocoa powder and vanilla for a nose that is overall fairly rich but not particularly or overtly "sweet."
On the palate, I'm getting more of the same baked fruits, along with an earthier quality that is more heather than peat—this is not a smoke-forward Highland dram. Cinnamon spice meets light dried fruit and slightly vinous tones, but then make way for a surprising amount of oak/roast, which brings a notably bitter dimension to the finish, which is also moderately tannic. Overall, the impression is a bit more dry than the nose would suggest, and it's an interesting combination of some nuanced sherry influences without a lot of the greater sweetness that secondary sherry cask maturation tends to deliver. It's a fruit-forward malt with a drier, woodier finish than expected.
---
Speyburn 18 YearMSRP: $130-150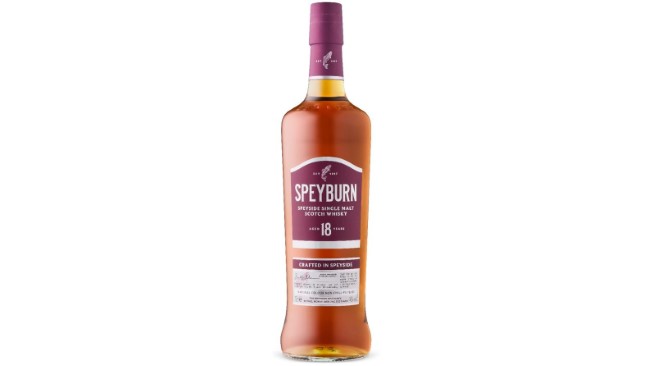 In terms of specs, the Speyburn 18 Year is quite similar to the Old Pulteney, having the same elevated strength of 46% ABV (92 proof), although once again we don't specifically know how much of its maturation happened in bourbon barrels, and how much in "Spanish oak." Judging from the Old Pulteney, my assumption would be that it's a modest finishing period in the sherry wood.
The nose of this one is attention getting and unique—less classically fruity than the Pulteney, without the "orchard fruit" and stone fruit notes. Instead, it initially threw me for a bit of a loop, before I began to piece together much more tropically fruity tones; impressions of ripe mango among other things. These tropical notes are enhanced with honey, toffee and light citrus, along with touches of hot cinnamon. Over time, this nose seems to grow, becoming steadily more rich, sweet and spicy.
On the palate, meanwhile, the Speyburn 18 makes its presence felt in the spice department in particular, drawing a quite different dimension of flavor from the Spanish oak than the Old Pulteney. Deeply caramelized notes of molasses, and a growing roast that evokes sweet espresso beans are buffeted by tons of spice notes, suggesting allspice-infused Christmas cookies. For whatever reason, these sherry casks really seem to have leaned into the baking spice dimension, and the result is unconventional but quite enjoyable.
---
Balblair 18 YearMSRP: $190-210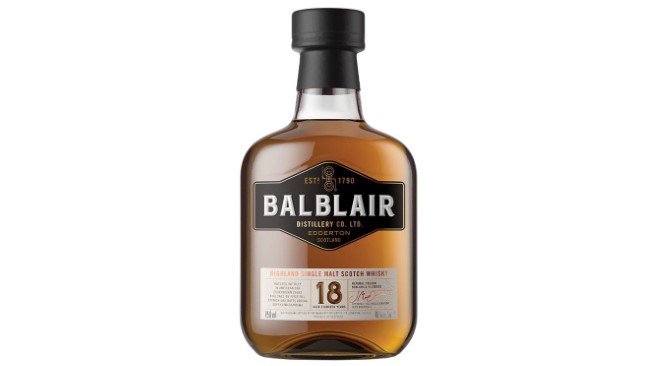 Like the other two, this 18-year-old single malt is "matured initially in American oak ex-bourbon casks, followed by first fill Spanish oak butts, adding depth and charisma." It likewise weighs in at 46% ABV (92 proof), another factor of shared ownership that Inver House seems to have pretty well standardized.
The nose on Balblair 18 Year announces that this immediately seems like the most classical, "sherry forward" single malt of the trio. It's quite rich and malty, but infused with lots of dark fruit compote, blackberry and currant, along with dried fruit notes of raisin. I'm also getting nutty toffee, slight roast and a bit more vinous booziness than in the other bottles. More than the others, it feels like a 92 proof dram.
On the palate, I'm getting lots of roasted nuts, along with toasted bread, toffee, vanilla, and dark fruit jam. Touches of ashy roast lend a bit of balancing astringency to a dram that is otherwise fairly sweet and just a touch desserty in nature. As it opens up in my glass, I'm getting more candied orange peel and dark chocolate, and the sherry barrels are expressing themselves nicely. For drinkers who really enjoy sherried single malts, and want the sherry casks to make themselves felt, this is easily the most expressive of these three bottles, at least in the classical sense. It's not an over-the-top profile, but it's a pretty well balanced one that lets both the Balblair malt and the finishing casks shine.
---
Jim Vorel is a Paste staff writer and resident liquor geek. You can follow him on Twitter for more drink writing.