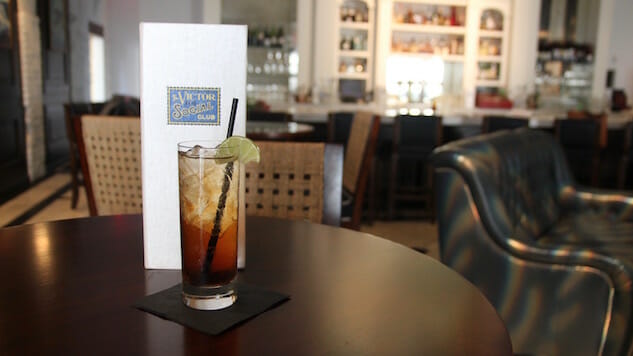 To me, there wasn't much to do to improve the Cuba Libre. I didn't really want to go near it anymore: too simple, too sweet, and having been too easy to drink underage, I couldn't help but associate it with the vertigo that immediately followed a night full of this simple cocktail.
However, recently at Victor's Social Club in Charleston, S.C., bartender Shawn Murray challenged me: "You need to try my Cuba Libre." No bartender has ever said that to me, so I knew there had to be a catch. There was — gin.
I watched as he filled a slender clear Collins glass with ice, poured a hefty shot of white rum over it, topped it with cola, and then left a little room at the top for a floater of Beefeater gin. A squeeze of lime juice and freshly grated lime zest completed the drink, and he slid it toward me with a smile.
The London style dry gin's juniper-forward profile brought out the long-forgotten complexities of cola, and lime juice (but not too much) coupled with the zest added to the overall freshness of a beverage I'd long ago given up. This was a real damn drink, not something made in a dorm room.
Although Murray suggested that his twist on the drink was how Cubans originally imagined the cocktail, that's not quite true. It is actually a variation on the Venezuelan Cuba Libre (Preparado) or Improved Cuba Libre, according to Home Bar Basics, Fine Cooking, and many more sites that recycle the same story.
In the 1990s bartender Paul Harrington heeded a suggestion from a Venezuelan customer to add Gin and Angostura bitters to the rum and coke. Apparently the customer said, "that's the way we did it in my country." Murray's variation doesn't have the bitters but it does have lime zest, and so it is yet another variation on a refreshing variation.
Murray bartends in a city known for its heat and humidity this time of year, and his beautifully appointed bar is tucked away steps from tourists and traffic. Its cool, dim interior and marble-topped bar is elegant and retro, but not cloyingly so, which seems natural since the drink is the same. In a world where soft drinks are being seen as an ill to be taxed, there's something deliciously retro and revolutionary about drinking this cocktail. Viva la Cuba, and cheers to the improved Cuba Libre.
Improved Cuba Libre
From Shawn Murray, Victor Social Club, Charleston, S.C.
Ingredients
3 oz. Brugal rum
Mexican Coca-Cola
1 oz. Beefeater Gin
Ice
Lime for garnish
Directions: Fill a Collins glass ¾ full with ice. Build drink, pouring first rum, then cola almost to the top of the glass, then top with gin. Squeeze juice of one lime wedge in drink and garnish with a fresh zest of lime peel over the glass.
---