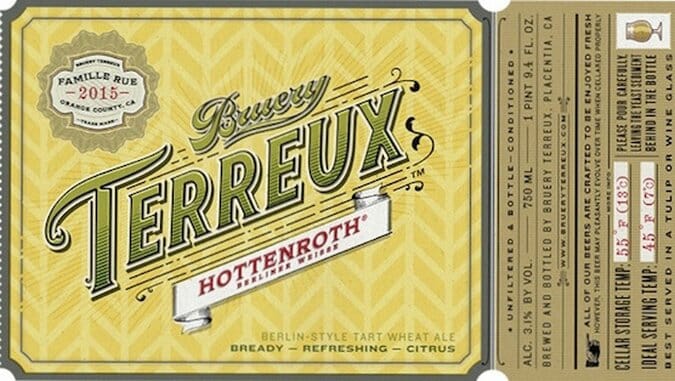 The Berliner Weisse style has made a welcome comeback in recent years as American craft brewers discover the thirst quenching powers of the tart wheat beers. One particularly effective refresher comes from California's The Bruery of all places, and Hottenroth is the beer you want on hand when the late-summer heat waves hit.
Known primarily for potent barrel-aged blends, punishingly intense sour concoctions, and a permanent place on ISO lists everywhere, The Bruery has been a darling of the beer geek set. After a few years of brewhouse infections and packaging troubles, the Orange Country, California brewery opened a new facility dedicated to their wild and sour production. Old favorites like Tart of Darkness and Sour in the Rye are now produced alongside new beers like Beret and Humulus Terreux under the new label, dubbed "Bruery Terreux." Hottenroth is one of the classic Bruery beers to transition to the new brand, and while this year's release tastes a bit different than previous releases, it still has it where it counts: volume of flavor and that thirst-destroying crisp, sour finish.
The Bruery's portfolio is loaded with beers that eschew traditional styles, but Hottenroth hews close to the classic German examples of the Berliner Weisse. Brewed to be light and drinkable to combat steamy Berlin summers, the style has a flavor profile that's miles away from its wheat beer relatives and more common craft brewed ales. There's very little hop flavor to speak of — the tartness of the wheat and souring bacteria is responsible for the balance usually provided by hops — and the lively effervescence offsets a creamy body. These are beers that are equally enjoyed by beer geeks looking to switch things up, and those drinkers who may still be put off by more "beery" tasting brews. Hottenroth also departs from the Bruery's M.O. with it's super-low alcohol content that barely passes 3%ABV — a blessing when the sun is beating down and you just want a long draught to cool down.
The ale is hazy and turbid with a fluffy, white foam that billows to fill the glass, and the aroma is all bready yeast with just a vague hint of the acidic punch it packs. There's an impressive depth of flavor for such a low-strength beer, with none of the watery mouthfeel that's so common in today's session brews. The wheat provides a fullness on the palate and that signature citrus snap at the end of each sip, and that tartness is underlined (and italicized, and bolded) by a dry finish and bracing lactic sourness. The flavor is further complicated with a delicate tropical fruit funk provided by Brettanomyces, though it never crosses over into the barnyard.
On paper, it might not sound terribly refreshing, but after spending some time in the August sun, Hottenroth is better than a cold lemonade. It is also flavorful enough that about halfway through the first glass you're thinking, "yeah, I think one glass of this will be enough," but as soon as you drain that glass you're looking for a refill. There is always a brace of bottles in my beer fridge during summer months, and more often than not if one gets opened, the second doesn't survive the day.
Brewery: The Bruery Terreux
City: Placentia, CA
Style: Berliner Weisse
ABV: 3.1%
IBU: 2
Availability: Summer seasonal, 750ml bottles