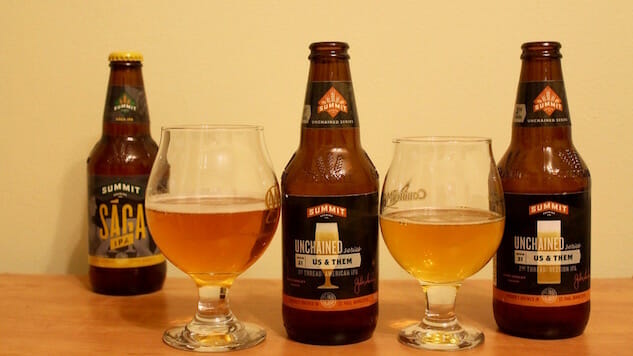 St. Paul-based Summit Brewing is a pillar of Midwestern craft beer, brewing their solid Extra Pale Ale since 1986. Saga is a much newer beer, but has earned the spot of Summit's flagship IPA in just a few short years. "Us & Them" is a new series of beers that "splits the lineage" of Summit Brewing's popular Saga IPA. Summit uses the same recipe and same mash, then splits it in different threads for two completely different beers. Both beers are packaged in a new six pack that includes three of each, offering the drinker a chance to explore what makes each recipe click. Neither beer shares much with Sága in flavor, though all three feature some comparable aromatic and base qualities. Here's a look at Saga and its two offspring.
Saga IPA
Sága IPA debuted just a few short years ago but has become a top seller for Summit, celebrating 30 years in 2016. The beer itself is floral and aromatic with elements of a bold West Coast IPA but tempered via a Midwest malt foundation. It's best poured into a glass, where the bouquet shines atop a fluffy white head while tasting a little bit tropical, a little citrus, and with a Centennial hop punch at the end.
Rating: 87
Style: American IPA
ABV: 6.2%
Availability: Year round, 12-ounce bottles, 12-ounce cans
---
Unchained Us & Them 1st Thread
1st Thread is a standard American IPA with a floral nose and a biscuit malt base, complemented by a citrus touch. It pours a pale amber. It's a balanced IPA that's smooth with a surprisingly taller malt build and less bitterness than expected until after the finish, where a bitter sting remains on the tongue as the rest of the beer fades away. It's a solid IPA but unspectacular, and it doesn't hold up to the more pronounced and biting Sága.
Rating: 78
Style: American IPA
ABV: 7.2%
Availability: Limited release, 12-ounce bottles
---
Unchained Us & Them 2nd Thread
2nd Thread takes the session IPA route: lower ABV, more straight forward flavor profile, and an easier flow, so to speak. It pours a crisp gold in color with a dirty lemon bouquet with some hay and elemental flourishes. The drinkability on this one is spectacular—clean and easy—but the flavor profile itself grabs less attention. At introduction it starts off juicy, then finishes with a buttery backdrop that quickly passes. It's refreshing by a ton, but nothing particularly jumps out beyond the crisp and light mouthfeel.
Rating: 70
Style: Session IPA
ABV: 4.0%
Availability: Limited release, 12-ounce bottles
---