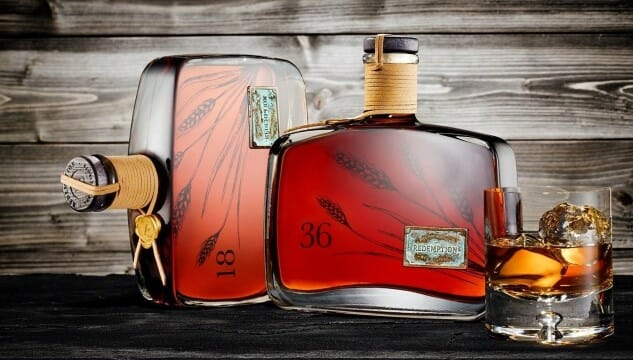 In the world of expensive, top-tier bourbon, there are limited releases, and then there are realllllly limited releases. This is one of the latter.
Redemption Whiskey, the makers of package store staples Redemption Rye, Redemption High-Rye Bourbon and Redemption Bourbon (although all of their product is sourced from MGP in Indiana, the same as other brands such as Bulleit Rye and Templeton Rye), are introducing a new collection called The Ancients. These sporadic releases (the company notes they will NOT be annual) will consist of very, very old whiskey sourced by Redemption. As for the first two cask-strength releases, 18-Year-Old-Rye and 36-Year-Old-Bourbon, they really didn't look too far—they're both from "the old Seagram's distillery in Lawrenceburg, Indiana," otherwise known as the whiskey industry's largest contract distiller, MGP.
"The 18 Year-Old is a reflection of our obsession with rye and showcases the ageability of rye," says Tom Steffanci, President of Deutsch Family Wine & Spirits in the announcement's press release. "And the 36 Year-Old is a result of our access to precious little cache of bourbon acquired many years ago."
"Precious little" is an understatement of vast proportions. The 36-Year-Old Bourbon is coming from only four barrels, of which 94% of the contents had evaporated over the years. That apparently left enough whiskey to fill a ridiculously limited EIGHTEEN BOTTLES, which clock in at 48.8% ABV, or roughly 98 proof. Redemption describes the whiskey as featuring "balanced flavors of cherry wood, baking spice, and sweet, subtle smoke notes," but we would imagine this would be a very, very intensely woody dram at this point. Each of these bottles has an actual penny from 1978 embedded in its wood stopper, which is a nice touch. Somehow, we doubt these bottles will be ending up in the recycling bin—especially because they carry a whopping $1,200 price tag. This is a release so small, it can hardly be said to exist at all.
The 18-Year-Old Rye, on the other hand, is slightly more accessible, at least in comparison to the bourbon. This one will be available in a release of 600 bottles, described by the company as featuring "a refined balance of sweet cedar, citrus and spice flavors that linger on the palate." Its proof is a bit higher, at 54.95% ABV (110 proof), although its price tag is slightly less outlandish—$400 instead of $1,200. Still, while we're on the topic, it's hard not to be reminded of the excellent Lock, Stock & Barrel 18 Year Rye that we recently reviewed, which had a price tag of "only" $230. Quite a bit less for a rye of the same age.
Curiously, Redemption doesn't go into any specifics of when or where these whiskeys will be available, beyond "select U.S. markets." One has to wonder how they could possibly conduct a release for 18 bottles of 36-year-old bourbon, besides potentially implementing a lottery system. We'll just have to see, but we're not holding out hopes of having a chance to taste that one. You can, however, check out the full tasting notes for both whiskeys below.
Tasting Notes: Redemption 18-Year-Old Rye (109.9 Proof; $400 SRP)
Nose: Cedar, dark chocolate, rich baking spices, baked apple, peaches, rich caramel, and maple, mingled with slight herbal notes of tarragon and sage.
Palate: Baked apple pie, spice, almond, maple, caramel, orange zest, and pears, with a bright fruit taste brought upon by heat.
Finish: Long and mouth-coating.
Tasting Notes: Redemption 36-Year-Old Bourbon (97.6 Proof; $1,200 SRP)
Nose: Leather, coffee, grilled meat, cherry wood, cigar box.
Palate: Dried orange, cinnamon, anise, smoke, sweet hickory smoke, and earthy barbecue.
Finish: Medium in length, with lingering cherry wood and citrus notes.