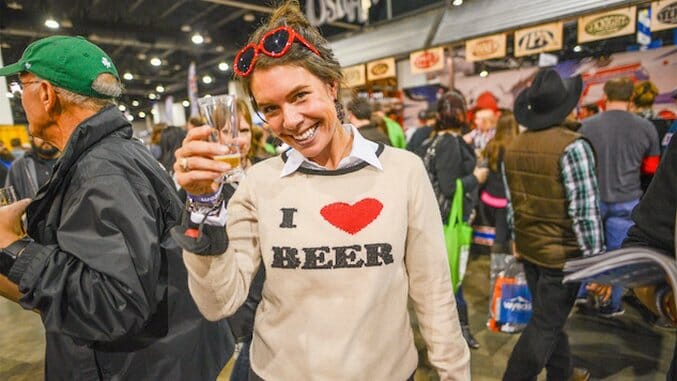 There were literally thousands of beers to sample at this year's Great American Beer Festival, easily the largest gathering of breweries and beer lovers in the country. There was no way we could drink all the beers, but we dispatched two writers with a simple task: try as many beers as they could and pick their favorites. Easy, right? So here you have it, the 12 best beers we had at GABF.
Double Dry-Hopped Juicy Bits
WeldWerks Brewing
While I was expecting to be impressed with Juicy Bits, I wasn't prepared for how much I'd enjoy the double dry-hopped version of this sought-after New England-style IPA. WeldWerks doubled the amount of Citra, Mosaic and El Dorado hops they normally use in the dry-hopping process, bringing the total hop ratio up to more than six pounds per barrel. It popped with citrus, tropical and grassy notes, was hazier and lingered on the tongue long after the sip was over.—Matt Sandy
---
3-Way IPA
Melvin/ Fort George/ Barley Browns
We've all had a collaboration beer brewed by two breweries, but Melvin, Fort George, and Barley Browns took things a step further and collaborated with three breweries for their aptly named 3-Way IPA. I grabbed one of these at the East vs. West IPA throw down at Falling Rock the night before GABF kicked off. It's a wonderful, well-balanced IPA with Apollo, Simcoe, Citra, and Mosaic hops. It's what an IPA should be, and it's oh so good.—Emily Price
---
Nelson Brut
Mikkeller Brewing San Diego
This was the first year that Mikkeller beers have been available on the floor of GABF thanks to the opening of a San Diego taproom. I'm always wary of buying Mikkeller beers at my local bottle shop due to price point and the often-limited descriptions on the packaging, so I was excited to check out the booth which, surprisingly, had no line. Aged for three months in Sauvignon Blanc barrels and dry-hopped with Nelson Sauvin hops, this beer was super dry with a champagne-like effervescence. The mixture of tropical, citrus and white wine grape aromas wafting from this beer made it almost as fun to smell as drink.—Matt Sandy
---
Pipewrench Gin Barrel Aged IPA
Gigantic Brewing Co.
After a bad first experience with gin, I avoided it for about a decade. It wasn't until someone poured me a neat glass of a well-crafted sipper that the light bulb came on. With this newfound appreciation, I'm digging the increased use of gin barrels in aging beers. I was even more intrigued by an IPA aged in gin barrels as the qualities of gin find the barrels more often employed for wits and saisons. For this limited edition beer, Gigantic took their flagship IPA and aged it in Old Tom Gin barrels for three months. The juniper from the gin barrels was a perfect compliment to the citrus and pine imparted from the IPA's stellar lineup of hops. Gigantic, which puts a fitting quote on each bottle, opted for words of wisdom from Charles Bukowski on this particular brew.—Matt Sandy
---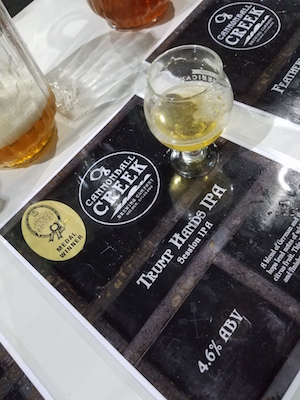 Trump Hands
Cannonball Creek
Admittedly, I didn't check out Cannonball Creek's booth until after the awards ceremony where its session IPA 'Trump Hands' walked away with gold. Founded in 2013, the brewery's name came from a creek in Golden, Colorado where the brewery is based. Once you get past the beer's name, which is pretty solid in its own right, you're left with a great session IPA. Clocking in at just 4.6%, this light-bodied brew balances citrus with German and American hops for a great, drinkable IPA. In addition to winning gold for Trump Hands, the brewery also took home a gold this year for its Solid Gold Belgian Golden. They're definitely one to watch for next year.—Emily Price
---
Especial
Oakshire Brewing
Oakshire had one of my favorite lineups top to bottom. The winner however was a bit of a shock as I'm not a fan of traditional chili beers. And while labeled as such, calling it a "chili beer" would be a gross oversimplification. Especial was a blend of rye whiskey and bourbon barrel-aged imperial stout infused with a blend of chilis, cocoa nibs, vanilla beans, cinnamon and roasted coffee. While noticeably spicy up front, the rest of the adjuncts in this 14% ABV stout countered the heat finishing rich and chocolaty. -Matt Sandy
---
Bishops Barrel #12
Saint Arnold
"Bishop's Barrel" is the moniker Saint Arnold Brewing Co. gives their barrel-aged releases. They can range greatly from flagship beers thrown in barrels to one-off experimentations. This particular beer, #12, was brewed in January 2014 and bottled almost two years later in November 2015, aging it for longer than any other Bishop's Barrel release. It's called a Christmas Ale, but when compared to other "Christmas" beers it clearly deserves a holiday of its own. The beer was aged in Sauvignon Blanc barrels with the addition of dark cherries and three strains of Brett. It's sweet and woody on the nose with hints of cherries and wine grapes. The beer starts slightly tart and while sweet, the dark fruit characteristics and dryness of the final product help mellow out any cloying attributes.—Matt Sandy
---
Dubious Nights
The Rare Barrel
It's hard to pick just one beer to feature from The Rare Barrel, but I've had to make harder decisions…maybe. Dubious Nights was the third release in the brewery's Dubious series of beers aged in tequila barrels. This one was a dark sour that came out tart and complex with hints of dark fruits, cherries, vanilla and chocolate. The hue was dark red and murky yet extremely inviting. Over the last few years, The Rare Barrel has leap-frogged many venerable breweries in terms of where I head first for sours.—Matt Sandy
---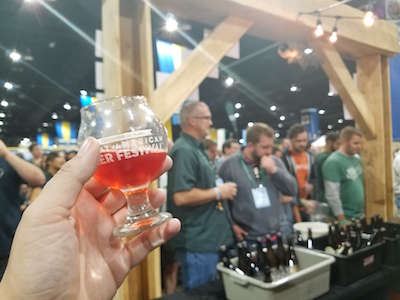 Cerise Mort from Wicked Weed
Cerise Mort
Wicked Weed
Wicked Weed was one of those breweries that constantly had a long line at GABF, no matter what session or what time you were trying to swing by. The Asheville, NC brewery was pouring a ton of its regular lineup as well as a handful of great sours from the Funkatorium. One of the standouts from the bunch was Cerise Mort. The barrel-aged sour is fermented with four pounds per gallon of Montmorency Cherries, and you can tell. This one was released in June exclusively at Wicked Weed's Funkatorium bottle shop and is the perfect balance of tart cherries, brett, and oak. If you happen to come across a bottle, grab it!—Emily Price
---
Cetacea Saison with Szechuan Peppercorns
Yachats Brewing
I was pleased with everything I tried from this small central Oregon Coast brewery, but the saison with the addition of Szechuan peppercorns stood out. Since opening in 2012, Yachats was brewing everything on a 20-gallon pilot system until installing a seven-barrel system earlier this year. The peppercorns were delicately added to increase the pepperiness of the saison, but by no means was this spicy like a chili beer. Overall Cetacea was clean and crisp with nice floral and citrus notes. -Matt Sandy
---
Diddy Muckle 2015 Scotch Ale
Sun King Brewing Co.
Though this beer was not being poured inside the Colorado Convention Center, it did show up at Freshcraft as part of the greater GABF celebration. Aged in Pappy Van Winkle's Family Reserve 20 year old bourbon barrels, it's probably the closest I'll get to drinking the actual revered Kentucky bourbon. Dark, rich and warming, the beer has a big toffee nose with hints of bourbon before coating the palate in an appealing combination of molasses, vanilla, caramel and brown sugar.—Matt Sandy
---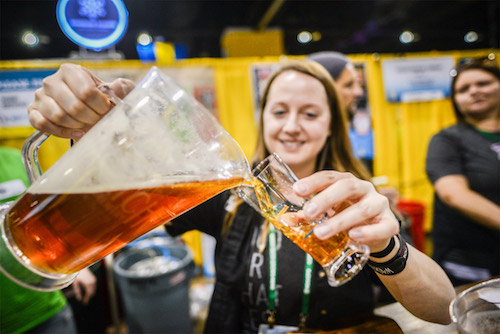 Photo Credit: Brewers Association
Cherry Gose
Southern Tier
Southern Tier's Cherry Gose is labeled as an "imperial Gose," one of the few I saw on the show floor. The Lakewood, New York brewery really nailed it with this one. While I likely wouldn't have guessed the 8.3% brew was a Gose at first sip, I immediately fell in love with it. Southern Tier sours this one over three days with lactobacillus buchneri. The result is a great sour that's also a little sweet, and definitely makes you want to come back for more.—Emily Price
---
Rum Barrel-Aged Death by Coconut
Oskar Blues
Oskar Blues is killing it. The brewery is projected to surpass 215,000 BBLS in 2016. This year it not only opened its Austin, Texas location, it also expanded its location in Brevard, North Carolina, doubling its capacity. I visited Oskar Blues' Longmont location during this year's GABF and had the opportunity to try a few unique versions of some of its brews. One definite fave was the rum barrel aged Death by Coconut. The rum barrels give what's already an amazing porter an extra kick. We tried it at the brewery, and again later at a GABF Paired session, where the brew was masterfully paired with an ice cream dessert.—Emily Price
---