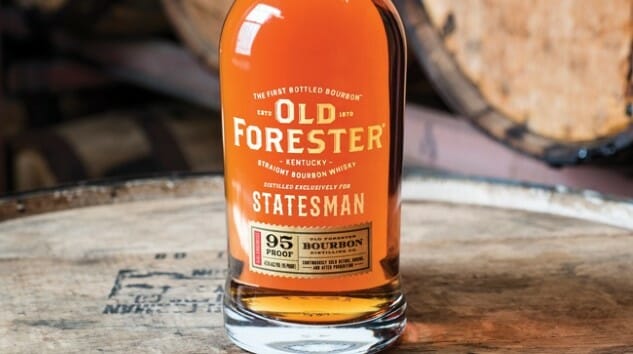 There's a long, sordid history to the concept of the movie tie-in product. A select few, like a certain "Szechuan sauce" from McDonald's, live on in the hearts and minds of millions, but the truth of the matter is that most are immediately discarded and forgotten after the film in question hits theaters … and sometimes even sooner. There's rarely any reason to expect quality out of a product that is designed to be around for a limited promotional period, and it's even more rare for these food and drink items to make such an impact that they actually stick around afterward.
But there are always exceptions to the rule, and we've just found one. Old Forester's Statesman Bourbon, designed as a tie-in with Kingsman: The Golden Circle, is everything that movie tie-ins usually aren't: A unique, complex, premium product. It's so good that I sincerely hope it makes some kind of transition into the regular Old Forester family when all is said and done. In a decade, when the Kingsman films may well be forgotten, it would be nice to be able to roll into a liquor store and still find a bottle of this whiskey, whether or not it retains the same name. (BTW, we wrote about one of the press events promoting the new whiskey right here.)
It would have been so easy for Brown Forman, the makers of Old Forester, to simply slap a "Statesman" logo on a few bottles of their classic, lower-shelf flagship bourbon. That 86-proof product is "nothing special," but it's among the best and most dependable options you'll find in the $15-20 price bracket for a 750 ml bottle of American bourbon. With its relatively high rye content, it's a good everyday bourbon for mixing and making basic, no-frills cocktails, and it's the kind of whiskey you're actually glad to see being pulled out by the bartender when you order a well drink. The 100-proof Old Forester "Signature" is likewise a great deal in the $20-25 bottle range, an able replacement for the likes of Rittenhouse Rye when making classic whiskey cocktails.
But the Statesman bourbon honestly isn't all that close to either of the former products, which are easy to find in any U.S. liquor store. At 95 proof, I was expecting to be reminded of the Old Forester Signature, but the liquid coming out of this bottle is far deeper and more nuanced. Any fear I had about whether it could justify the $55 MSRP was allayed pretty much immediately.
On the nose, Statesman presents deep caramel, molasses and hints of charred oak. Vanilla bean, sweet cinnamon and lots of baking spices follow, in what is really quite an enticing bouquet. It hints at richness, significant sweetness and lots of baking spice, which is a profile I've always liked.
On the palate, it's much the same as the nose promises. Warm and woody, with a strong hit of charred barrel and very dark caramel/molasses sweetness, this stuff is quite rich. Once again I'm getting tons of spice; cinnamon and clove primarily, and a savory note like bay leaf. A bit of orange citrus is present as well, but to me this bourbon is more spice than fruit-driven, with a big caramelization presence and brown sugar sweetness. It comes off to me as spicier and fuller of body than either the 86-proof Old Forester or the 100-proof Signature, with a silkier mouthfeel as well, and more residual sweetness. The only negative is that it's slightly hot for the ABV as well, but it still drinks quite pleasantly when neat. I imagine that's how I'll continue to consume it, rather than using it for cocktails, although I'm sure it would probably make a more than serviceable Old Fashioned, where its sweetness and heat would both be appropriate. The tagline is "true character is only revealed after a little heat," so it would seem this was intentional.
The most surprising thing about this bourbon is ultimately its relatively young age—a blend of 4 and 6-year-old barrels that taste significantly older as far as I'm concerned. This likely has something to do with the barrels chosen: "based on the warmest temperature locations in our warehouse," according to Brown-Forman. It would seem that the warmer aging perhaps accelerated some aspects of the whiskey's aging, allowing it to suck more character out of the newly charred oak. It's a line of marketing copy that I probably wouldn't have believed, or put much stock in when I read it a week ago, but I can't really argue with the results. $55 is pretty steep for buying a bottle of 4 or 6-year-old bourbon, but Statesman doesn't taste like most any other bourbon I've ever had in that age range. For what I'm tasting, Statesman delivers value that is more than fair.
Distillery: Brown-Forman, Old Forester line
City: Louisville, KY
ABV: 47.5%, 95 proof
Availability: 750 ml bottles, nationwide release
---
Jim Vorel is a Paste staff writer and resident brown liquor imbiber. You can follow him on Twitter for much more drinks coverage.