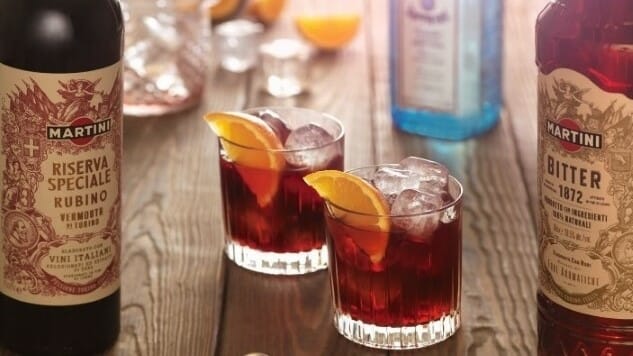 Martini & Rossi's Riserva Speciale Bitter: Is This a Campari Killer?
Martini & Rossi … the old M&R. If you've ever bought vermouth, you surely know the name. You've seen the label in every liquor store, in every grocery store wine aisle. You likely think of it in the same way that I do—dependability, value, and yes, "averageness."
There's certainly nothing wrong with M&R's classic Rosso sweet red vermouth, or the corresponding "extra dry" vermouth. Case in point: I have a bottle of each of them in my fridge at home while we speak. They're cheap; they're reliable; they get the job done in a Friday night Manhattan or post-work martini. Both define their respective styles, to the point that it's easy to judge other vermouths in terms of how they deviate from the M&R-type formula. However, that's not all there is to Martini & Rossi, as far as mixology is concerned. The company's "Riserva" series of premium vermouth di torinos and aperitivos are striving to put Martini & Rossi back into the conversation at upscale cocktail bars and temples of modern mixology. To whit, the company has introduced a new product, Riserva Speciale Bitter, which seems pretty plainly to be targeting the bitter/Negroni-fashioning market dominated by the ubiquitous bottles of Campari and Aperol.
The obvious question, then, is this: How do they stack up? We aimed to find out with a Paste taste test.
---
What is Riserva Speciale Bitter?
In the company's own words, this new aperitivo is based on an 1872 recipe from M&R founder Luigi Rossi, used to make "classic aperitivo cocktails that are perfect for all occasions such as the Negroni, or do as the Romans do this holiday season, and drink with tonic and a spritz of citrus." A few more details can be culled from the press releases:
Just as we will all soon begin to layer up for the Fall weather, MARTINI & ROSSI Master Herbalist, Ivano Tonutti, slowly built up layers of different styles of rare bitter botanicals such as Saffron, Angostura and Columba, combining one by one for a more complex profile to create the ultimate Bitter.
They then supply a recipe for a negroni made with the Riserva Speciale Bitter, using the classic 1/1/1 ratio that is typically gin, sweet vermouth and Campari. Thus, it's pretty clear that Bacardi is making at least some play here for the market share of Campari and Aperol, which has surely grown substantially since the rise in popularity of the negroni in the American market in the last five years. Case in point: Check out the piece I did back in June, gathering 7 creative Atlanta-area negroni variations for Negroni Week.
---
The taste-off
Sending samples to Paste, M&R suggested we make this negroni with Bombay Sapphire Gin (also owned by Bacardi, obviously) Riserva Speciale Bitter, and M&R Riserva Speciale Rubino, their top-shelf vermouth di torino. In addition to the Bitter being new to me, I'd never sampled this alternative M&R vermouth before, so I was equally curious for that opportunity.
I decided to counter this version of the Negroni with another to be made the way I'd typically make one at home, if instructed "make a negroni." The Bombay Sapphire remains the same, but in place of the M&R Riserva Speciale Rubino, I'm substituting Carpano Antica Formula, my go-to cocktail vermouth. In place of the Riserva Speciale Bitter, I'm obviously using good old Campari. I was curious which of the two negronis would be more pleasing to my palate, and I should probably confess—to my taste, I truly find the classical negroni to be a bit bitter, and would typically use a smaller percentage of Campari. But for the sake of this taste-off, both drinks will be made with the 1/1/1 ratio that is considered classic.
Negroni with Campari
The classical negroni is noticeably more bitter and pungently herbal than the Martini & Rossi version, with a pronounced sort of anise/licorice note that is quite apparent on the nose. Its profile shows some red fruit (cherry) and also more pronounced citrus and vanilla (from the Carpano Antica) than the M&R cocktail, but it's correspondingly more bitter and also more dry. Herbal flavors are dominant, and the licorice note reminds me lightly of absinthe.
This is a bitter-forward cocktail, which is to be expected for the style, with good complexity and a dry-ish finish. Considering this profile, it makes sense that the negroni is typically consumed as a pre-dinner dram (the literal purpose of an aperitif) to stimulate the palate and the appetite.
Negroni with M&R Riserva Speciale Bitter
Firstly, it's hard to miss that this negroni is immediately a bit darker in the glass, owing to the Riserva Speciale Rubino vermouth, which is a very dark ruby/maroon in tone. It is immediately more soft and fruity on the nose and on the palate, with notes of ripe strawberry and raspberry, and a spice that reminds me somewhat of Angostura bitters. Actual bitterness is certainly less pronounced than it was in the negroni made with Campari, which suggests that the Riserva Speciale Bitter is less bitter overall. It's also simultaneously more sweet, which combines with the character of the vermouth to highlight the juicy red fruit notes.
Also coming through more strongly in this negroni is the gin itself. Presumably because of the reduced level of bitterness, I'm getting more of the juniper berry/piney character of the classic Bombay Sapphire. In general, it's hard to say which of the two is actually more "balanced," because this negroni highlights its sweetness more and the Campari one leans more into bitterness, but if we're using the literal definition of the word, I would have to say that the negroni with M&R Riserva Speciale Bitter is "more balanced," and certainly more approachable for the layman as a result.
---
As with anything related to cocktails and liquor, these are matters of taste. There were aspects of both drinks that I liked, and aspects that I felt could be improved. The M&R Riserva Speciale Rubino vermouth is a bit on the sweet side, and the strength of its red fruity flavors could be seen as distracting in this kind of aperitivo drink. Simultaneously, I think the harshness of Campari's bitterness, unless reined in (perhaps by a reduced ratio, as I previously suggested) has a tendency to overshadow the other ingredients in that negroni.
I came out of the experience wondering if perhaps my own favorite negroni might be one in between: Gin, M&R Riserva Speciale Bitter, and Carpano Antica.
But that will be an adventure for the next time I'm thirsty for a negroni.
---
Jim Vorel is a Paste staff writer and resident booze expert. You can follow him on Twitter.