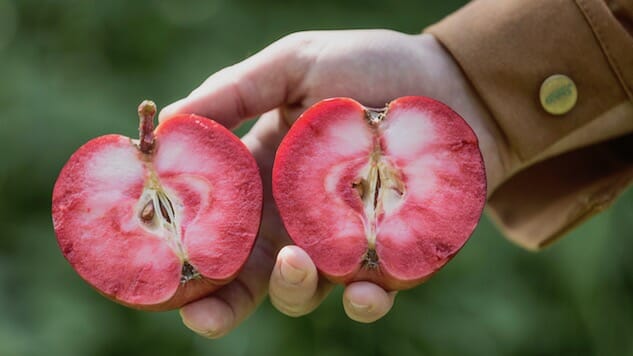 Anyone who's ever talked to me for more than five minutes can confirm I have an obsession with apples that would be realistically classified as a "monomania" if I didn't have enough other weird obsessions to remain the balanced, well-rounded gal I am. I. Love. Apples. I've been known to make an eight-hour round-trip drive to get my hands on a rare varietal you can only find in a funky corner of Mendocino County. I've written paeans to apples in verse and prose, had baby trees shipped to my house from far-flung nurseries and planted them even with low survival odds in my zone just because they were rare or ancient or extra-cool in some way.
In the extra-cool category is a family of apples whose flesh is flushed pink or, in some cases, screaming red. Almost none of these apples are readily findable even in farmer's markets; they have tiny niche plantings and they are rare (the one exception I've seen in supermarkets is the Pink Pearl). In many cases these apples have quite complex tart and bitter sub-flavors that have good potential for rosé cider. A couple of years ago pink ciders started popping up like mushrooms and I got really excited that this was finally A Thing. It turned out almost none of the tinted ciders actually came from red-fleshed apples. They got their color from everything from the addition of cherries or grape skins, to beet juice, to being aged in red wine barrels, to flat-out dye.
So disappointed. Don't get me wrong, some of these red-by-proxy ciders are delicious in their own right, but where were the actual red apples? The compounds that impart the red color to the flesh also affect the flavor profile of the apple, which might account for their low commercial availability-they're super complex and often sharp, with berry and rhubarb and pomegranate aromatics and sub-flavors that might be perplexing to someone expecting a Fuji. But those qualities are often a plus for cider.
A flurry of research into why my local booze emporiums were not stocked with pink cider from actual pink or red apples led me to find that true rose ciders did exist; they were just ultra local to places like Vancouver, the San Juan Islands, Massachusetts and far-flung corners of New York, and they were very local and damned hard to find. So when Angry Orchard announced they were making a real pink cider, I braced myself for another disappointment and for "real" to mean the tint came from a substance that didn't come from a lab but also didn't come from an apple.
Nope! A mass-market cidery has actually ponied up the real thing. Sourced from a rare heirloom apple called "Amour Rouge" grown in Brittany, the cider does also contain other varietals and a touch of hibiscus, but that tint is the real deal.
Four True Red-Fleshed Apple Ciders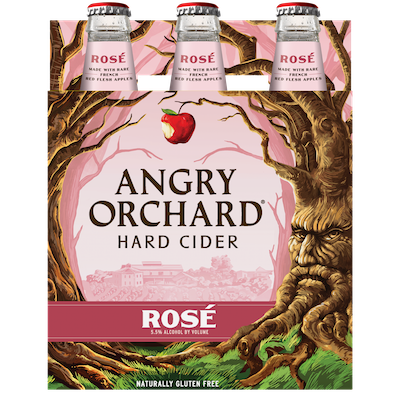 Angry Orchard Rosé (New York cidery, French fruit)
I usually keep my expectations low where large-scale production beverages are concerned. This is the "real" pink cider you're most likely to find broadly distributed, and it's pretty damn good. I don't personally like the taste of hibiscus so was happy to find the blend doesn't overdo it; this is very much apple-forward in its flavor and aroma. It's a summery-looking light watermelon hue, and it's dry and complex (red-fleshed apples are not kids-menu varietals, they can pack a punch), crisp and super refreshing. It has a mild tannic bite. Distinctly appley and not too sugary, this is by far the best rosé cider I've seen come out of a large-scale cidery.
Alpenfire "Glow" (Port Townsend, WA)
My personal all-time favorite, it also has a Methode Champenoise cousin called "Cinders." Alpenfire ciders are generally made from heirloom cider varietals (which aren't always apples you'd want to eat out of hand); this one uses a dessert-quality red called "Hidden Rose," a pippin (meaning spontaneously occurring, not bred) discovered in Oregon in the 1960s. The name is apt, as this cider does have an incredible luminous red color. Glow is crisp yet tropical, tart on the approach and sweet on the finish, with sweet apple, watermelon and cherry notes. It's refreshing but also quite rich, and has a lovely balance of acid, tannin and sugar. Hard to find, but a joy to drink.
Domaine du Verger (Brittany, France)
Made from a combination of bitter and bittersweet apples (including red-flesh varietals, likely the same one Angry Orchard is using), this is a 100% unadulterated apple concoction that interestingly has the least apple-forward flavor of the bunch. The operative word here is "mild." It's mild in color, mildly effervescent, has a subdued but pleasant bouquet, medium body, no particular sourness or bitterness. It's on the sweet side, for those who don't go for the gaunt stuff, and has notes of green grapes, alpine strawberries and a touch of cranberry.
Snowdrift Red (Washington)
Another worthy mention that is unfortunately a bit hard to find (online sale to some but not all states). I don't have full info on the specific varietal but I read the trees originated in Switzerland. They make a bright crimson cider with a playful and complicated flavor profile-this one's not a wallflower. It's very effervescent, with lots of berry aromatics and hints of cranberry, rhubarb and floral notes. Off-dry but with a residual tartness that makes it a wonderful summer afternoon drink.