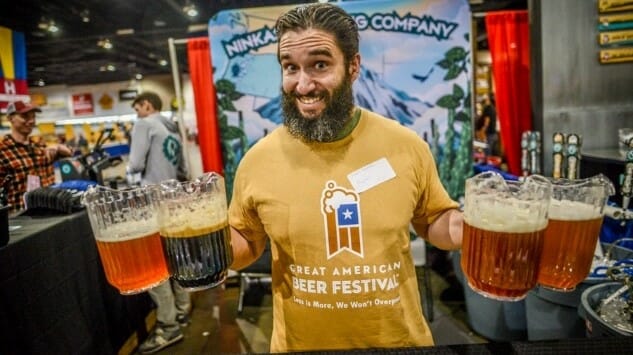 In the 37th year of its existence, the Great American Beer Festival will once again be larger than it's ever been in the past. Blowing past previous high-water marks in terms of square footage and the number of breweries that it can accommodate, the Sept. 20-22 festival will once again be a testament to just how far the craft beer industry has come since 1982, when only 22 breweries participated in the inaugural fest. Tickets for the general public go on sale Aug. 1, at the following link.
The most immediately noticeable aspect of the 2018 festival will likely be the fact that its sheer scale is again being increased. The event is adding an additional 100,000 square feet in the Colorado Convention Center, a 17 percent increase from 2017, which will bring the total festival footprint to more than 584,000 square feet in total. As someone who has walked the festival grounds in several recent years, compiling best beer lists for Paste, I can assure you that the size of that footprint was already prodigious. 2018's increased scale will be nothing short of colossal.
That increased space will be filled with a number of new events, including the "Collaboration Competition," which will feature up to 48 brewery collaboration beers that will be evaluated in a Best of Show format. Also included: An expanded "Meet the Brewer" section that will be 40 percent bigger in 2018, and partnerships that have already been announced, such as the 12,600 square foot Jameson Caskmates Barrel-Aged Beer Garden.
Still, the aspect of 2018 that might be most interesting to us as beer geeks is the fact that all of the brewery booths will also be laid out in an entirely new manner. After years of separating breweries by region, 2018 will instead be arranged completely alphabetically, which should aid drinkers in being able to locate specific breweries without trying to determine which region they belong to. This is exactly the kind of logistical hurdle that we spoke with craft beer program director Julia Herz about at GABF last year.
The increased space available should also help GABF accommodate more brewery booths than ever before; a welcome bit of news a year after the Brewers Association drew a little bit of heat when breweries owned by Anheuser-Busch InBev claimed they were being unfairly shut out of GABF by the organization's ownership rules as they pertained to the festival. This year, it will again be more difficult for organizations owning multiple breweries to have all of their acquisitions present—more difficult, but not impossible. The current system states that after an organization reserves its first booth, subsequent, additional booths will be awarded via lottery, with no stated maximum beyond the total number of available spots at the festival.
All in all, it will surely make for an overwhelming number of breweries at the 2018 festival.